BUG FIXES
Summary: Added a 200-character limit to field names to prevent improper saving.
Change: If you have a field name over 200 characters, you will receive the notification in the screenshot.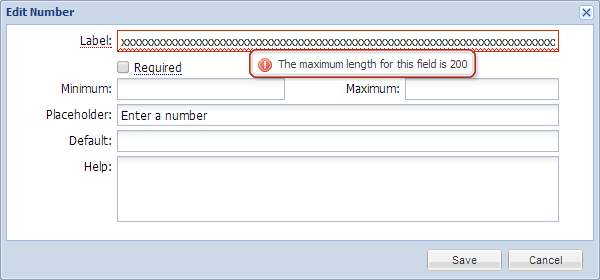 Summary: Fixed a PHP error that sometimes occurred when saving forms with name gadgets.  This was caused by the PHP 5.4 release.
Change: All forms with name gadgets will save without error now.
Summary: Fixed a validation error on multi-step forms.  Previously, stepping back from the review page could produce a message about a total having a negative value.
Change: All totals on multi-page forms will display properly with no error messages when going back from the review page.
Summary: Before if the Promo Code gadget isn't labeled "Promo Code", it might not function properly. This is now fixed.
Change: The Promo Code gadget will now function properly no matter what it is labeled.
Summary: Previously, if there there was a product error on the review page, it would not show the review fields, and the customer wouldn't be able to navigate to previous pages.  This is now fixed.
Change: If there is a product error on the review page, the previous pages will now be clickable.
Summary: For backwards compatibility, naming a text field "amount" will make it work like an amount field.
Change: Amount fields will now add totals properly, and accept values with commas such as 1,000.