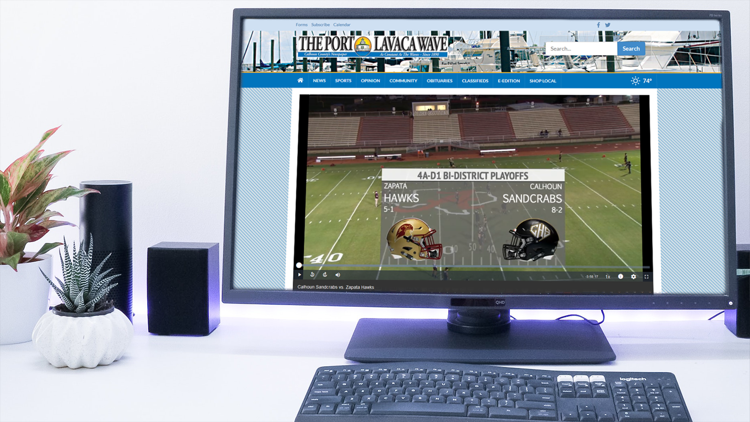 With COVID-19 keeping crowds away, The Port Lavaca Wave had been using social media to livestream the regular season football games for the local high school. But when it came to the playoffs, licensing issues meant social media was no longer an option. So just two days before the first 2020 playoff game, the weekly paper, based in Port Lavaca, Texas, signed on to use Production Truck by TownNews and BlueFrame.

"We decided to go with Production Truck because it looked like it would be virtually plug and play," said Tania French, system manager and former longtime publisher at The Wave. Now a consultant with Something More Media, French works with newspapers throughout Texas. "That's how I got involved, The Wave called me to see what I could find."
Prepping for the playoffs
Because the rights to the playoff games in Port Lavaca are owned by Fox Sports Southwest, The Wave had strict rules to follow if they wanted to air the game. "Fox Sports Southwest said ok but you can't use social media, the video has to reside on your website, not Facebook or YouTube, and you have to run our commercials."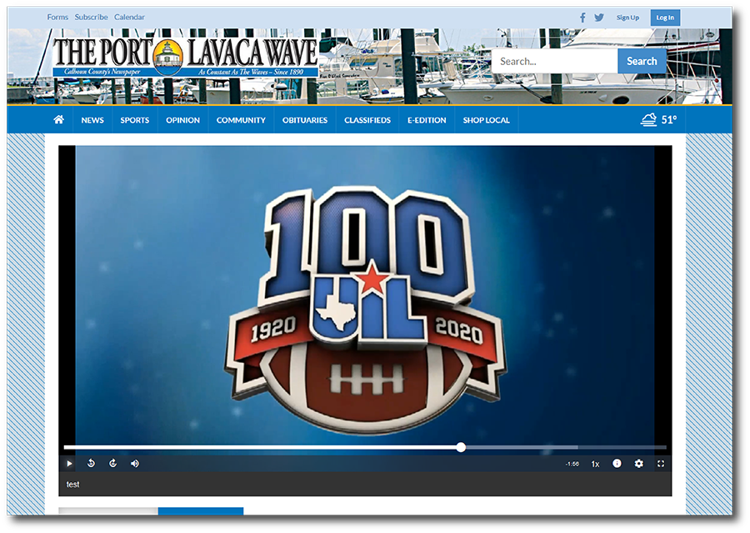 On top of Fox Sports' requirements for the platform, The Wave had their own. "We had to be able to implement it quickly, know how much it would cost, and meet all the Fox Sports Southwest parameters," French said. "But we also needed it to be easy to use."
After a call to TownNews, French chose to use Production Truck, and had a contract signed within the week.
"It all happened very quickly," French said. "After that first call, we were live nine days later. The system itself is pretty easy to understand and user-friendly. The entire TownNews team stepped us through the process. And the Production Truck staff responded quickly when we had questions."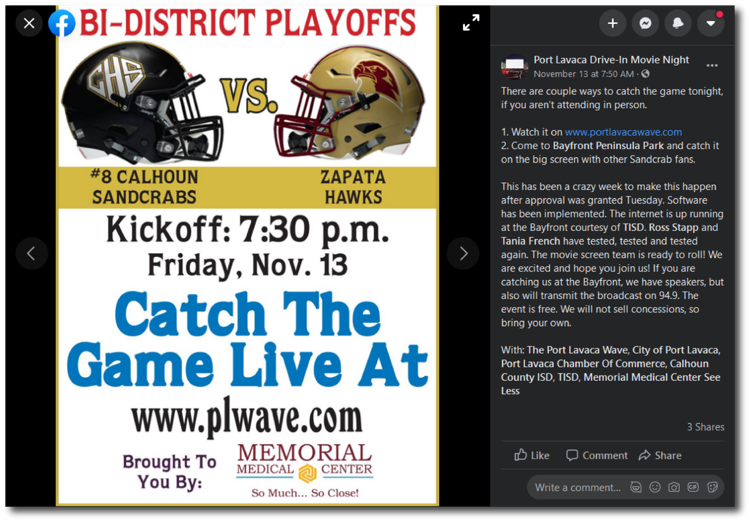 Drive-in football for the community
With COVID-19 preventing viewers from filling the stands, French saw an opportunity to bring people together safely with Production Truck.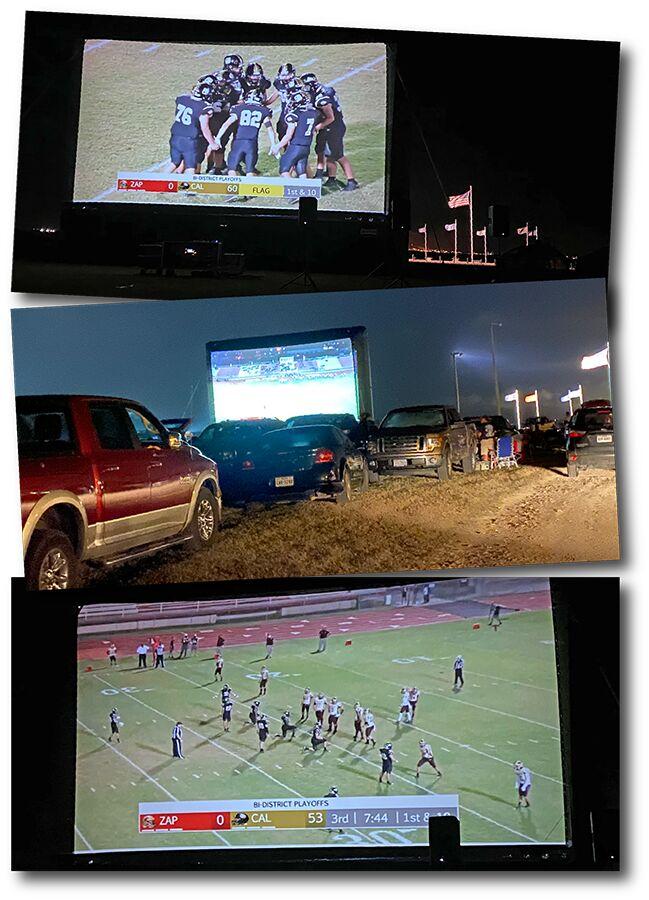 "Our city council had purchased a large drive-in movie screen," French said. "During the pandemic, we've been showing drive-in movies. But I wanted to show the football game on the outdoor screen for all the people who've been watching the Sandcrabs for 50 years, but aren't tech savvy enough to find it on the website."
Over 1,000 people attended the event—all social distanced.
"It was a huge deal. People were sitting in their cars or in lawn chairs nearby. They were cheering for their football team together and they were honking their horns during plays." French said. "People in the community were super excited about it."
Behind the scenes on game day
Armed with only a small mixing board, a microphone, and a high-def camera borrowed from the school district, French, along with a small team from The Wave, were ready for the game.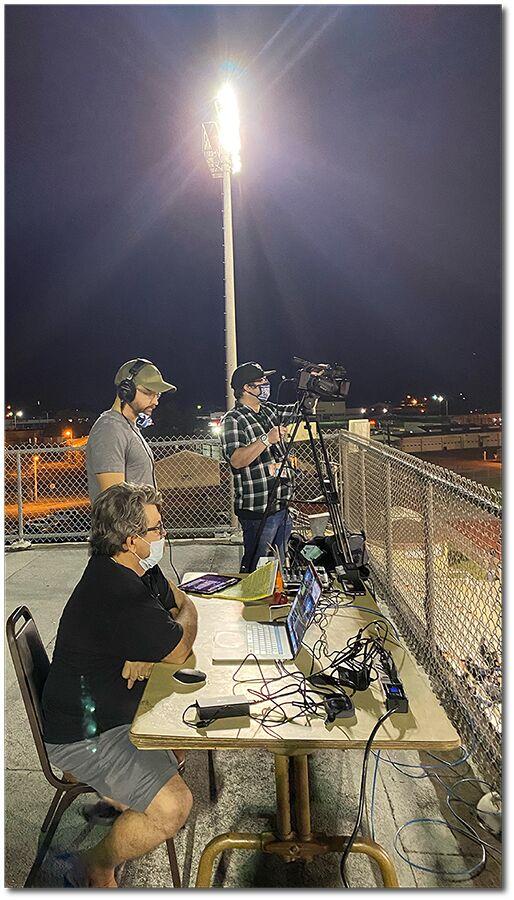 "We had a three-person team at the stadium, and I was at the park," French said. While one was the on-air personality, one operated the camera, and one ran the computer with Production Truck. French was able to provide feedback from the Bayfront drive-in.
"We used an FM transmitter so people could pick it up on the radio in their cars," French said. "At one point, we had a company show up who wanted to provide free hot dogs and Cokes. I was able to relay that back to Ross so he could announce it on air. It was a really cool thing."
Because of the quick turnaround for the event, local sponsors were given shout-outs during the game. "We didn't have time to run local commercials," French said. "So Ross provided on-air mentions, such as 'This time out brought to you by.' We did make a little money off of sponsorships, but this was primarily about community outreach."
On the day of the playoff game, The Wave enjoyed a 580% increase in visitors to their website. Although The Wave was not able to show more playoff games this season, they plan to use Production Truck in the future.
"I can see utilizing it through the regular season instead of social media," French said. "And we can use it for other things down the road. It turned out to be very beneficial."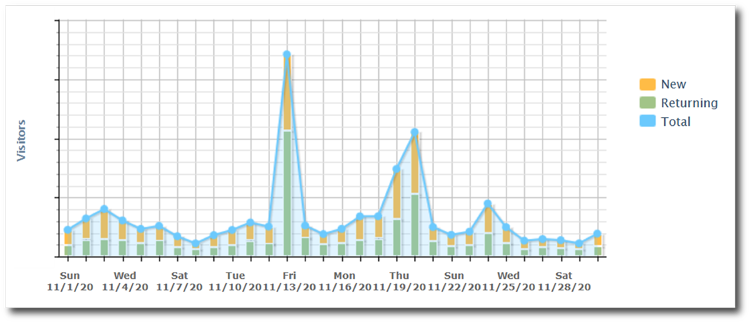 "Production Truck offers newspapers a way, not necessarily to compete with broadcast stations, but to get information to people quickly," French said. "And in times of COVID, it's a good product to use to reach your community. It gives you another tool in your tool belt."