In April 2021, Lee Enterprises launched four of the group's sites on Audience+ by TownNews. For the next eleven weeks, the dynamic paywall technology was tested on Billings Gazette, Omaha World-Herald, The Daily Progress, and NWI Times. The team also met regularly with the TownNews audience team to review results and brainstorm future testing opportunities.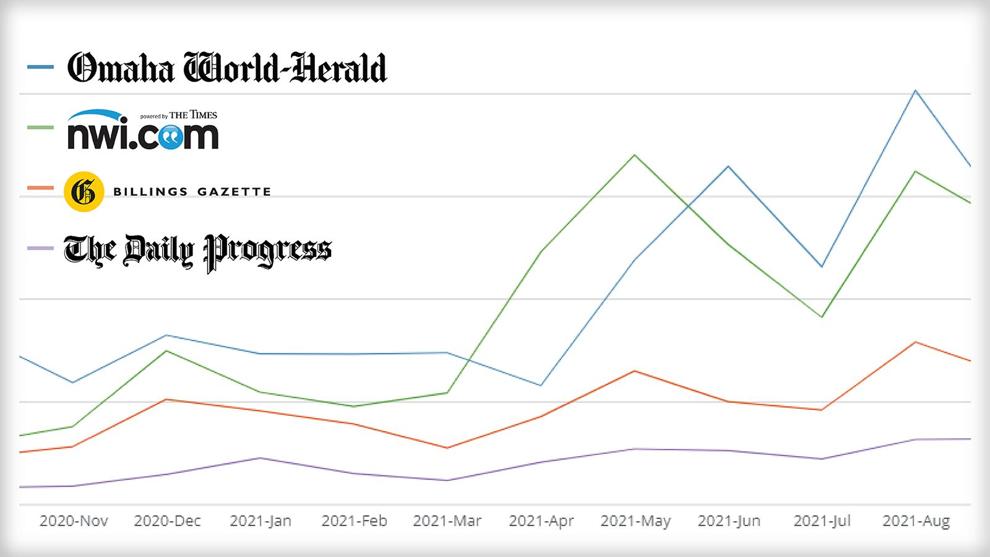 "In the initial testing period, Lee reported 187% growth in conversions for the test sites compared to their prior weekly average," said Bridget Sibthorp-Moecker, director of audience for TownNews. "Their meter stop rate more than doubled, up to 15%, as more users hit the paywall on sites with Audience+."
Putting a new dynamic paywall to the test
"Lee represents the fastest growing digital subscription platform in local media," said Nathan Bekke, vice president of audience strategy at Lee Enterprises. "Adopting a smarter paywall strategy was key to exceeding our goals for fiscal year 2021."
The Lee team was interested in testing the features of a more advanced, dynamic meter, instead of the standard, one-size-fits-all paywall. In particular, they needed a platform that could identify and discourage behaviors like ad blocking and private browsing.
The team at Lee chose to evaluate Audience+ against their existing workflow and a competitive service. After careful deliberation, Audience+ was judged to be the best choice due to its overall flexibility, ability to adapt to user behaviors, device types, and integrations with third-party content providers.
Advance planning for success
TownNews worked with Lee to develop a plan that would achieve their strategic goals. The team collaborated on strategic direction and tested the process before implementation on individual sites.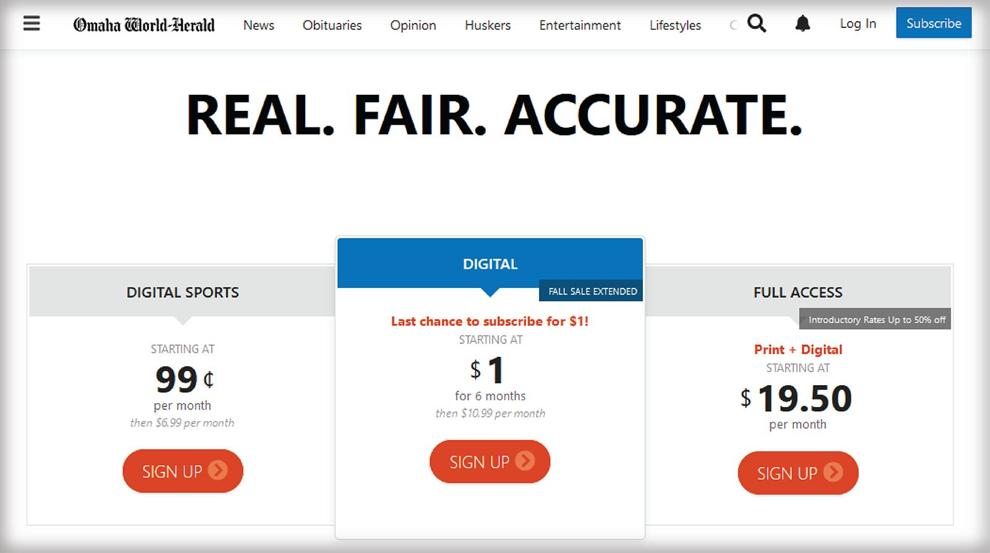 "This frees up staff at the smaller sites and makes it easier to compare analytics across the entire organization," Bekke said. "It also speeds up the rollout process of Audience+ for future Lee sites."
"The best thing about Audience+ is that the solution is scalable—whether a site is large or small, and whatever your strategy may be," Sibthorp-Moecker said. "And as with any of our partners, the TownNews team is there 24/7 for consultation, planning, launch, and review."
Flexible, dynamic paywalls
The recommended setup for Audience+ starts with audience personas such as "loyal readers" or "brand lovers." The TownNews team worked with Lee to create a tailored set of rules and experiences specific to their strategic goals, including:
Content older than 30 days: Readers are required to login or register with an email address to access past content and archives.
Keywords for free content: An asset keyword can be included to make an article or collection free to everyone when information such as health news should be available in front of the paywall.
Subscriber only content: Editors can also use keywords to select content that is for subscribers only.
Social media traffic: Requires registration when a reader comes from Facebook or AMP pages.
The dynamic paywall and metering solution that targets users with custom offers and converts casual visitors into paying subscribers.
"While these rules go beyond the typical best practices, they are driven by deep analysis of the data. And it's working well for Lee sites," Sibthorp-Moecker said. "Audience+ also integrates well with Lee's custom subscription service."
"Audience+ has been a tremendous addition to our tech stack to help us drive digital subscriptions, recurring revenue, and known users," Bekke said. "We look forward to launching Audience+ on all of our brands within the coming year."
(Editor's note: Lee Enterprises is the majority owner of TownNews.)