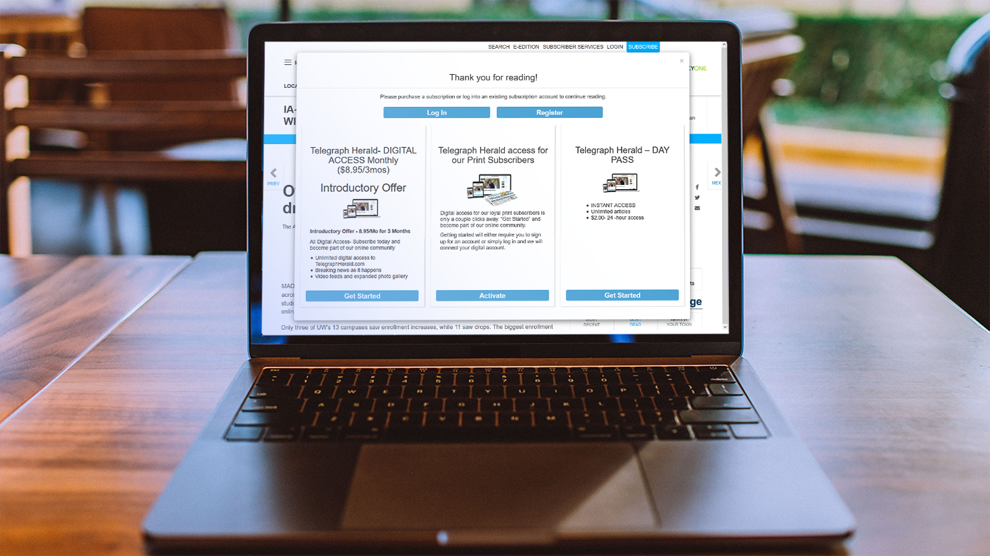 "With the move to iQ Audience+, we were looking to solve a few different issues," said Matt Connolly, Interactive Media Director for TH Media. "Before, people in our community were finding many ways to 'get around' our existing paywall, and view our content for free. It was difficult to change plans and rates being offered to new subscribers. We were not able to target special offers to specific groups of readers, and we wanted to simplify the experience of purchasing a subscription. iQ Audience+ allows us to do all of that."
iQ Audience+ is an innovative audience acquisition and retention platform that enables publishers, broadcasters, and digital-native media organizations to precisely tailor their conversion funnels using machine learning and proven industry best practices.

A daily newspaper with over 70,000 readers, the Telegraph Herald covers Dubuque, IA and the surrounding tri-state area of Iowa, Illinois, and Wisconsin. "We have a very small electronic media team of three people," Connolly said. "It's nice to know we have a larger support team with TownNews available to us."
Plugging the holes in the paywall
iQ Audience+ gives local media sites the ability to require a login or subscription when an ad blocker or incognito mode is detected. Sites can also reduce access to content, and show "drive-by" visitors additional programmatic ads.

"IQ Audience+ allows us to identify when a visitor is using an ad-blocker or is trying to get past the paywall in other ways," Connolly said. " I also like seeing the stop rates on people who've disabled javascript, use private browsing, etc. We will never be able to stop all people from reading for free, but we have a much better idea of how many are."
For the Telegraph Herald, while the iQ Audience+ paywall has a similar conversion rate to the previous provider (0.16%), the paywall stop rate has increased.
"From 7% to a little over 10%, we gained more opportunities to sell advertising," Connolly said.
Surpassing the goal
When launching on iQ Audience+, Telegraph Herald set a goal to acquire 20 new subscribers via the paywall each month.
"We exceeded 30 by the second day, and were up to 134 by the end of the first month," Connolly said. "We gained another 74 active subscribers by the end of the second month. While the rate of new subscribers has slowed, we're still exceeding our original goal."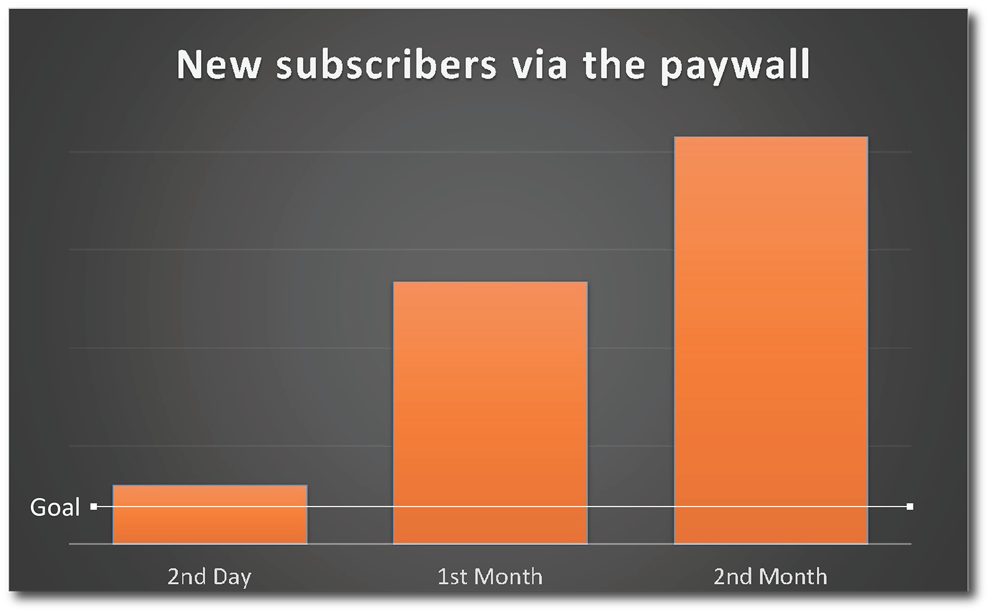 As part of the process, a "Subscriber Funnel" was established that allows the Telegraph Herald to target groups with different offers, depending on how likely they are to purchase a paid subscription. "We can identify how many occasional visitors, frequent visitors, and registered users visit our site," Connolly said.
Customizing packages
The team at Telegraph Herald can easily roll out new subscription packages. "My favorite piece about iQ Audience+ is that we have full control of our plans," Connolly said. "In just a few minutes, without any calls to support, changes to our circulation system, or any extra steps."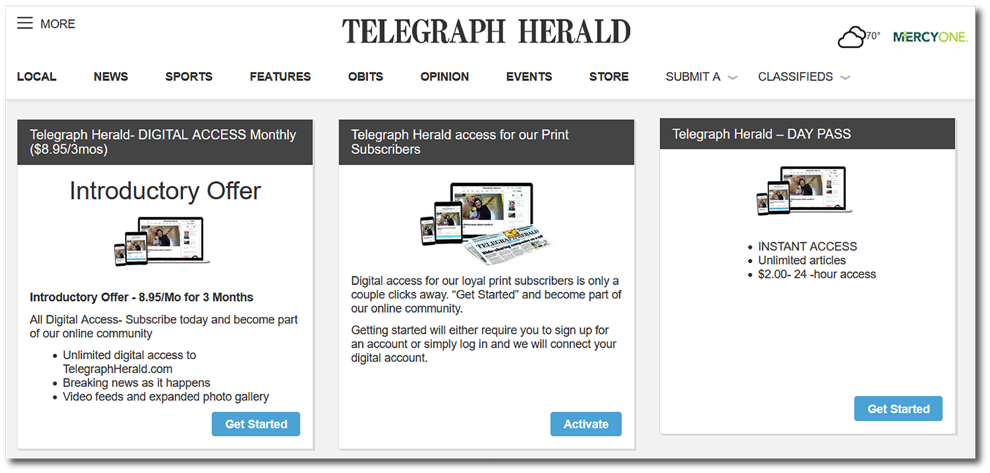 The onboarding team at TownNews worked closely with the Telegraph Herald to implement best practices and create the ideal packages from the very start of the project. Additional support was also available when Connolly's team started making changes to those plans on their own.
iQ Audience+ gives you powerful new tools to lift your membership rolls and preserve advertising revenue, while boosting audience engagement.
"We were able to accomplish many of our goals in a fairly short time-frame," Connolly said. "The benefit of working with TownNews is they are already our provider for so many of our digital products. If we ever want a change, or have a problem, there is just one place to call instead of coordinating conversations with multiple vendors."
In this E&P Reports webinar (sponsored by TownNews), Mike Blinder, Publisher of Editor & Publisher magazine, explores how the Telegrap…