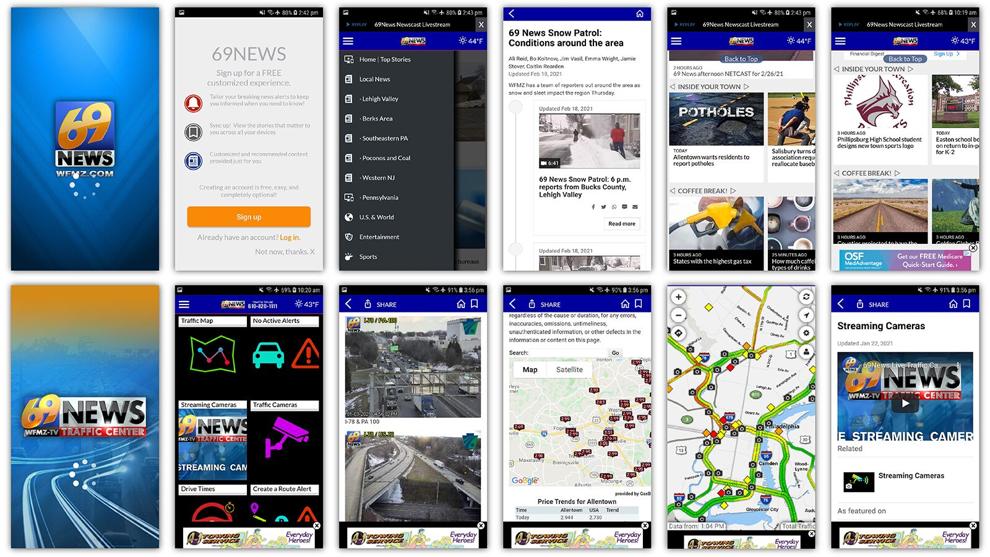 "After the launch of our apps, our long-term user retention has increased by around 16%. User engagement and time spent has increased by close to 300%," said Eric Reinert, Director of Digital Media for WFMZ-TV. "Our users appreciate the new enhanced display formats and the included related and recommended content on the app."

The apps, 69News app and the 69News Traffic app, launched on the BLOX Now mobile platform last October. Part of WFMZ-TV, the apps cover the Pocono mountains, western New Jersey, and Philadelphia.
"An unexpected result was the 23% lift we received in new TownNews Email Reach subscribers. This is likely due in part to the newsletter opt-in choices when initially launching the app."

Multiple apps for diverse revenue streams
"While other stations may opt to create a single app containing news, sports, and weather, we have chosen to create separate apps for each," Reinert said. "While this allows a user to only install an app for a particular usage, we took the opportunity to create additional revenue. The news app contains several types of ads, but the traffic app has a single annual sponsor."
The 69News app shows top stories for each region, along with separate sections so users can quickly find information for their area. Ad placements include hover ads and in-story ads.
The 69Traffic app serves the entire region with incident alerts, traffic reports, traffic flow maps, DOT images and live streaming, local fuel prices, scheduled roadwork, and a place to submit traffic tips.
The current sponsor—a regional towing company—has renewed consistently for the past several years. "They find continual value in the app, and we benefit from the guaranteed yearly income." Reinert said.
Manage web and mobile apps in one simple workflow
Prior to moving to BLOX Now apps, WFMZ's apps were created primarily from imported RSS feeds. Much of the metadata and related content from each article was stripped out and unavailable to mobile app users. "We used to run into difficulties producing content on one platform, then attempting to accurately reproduce that content on another vendor's mobile platform," Reinert said.
"The best part of BLOX NOW apps is the tight integration with BLOX CMS and our desktop site," Reinert said. "It's very easy to change navigation as required, and create or remove entire sections. Adding or removing election results, holiday and seasonal features, COVID-19 updates, and the like is almost real-time."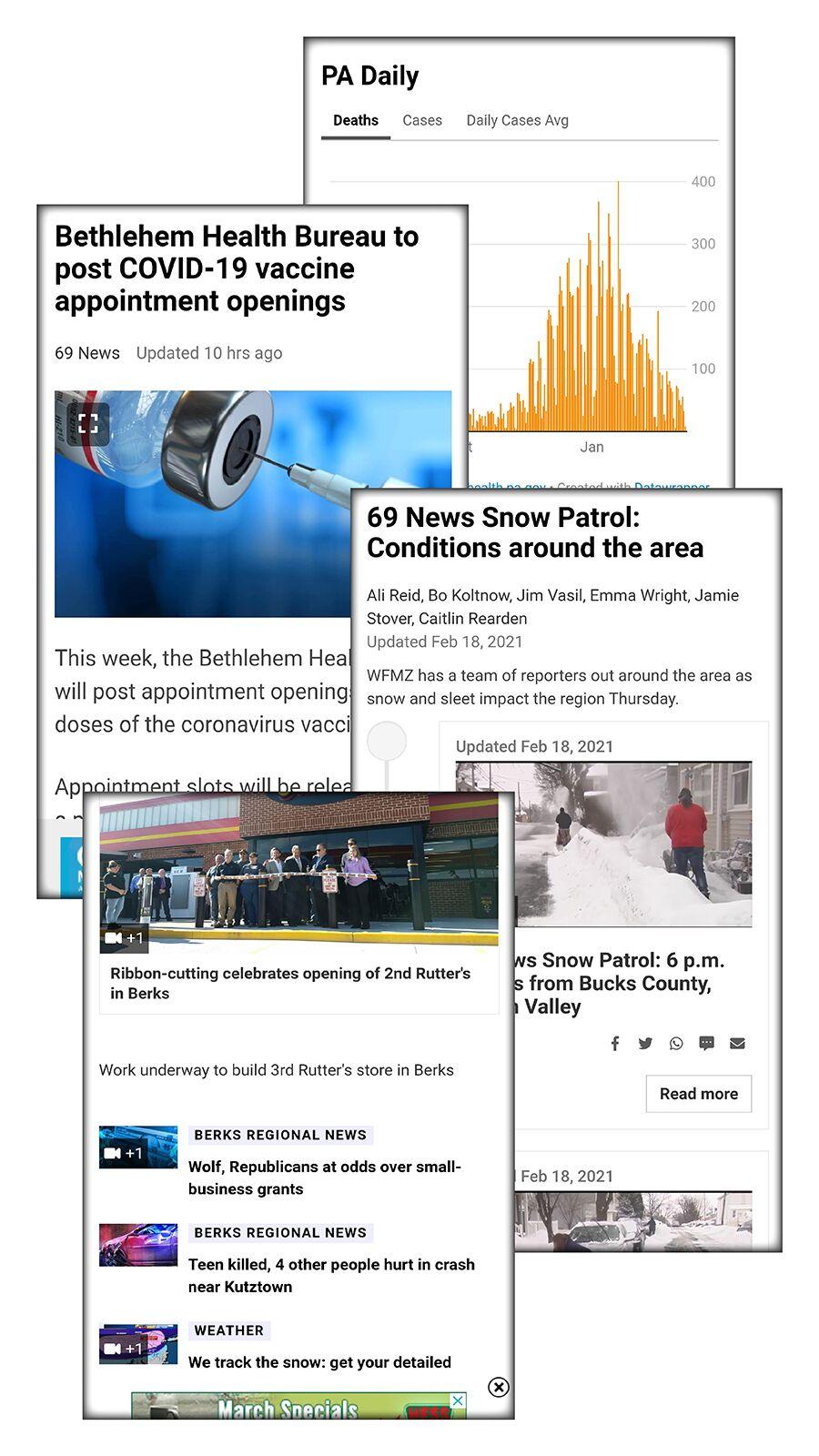 When the pandemic hit, the team at WFMZ quickly created a new section with articles, graphics, and charts to help their audience navigate the new challenges.
"It was easy to combine our local news content with nationally syndicated and state-provided content into an easy-to-read format," Reinert said.
"Shortly after the COVID-19 section went online, we had two area hospital networks contact us for sponsorship, adding to our revenue stream."
Flexible designs that are easy to update
BLOX Now apps offer a wide variety of design presentations to display content. Because the app is not limited to a simple vertical scroll, sites can use different layouts to engage users.
"We've opted to use both vertical and horizontal scroll options, two-column sections, and even the large Feature block for breaking news stories," Reinert said. "We can change these display options at any time to accommodate special features or simply to change up the look of the app."
"Page design and layout is rather simple, with reusable 'blocks' that can be arranged in a drag and drop form," Reinert said. "Article creation also has ample design flexibility, allowing our writers to easily add related content such as images, video, maps, links, social posts, and more."
"This is by far the most comprehensive and best designed content management system we have used."