Like most news organizations, the team at Wick Communications is always on the hunt for new ways to grow reader revenue. When Reilly Kneedler, digital audience editor at Wick, learned that TownNews was seeking beta testers for their revamped audience development platform—Audience+—he was eager to see what it could do.
"The main problem we were looking to address was friction with the subscription checkout process," Kneedler said. "Our readers expect an experience similar to Amazon or Netflix—where the process of signing up for a subscription is completely painless."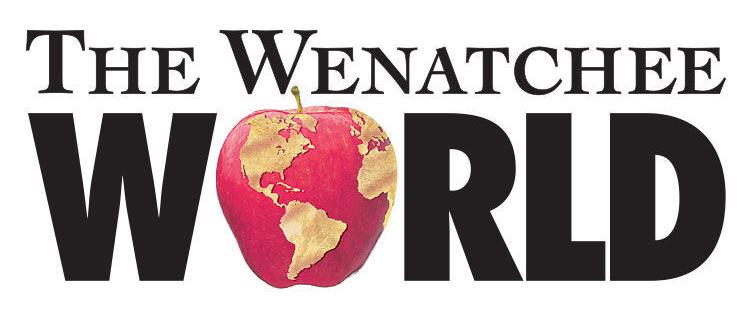 In the summer of 2021, Kneedler and fellow Wick digital team members Sean Fitzpatrick and Alessia Alaimo migrated their first newspaper site, The Wenatchee World, to the new and improved Audience+. The upgraded platform features a one-page payment system, an all-new Offer Builder tool for creating promotions that target specific groups of users, a streamlined login panel, and a redesigned metering system that's optimized for mobile devices.
The results have been impressive.
"We track our subscription funnel metrics very closely and have already seen marked success with the one-page payment process in its first 30 days."
Reduced friction = BIG subscription growth
"We often describe checkout friction as driving down the road with the parking brake on," Kneedler said. "You can be doing everything else in your business perfectly, but you'll always be held back from the success you could achieve."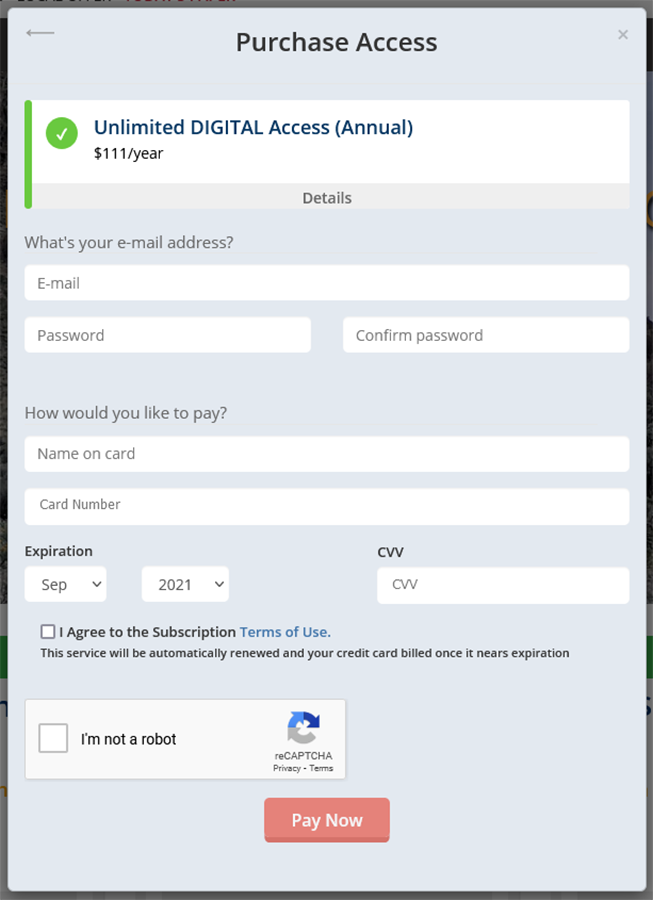 In the first month after launching The Wenatchee World on Audience+ by TownNews:
The number of people who clicked on a paywall subscription offer rose 129.7% over the previous month.
The number of people who began filling in their payment information increased 251% over the prior month.
The streamlined checkout process has boosted successful paywall-triggered subscription conversions by 127.7%.
According to Kneedler, the Wick team took a disciplined approach to the beta test, ensuring that the results—positive or negative—were due to implementation of Audience+, not outside factors.
"In that period, we didn't change our paywall metering strategy or any other significant external variable that would have caused an uptick in checkout success."
Supporting local journalism
For Kneedler, the value of recruiting new subscribers to The Wenatchee World and Wick Communication's other properties goes well beyond bottom-line revenue for the company. It's about strengthening and sustaining quality local journalism.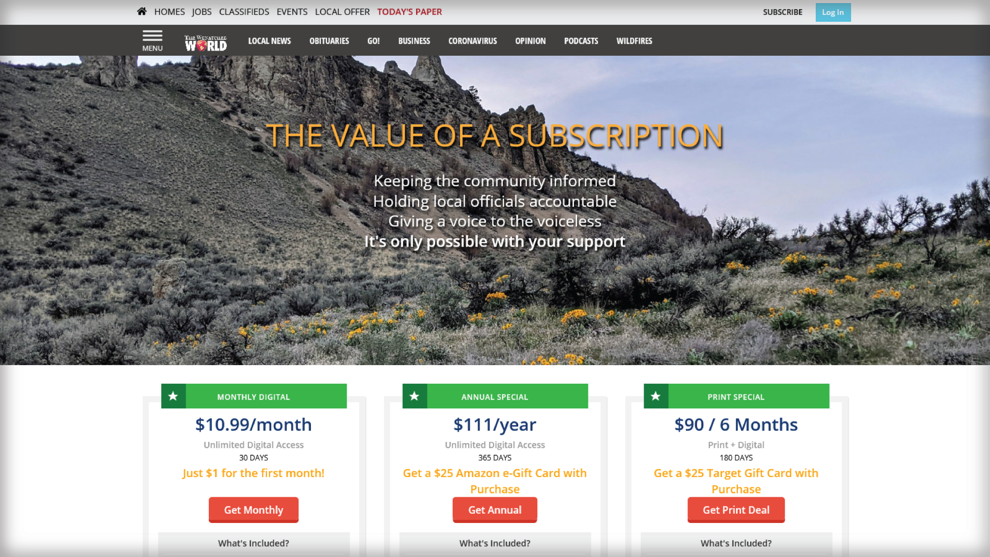 "An improvement like this directly translates into more dollars supporting local journalism in this community," Kneedler said.
"The passion that Bridget Sibthorp-Moecker, director of audience for TownNews, and the rest of the TownNews audience team have for increasing sustainable reader revenue is invaluable."
Turnkey launch, easy management
Because Audience+ is integrated with Wick's chosen content management platform, BLOX CMS, Wenatchee World's launch was quick and painless.
"The Audience+ solution was by far the easiest to implement of all the alternatives we were considering," Kneedler said. "The features are baked into our existing BLOX CMS natively, which allowed for turnkey implementation."
Beyond increased audience revenue and ease of rollout, Audience+ also delivers workflow advances that Kneedler and his team appreciate.
The dynamic paywall and metering solution that targets users with custom offers and converts casual visitors into paying subscribers.
"Offer Builder has also proven to be incredibly useful for streamlining our workflow. As one small example, we can now schedule paywall offers to start at specific times. That will allow our digital team to plan and deploy marketing campaigns across all of our newsrooms efficiently," he said.
So, does Kneedler consider the Audience+ beta test a success? If his near-term plan for Wick's other properties is any indication, the answer is a resounding yes.
"As always, the TownNews team has been incredibly helpful throughout this process," Kneedler said. "We've worked together closely to beta test the product, work through quality assurance, and analyze our early results.
"We're currently in the process of rolling out Audience+'s new Offer Builder and one-page payments to the rest of our 20 properties."