Help this year's graduates celebrate their accomplishments—while generating new advertising revenue—with our Graduate Tributes 2022 package.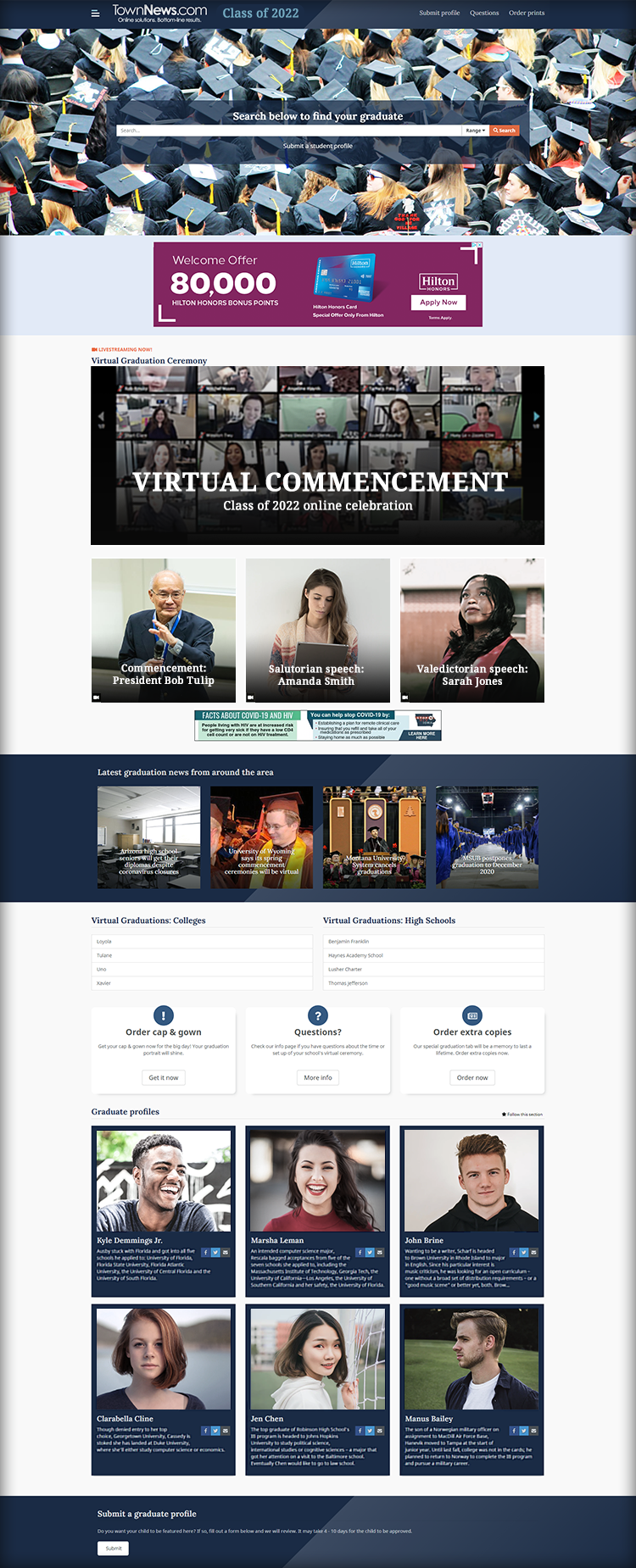 Graduate Tributes 2022 includes everything you need to roll out a graduation page that your community will come back to for years to come:
A custom header presentation with sticky navigation and configurable hero image, links, and titles.
Integrated breakthrough sponsorships for programmatic ads or targeted local sponsors.
Virtual graduation centerpiece with focus boxes for commencement, valedictorian, and salutation speeches.
Trending graduation-related news from around your community.
Specialized search results dedicated to announcements with targeted ads.
Beautiful graduate profile pages with social media sharing options.
Graduate profile videos and additional photo galleries.
Sponsored advertisements for the entire section or individual graduates.
"Submit a graduate profile" form to collect grad information from your community (form module or self-service portal options available).
Your Graduate Tributes 2022 special section can include one setup for all of the graduations in your area, or separate pages for each local high school and/or college.*
Head-of-the-class revenue opportunities
Here are a few ideas for generating easy revenue with a Graduate Tributes 2022 special section:
TownNews customers are making sure their local graduating classes are celebrated—while generating some much-needed revenue—in spite of ongoing…
Offer a Graduation 2022 sponsorship with branding throughout site and/or reveal ads.
Run programmatic billboards and mobile ads throughout site.
Offer "Congratulations" banner ads or directory listings from featured businesses who want to support the schools.
Create a companion print tab special section, or highlight graduate profiles in your featured broadcast segment or on-air promo.
Sell "featured" graduate profiles (similar to announcement ads or congratulatory ads from families).
Get started
Ready to honor the graduating students in your community—and drive new advertising dollars—with an easy, compelling special section? Contact us today to get started!
Video: Graduate Tributes 2022 walkthrough
* Additional fees may apply.