Programmatic advertising is exploding, but how can news and media companies take advantage of the huge revenue opportunities made possible by audience segmentation and targeting? Community Newspaper Holdings, Inc. believes they've found an answer. With the help of TownNews' new data management program, TownNews iQ, CNHI has seen substantial increases in CPMs (cost per thousand impressions) and digital revenue.
"Since the iQ program launched on our sites, we have seen a 20 percent increase in our eCPMs (effective cost per thousand impressions), and an overall revenue increase of about 6 percent," said Courtney Chojnacki, director of ad network sales and operations at CNHI.
With recent growth in the programmatic ad market projected to continue, forward-thinking organizations like CHNI are poised to capitalize.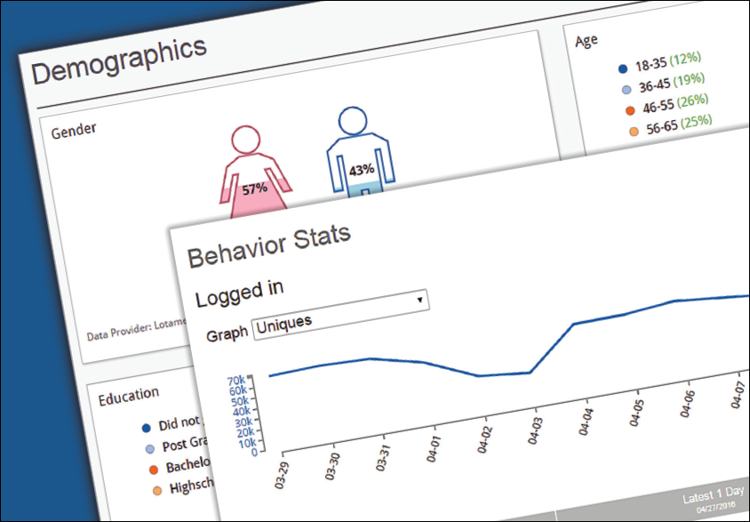 "According to eMarketer, the total ad spend in programmatic is only growing, from $10 billion in 2014, to $15.5 billion in 2015. They expect the trend to continue, with over $20 billion to be spent in 2016," said Wesley Farris, TownNews iQ program manager.
TownNews iQ rolled out in the fall of 2015. The program uses first-, second- and third-party data to deliver highly-targeted programmatic advertisements tailored to users' interests. The iQ program is tightly integrated with TownNews' BLOX Content Management System (BLOX CMS), enabling participants to take advantage of data collected directly through user interactions on their BLOX CMS-hosted sites.
"Programmatic advertising automates the process of connecting thousands of ad buyers with publishers, while TownNews iQ enables our customers to share more information about their audience, leading to higher CPMs," explained Farris.
CNHI was an early adopter of TownNews iQ, launching the program across their network of sites in November of 2015. Within a month, CNHI began earning a profit from the program.
"It was instant gratification," said Chojnacki.
The program's seamless setup process allowed CNHI to start collecting data immediately.
"The TownNews staff gave us a lot of direction on the setup and helped create a selection of initial categories, and we picked the categories with the most uniques and potential," said Chojnacki. "Now when I go to set up an audience segment, it literally takes a minute—and the new segment is active immediately."
By December 27th of last year, Chojnacki and her team had successfully created the segments they are currently employing. And they've already seen big growth in their CPMs.
"In only two months' time, we have seen significant lifts of 50-75 cents, and even $1 in some cases," said Chojnacki. "January is traditionally one of the worst months of the year for national revenue, but this year we didn't see the dip we normally do."
CNHI has created a variety of segments for both mobile and desktop users including auto intenders, business, entertainment/lifestyle, government/political, news enthusiasts and sports enthusiasts. Currently, the government/political segment is CNHI's top performing category.
"While our government/political segment has fewer uniques than some of our others, it's where the biggest portion of our ad impressions are being bought," said Chojnacki. "This is probably because it is big election year, but it just goes to show that a category may perform better than expected."
CPMs tend to fluctuate in response to industry trends and seasonal changes. CNHI has developed a strategy that emphasizes quantity to address these inconsistencies and keep their overall rates higher.
"What we want is volume. The goal is to have every impression sorted into one of these audience segments, where we are getting higher CPMs," said Chojnacki.
This strategy informs how Chojnacki and her team approach pricing.
"We can be more aggressive on prices in categories where we are seeing more impressions. We may get a slightly lower CPM, but we are selling millions of impressions—that's a lot of impressions that would normally be sold at bottom remnant prices, now being sold at a much higher rate."
Establishing an effective waterfall of potential ad buyers has also been a key component of CNHI's strategy.
"A 'waterfall' refers to a hierarchy of ads that are ready to serve based on different sets of targeting criteria and CPM pricing floors," explained Stevie Longwith, iQ Ad Ops program manager at TownNews. "Setting up and maintaining an effective waterfall is a critical aspect of programmatic advertising."
CNHI's approach has yielded positive results, with approximately 99 percent of their impressions running through audience filtering. These early results make Chojnacki optimistic about the future of their advertising campaigns.
"Every year, I get asked how I am going to increase my CPM for programmatic/remnant advertising, and this is exactly how we are going to do it," said Chojnacki.
And the program is still growing and improving to meet the needs of publishers—TownNews recently added the ability to synchronize non-web data with online data as well as a semantic analysis tool that automates article keyword tagging to better identify users' interests. And they're in the early developmental stages of using the DMP to power content recommendations. All of this is accomplished via deep integration with BLOX CMS.
"I am really excited about the semantic analysis tool that was recently released. I think once our site is properly tagged with keywords in articles our numbers are going to grow," said Chojnacki.
While continuing innovation is important, CNHI also views TownNews' staff as a major benefit of the partnership.
"The people at TownNews are awesome, and I hear from them regularly. They are very reactive and proactive—they're always communicating any new implementations or tools," said Chojnacki. "You cannot replace this type of relationship."
Paige Ruba (pruba@townnews.com) is a marketing specialist at TownNews.