"Traffic on mobile is doing nothing but growing. Growing by leaps and bounds—whether you're a college or professional publication," said Chuck Clark, director of student publications of the College Heights Herald.
With more readers turning to their mobile phones for news coverage than ever before, the Herald—Western Kentucky University's student-run newspaper—moved their website (wkuherald.com) to TownNews' responsive Flex Templates in 2014.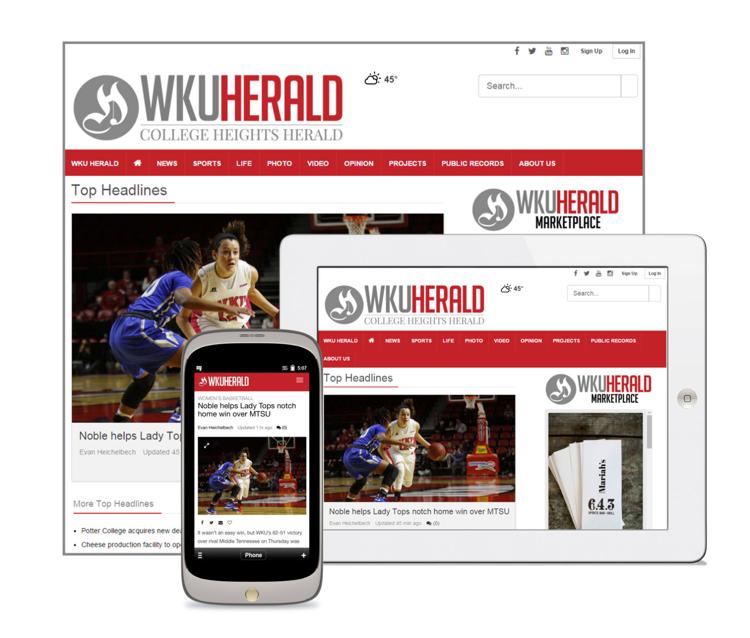 TownNews' Flex Templates use modern responsive design techniques to create a site that adjusts to fit any device and offers simplified management, faster load times and enhanced SEO.
"If you're not on responsive design, you're missing the boat—it allows your site to feel native to mobile and that is absolutely essential in media today," said Clark. "We felt that Flex Templates would, as the name suggests, give us more flexibility, but we also knew it would open up more advertisement possibilities and customization capabilities."
The Herald has always been eager to experiment with new methods for news distribution. They were one of the first college news outlets to publish online—launching their website in the early 90s. So the paper jumped at the chance to become an early adopter of the Flex Templates.
"We were approached by our sales representative to be a sort of 'guinea pig' for the new templates," said Clark. "We of course said yes. We always like to try new things and it seemed like a good bet considering our good relationship with TownNews."
And according to Clark, the bet paid off. The relaunch has delivered happy staffers and readers.
"Flex feels more natural on tablets and phones—our site is easy to navigate and displays well on whatever device you're using," he said.
The paper began testing the new site over winter break, when students are less active on campus.
"We took this as an opportunity to modernize the look of our site," said Clark. "We purposely started to make changes over winter break and held a few video calls with the staff on what to expect with the new templates. And at the start of the spring semester we officially launched."      
Since launching, Clark says the feedback from his staff has been positive.
"The transition has been seamless for the students, they didn't have to learn an entirely new system—they still manage the site out of the BLOX admin."
The readers are equally satisfied.
"Everything I've heard is that they like the site and that it's easier to read on a phone," said Clark. "It's very user-friendly."
While mobile-friendliness was a driving force behind the Herald's redesign, Clark also appreciates the ability to easily place new ad positions almost anywhere on the site.
"Flex allows us to create more ad positions, which drives revenue," he said. "We're unique in college media because we are entirely funded by ad revenue—we don't have funding from the school, we don't charge students a fee—it's all through our ads, so this change has been great for us."
After their first year with Flex, the paper saw an overall revenue increase.
"From fiscal year 2014 to 2015 the overall revenue increased by 26 percent—this also includes print and other services, but gives you an idea of the positive effects of Flex," said Clark. "And our digital growth is strong, with 15 percent of our revenue coming from digital in that time. When I first started at the Herald in 2012, digital only accounted for 3 percent."
Despite all of the beneficial features of Flex Templates, Clark insists the TownNews staff is the company's best offering.
"The staff is always there when we need help, want to try something new or have a question. We have a terrific and productive relationship with TownNews and the company is very customer service focused," he said.  
"The thing we're happiest about, is how good TownNews is to work with. It's not just the Flex Templates, it's the overall TownNews experience."
Paige Ruba (pruba@townnews.com) is a marketing specialist at TownNews.