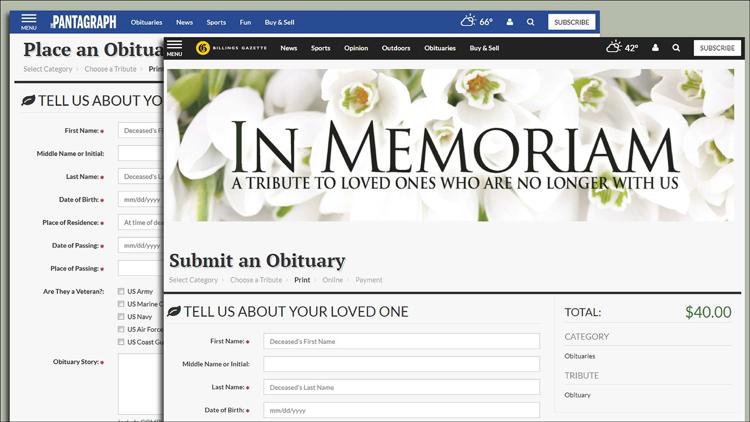 Though BLOX Ad-Owl is typically associated with classifieds, Lee Enterprises is using the step-by-step order entry system in combination with BLOX Tributes to generate revenue through easy-to-use online obituaries.
"We're constantly expanding in the eCommerce space," said Bridget Sibthorp-Moecker, director of digital audience development. "And we're encouraged to find people are willing to go online to purchase even something as sensitive as an obituary."
Making the switch
The goal of switching online obituaries from a primarily print product to an online offering was to simplify the process. "In the past, obituaries have been fulfilled differently in different places. At a lot of sites, the newsrooms handle taking calls and emails, and working directly with funeral homes," said Sibthorp-Moecker.
"It was just all over the place," said Tim D'Avis, director of digital product management. "We had PDFs of printed order forms or forms online that required a salesperson to call the user back. We were able to clean up a lot of that with this initiative. Online obituaries using BLOX Ad-Owl improves operations and reduces the burden on staff."
"Most of our sites use BLOX Ad-Owl for classifieds," Sibthorp-Moecker said. "We like that it is integrated into BLOX CMS. We really wanted to launch the obituaries specifically on this platform."
Sensitive subject matter
Along the way, Lee Enterprises worked with TownNews.com to improve the ordering process, delicately catering to this subject matter. "Writing something like this is one of the worst things that people have to do. We really want to sympathize with our customers," Sibthorp-Moecker said. "It's a customer service aspect. We want to be more sensitive to the customers that come through this portal. This includes simple things like form fields or email responses."
The default Ad-Owl setup is generally more ad-centric and conveys a sense of enthusiasm. With these new enhancements, an order entry landing page can now be configured to project a more fitting tone.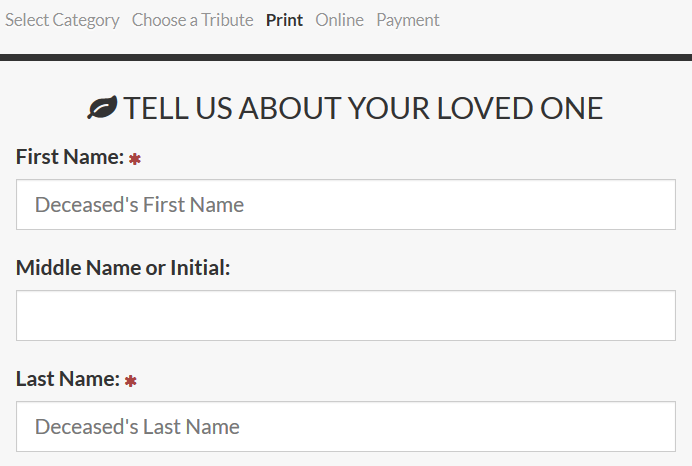 "Some of our papers had a specific format for how they would write an obituary notice," Sibthorp-Moecker said. "This gives people the freedom and autonomy to write whatever they want now. We find that people write a little more and they definitely like the idea of being in charge of writing their loved one's own story."
In addition to on-page language updates, customer-facing outgoing order notifications can be easily customized. This allows Lee Enterprises to craft a sympathetic message, rather than the typical appreciation for submission email.
The Email Templates feature in the Ad-Owl application settings allows admins the ability to customize and assign unique purchase confirmation and expiring notification emails.
Simplified self-service approach
The biggest challenge facing Lee Enterprises for online obituaries was standardizing the approach and rates. "Most of our rates, this is true in classifieds as well, are based on old print formulas. Trying to distill that into something easier in a self-serve environment was probably the initial set up challenge," D'Avis said. "We've now streamlined deployment and set standards within our sites."
Because of varying market size, the pricing structure has been standardized based on existing rates. "We asked the enterprises to work with us on this," D'Avis said. "We created a simplified model for Ad-Owl with flat pricing for upsells and a per-word or per-character calculation that is generally easier to work with."
"With more and more pressure on the sales side, any revenue made from a consumer self-transacting and having a good experience doing so—the easier and more transformative it becomes for business," D'Avis said. "Using BLOX Tributes for obituary notices is a good fit for that. It ties into an existing line of business and represents potential incremental gains."
Phil Pracht is the BLOX Ad-Owl and BLOX Tributes product manager at TownNews.com.