"Today, people don't just go to your site and browse the day's news. They find links on social media, go right to the story they came for, and then leave. How do you get them to stay longer?" asked Jason Braverman, web operations manager for Southern Community Newspapers, Inc. (SCNI). Braverman came to believe that the group's websites were missing key content to compel readers to stick around.
Located in the heart of Georgia, SCNI owns six dailies and one weekly. Half of the papers were providing only local stories, the others sourced national content from a wire service. When the group's management decided to reevaluate the wire service — citing budgetary considerations — the company began looking for alternative sources of third-party content.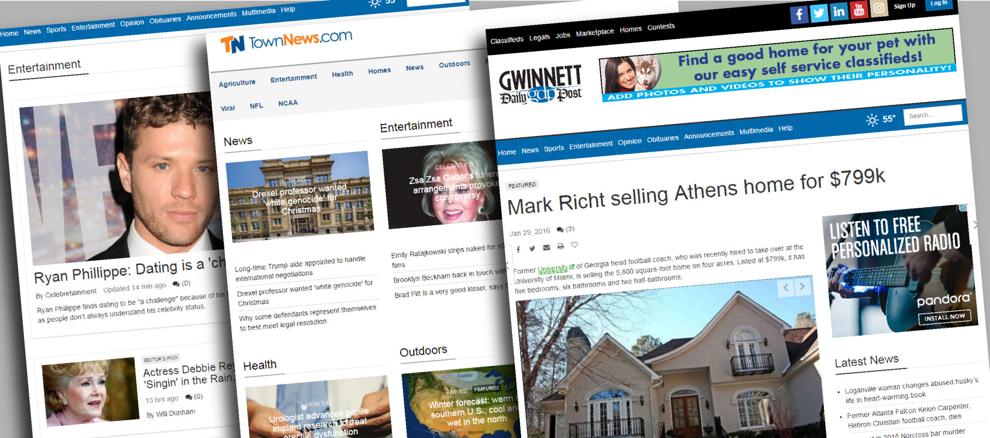 SCNI learned about the TownNews Content Exchange as the program was launching in early 2016. The Content Exchange is designed to help media organizations use high-quality content to boost pageviews, SEO and revenue. Braverman describes the program to colleagues simply as "a service where our stories are made available to other sites, and other sites' content is available to us."
When SCNI joined the program in March of 2016, the group immediately began taking advantage of a wide range of free content. And in most cases, Content Exchange stories, images and videos are automatically added to SCNI's sites via syndication channels in BLOX CMS.
"It's so easy," Braverman said. "I can keep an eye on the program without dedicating additional resources. And what TownNews is doing with the Content Exchange is great — especially for those papers that don't have wire resources. I know a lot of media companies are looking for alternatives."
With an additional source found, Braverman and the SCNI editors worked to identify areas where additional content would be beneficial.
"Initially one of the things we were lacking on our sites was entertainment. The Content Exchange provides something extra," Braverman said. "Readers are coming to your site to find a local news story and then they see their favorite actor or actress is getting married."
"The entertainment stuff has been great, especially with the new partnership with Bang Showbiz," Braverman said. "There are times where I'll see a story from the Content Exchange is already one of our most popular stories for the week. It went viral . . . all of a sudden we have an entertainment section filled with what everybody's talking about."
Braverman also sees contributing to the Content Exchange as an opportunity to draw extra traffic — particularly to stories with viral potential.
"Every now and then I'll say, 'Hey, we have this story that happened in Gwinnett county'," Braverman said. "It's local but it's such a bizarre story that it could be good for the network. We'll put it onto the Content Exchange for other papers to use. It not only benefits our group but it's benefiting the other papers too."
Braverman and SCNI are constantly on the lookout for new ways to take advantage of the Content Exchange's extended audience. Not too long ago, the group introduced a popular weekly feature — an article and photo gallery — showcasing an area home sale.
Recently, a University of Georgia football coach's home listing inspired Braverman to create a regular "Live like a star" celebrity home gallery, which they share with the Content Exchange.
According to Braverman, the partnership with TownNews is bearing fruit, with benefits that go beyond the Content Exchange program.
"The great thing about the Content Exchange, and really everything at TownNews, is that customer support is great. I always know who to call," said Braverman. "Any time there is an issue, TownNews will help us individually so the editors are happy and our stories are being seen."
The program is going strong and experiencing continual growth. Some participants are seeing up to a 40% lift in page views from the content provided through Content Exchange. For Braverman, the strength of the program is that it helps draw in readers — keeping them on SCNI's sites for longer periods of time.
"Really just the whole idea of stickiness. Keeping people on your site," said Braverman. "That's something we wrestled with before the Content Exchange."
Cherry Wolf (cwolf@townnews.com) is a marketing specialist at TownNews.