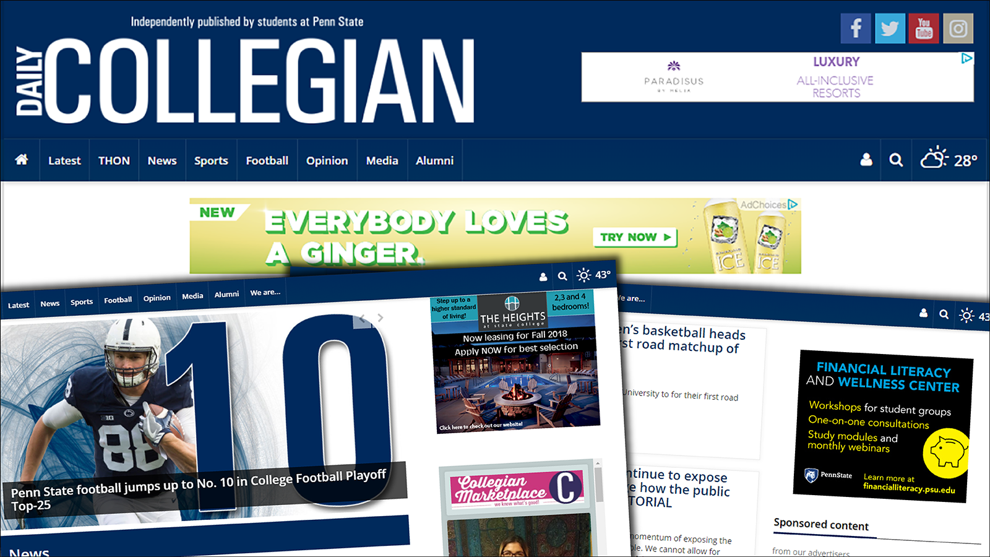 While many college media sites struggle with limited resources, the Collegian at Penn State has found a way to thrive. In partnership with TownNews, Collegian generates enough revenue—through targeted programmatic advertising and increased user engagement—to more than cover their content management technology costs. "It has made the Collegian's site self-supporting," said Rick Simpson, Technical Support for Collegian, Inc.
Driving traffic and user engagement

Collegian, in one form or another, has been part of Penn State University's history for over 130 years and a TownNews partner for the past five years. Student content for the Daily Collegian is published on weekdays only while classes are in session. So Collegian joined the TownNews Content Exchange to supplement student-created content.
A network of over 525 partners, the Content Exchange is an excellent resource for professionally crafted images, videos, articles and more. Collegian decided to take a hands-off approach with the Content Exchange, opting to automatically import the vast number of articles.
"The entertainment and pet channels attract the most views," Simpson said. "It allows Collegian to have news and entertainment articles that we simply wouldn't have otherwise. It doesn't just drive traffic, it drives engaged users that return to our site."
"Since Collegian joined the program, it has been the highest performing site in the Content Exchange," said Tim Turner, Content Program Manager at TownNews. "They have really embraced the philosophy—to help media sites focus on their communities while leveraging the collective power of the exchange to address their audiences' other interests."
Collegian has experienced a significant increase in pageviews as part of the Content Exchange.
"On a monthly average, Content Exchange articles lead to a 20% increase in total pageviews," Simpson said. "That allows the Collegian a bit of breathing room. The increase in pageviews indirectly enhances our ability to monetize the Collegian's web site and increase our overall available web advertisement inventory."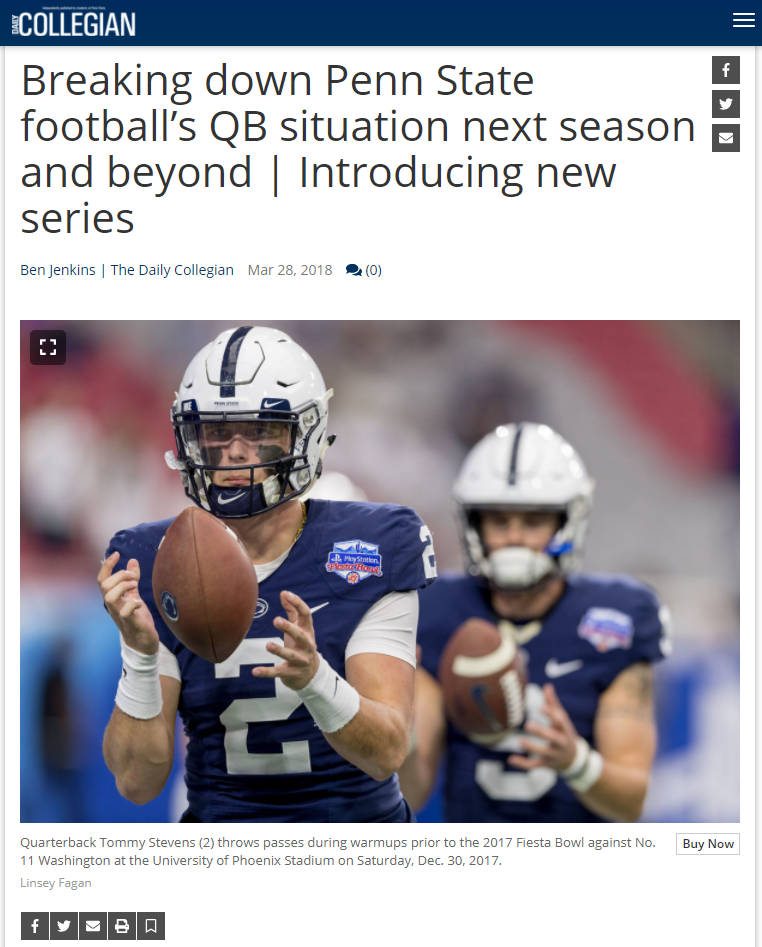 And generating new content ideas has been an unexpected bonus of participating in the Content Exchange.
"Our number one article one month was a Content Exchange piece on fantasy football," Simpson said. "The good news about that: the response encouraged our sports department to try their hand at writing fantasy football content, which is continuing."
Monetizing with programmatic advertising
Looking for additional opportunities to monetize the site, Collegian signed up for the TownNews iQ program last year. "The iQ program makes it easy for small web properties like ours to participate in programmatic advertising," Simpson said.
Collegian staff and students are able to focus on providing local advertising and sponsorship opportunities knowing the site has a strong programmatic advertising partner.
"The only obstacle a site might face could be resistance from some students to the presence of more advertising. For the Collegian's site, it was more of the groaning nature than true argument," Simpson said. To counter this, Collegian chose to include programmatic ads on the section pages, rather than individual articles. Local ads come first but the TownNews iQ program allows the Collegian to augment advertising to increase fill rates and generate revenue.
Concentrating on more than the technical aspects
"Partnering with TownNews over five years ago has allowed Collegian to be somewhat insulated from rapid technological changes," Simpson said. "TownNews aggressively keeps pace with changes while providing a framework that allows us to concentrate on the presentation of the news online—not the more hairy technical requirements."
Some of these requirements include equipment and technical staff.
"Collegian is freed from having to maintain a web server, database server, redundancy plans, or the security implementation of these tools," Simpson said. "Nor do we have to concern ourselves with the annual recruitment and training of web developers. Collegian also has a rather large news division—around 150 students for the spring and fall semesters. User management at that scale and rapid turnover can become problematic. Dealing with resource constraints can be a significant distraction to news gathering and producing."
"Another advantage of the TownNews framework is you can have a roomful of students completely oblivious to HTML and web technologies and still produce a good looking, functional site available across all devices," Simpson said. Collegian does this by using simple one-sheet best practices documents that "guide even the most HTML-challenged person and enable the best presentation on our TownNews hosted site."
Thanks to Collegian's blend of local and national content, the site has opened doors for new sites—especially college sites—to perform better.
"Collegian is the perfect example of how experimentation, great journalism and data analysis can help media organizations grow their digital footprint," Turner said. "Not many companies out there can say they have more than doubled pageviews over the past two years."
"The fact that we don't have to write a check for our web services is just fantastic. And as is typical for working with TownNews, we don't have to do the heavy lifting," Simpson said.
Cherry Wolf is a marketing specialist at TownNews.