The Tulsa World found itself at the epicenter of an ongoing national news story last year when the execution of death row inmate Clayton Lockett went terribly wrong. Critics claim the "botched execution" amounted to cruel and unusual punishment, calling into question nationwide the use of lethal injections for executions.
The Tulsa World used the tools built into TownNews' BLOX CMS to pull all the stories, photos, videos and other assets together to create a special section — Fatal Flaws, how Oklahoma's lethal injection process went wrong — that has made the World one of the leading sources of news and background information about the controversial topic.
This special section, and others created by the Tulsa World, drive pageviews, increase search engine optimization and add revenue to the World's coffers. These sections are built mainly with TownNews' topic page technology.
"Topic pages allow our readers to catch up on stories that they might have missed when they first broke," said the Tulsa World's Web Editor Jason Collington.
TulsaWorld.com creates topic pages regularly. The pages include asset types such as articles, photo galleries, graphics and videos accompanied by an introductory overview. To ensure their topic pages are easy to find, the Tulsa World created a "Special Reports" page dedicated to their most popular and current topic pages (under its "News" dropdown menu).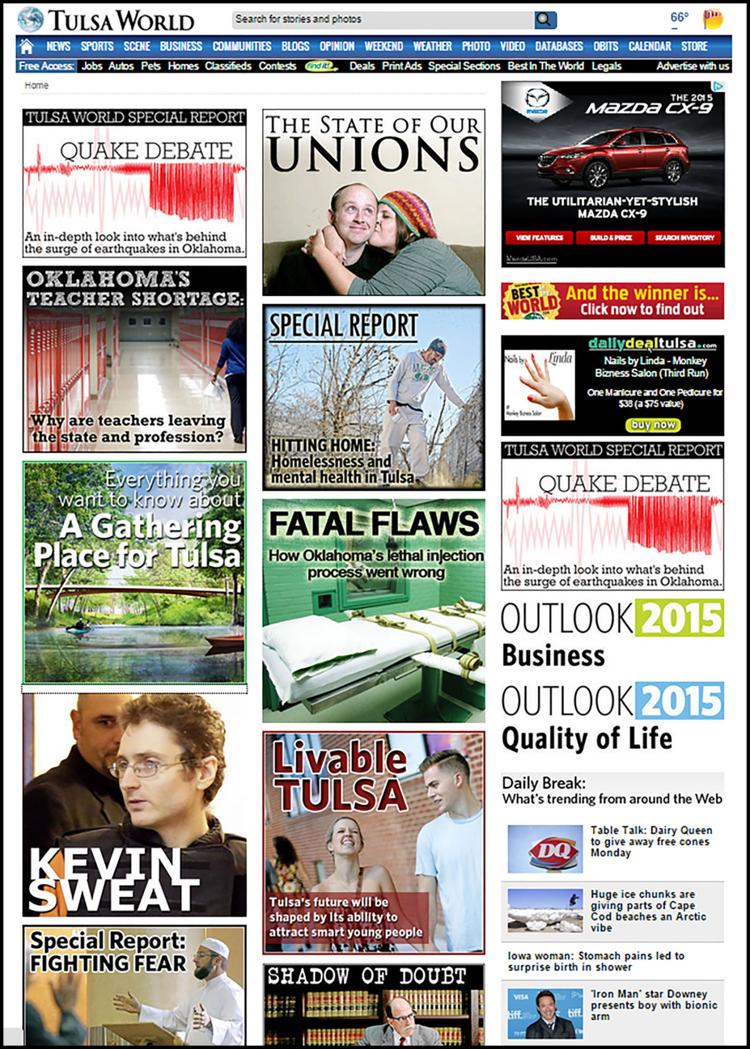 "After a major development in a story, we will work to reorganize the topic pages so the freshest news is toward the top," he said.
Collington stresses the importance of updating the pages frequently, which doesn't just serve readers but also helps with search engine referrals. Creating pages as early as possible is another trick the Tulsa World uses — the earlier a page is created, the more time Google has to see it's relevant.
"By the time one of our events happened — the Bassmaster Classic — we were second in Google results behind the official website for the event," he said.
Getting a jumpstart on upcoming events or a series is a key piece of the Tulsa World's strategy. It also helps to have one short and easy-to-remember URL to share with sources and those who can help spread the word about a topic. Collington said adding links to the topic pages and connecting to other relevant content on the web — a process he calls "Wikipedia-fying" the site — also helps drive traffic.
Some of the recent simple URLs have included tulsaworld.com/fschool, which told the story of what happens when a school receives a failing grade from the Oklahoma Department of Education. Another was tulsaworld.com/livabletulsa, which detailed efforts to attract young professionals to the city.
"Using a single URL makes the pages highly shareable, especially through email," he said. "URLs can get really long if you let them. We make short URLs for popular content all the time."
The use of a single URL has drawn positive feedback from readers, sources and other news outlets. A national news broadcast directed viewers to the popular topic page "Fatal Flaws" by mentioning the URL during their coverage of Oklahoma's botched execution last year.
Easy promotion and increased SEO results drive traffic to these pages. Topic pages also encourage readers to stay on your site to find more information about a story. Readers can easily browse multiple articles, increasing pageviews and ad impressions. Like articles, topic pages can generate revenue through sponsorships, banner ads or pre-roll video ads.
"Since topic pages are centered on a single subject, targeting ads to a particular audience is a great revenue option," Collington said.
Topic pages direct traffic to individual articles, images and videos from one neatly organized page, providing convenience to readers and other news outlets.
Or, as Collington says, "One place, one stop, one URL."
Paige Ruba (pruba@townnews.com) is a marketing specialist at TownNews.