Ask Alasdair Stewart, managing editor of the Walla Walla Union-Bulletin, what his favorite thing is about BLOX CMS's built-in calendar upsell capability, and he'll tell you loud and clear: "It's easy money. You just offer packages and people take the opportunity."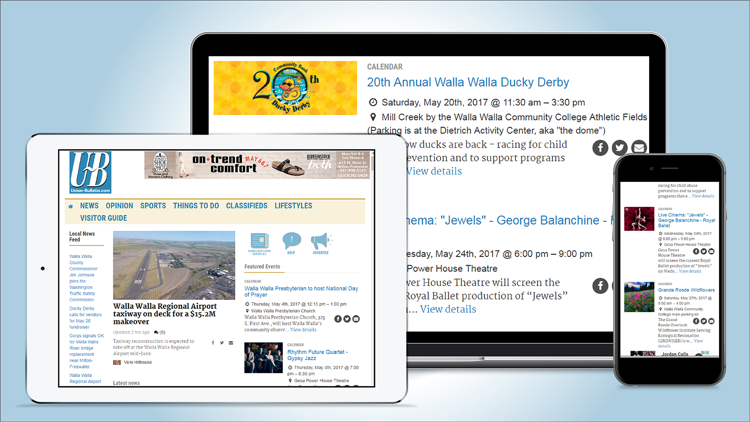 Based in Walla Walla, Washington, the Union-Bulletin reaches 84 percent of the area's adults each week through print and online. The Union-Bulletin includes daily and Sunday sections, numerous special publications and a popular Lifestyles magazine. The website draws over 500,000 monthly pageviews.
The Union-Bulletin uses calendar upsells to give community members a self-service way to increase the visibility of submitted events. Promoters can purchase add-on advertising bundles as they create their events—without calling a sales rep! When a buyer selects an event upsell, the features of that package are automatically added for a designated time period and removed upon package expiration. (Read more about how it works in this blog post from TownNews product manager, Phil Pracht.)
Upsells can also be offered for business directory listings and editorial content such as press releases. 
Effortless setup
"From the initial discussion meeting to getting packages, programs and blocks in the appropriate places, setup took three hours, maybe less," said Stewart. "I can't think of another revenue generating tool that you can launch as easily and quickly as this."
For Stewart, the benefits of calendar upsells go well beyond the simple setup.
"Creating the packages was super easy," said Stewart. "And I don't have to do anything with it now. When someone posts an approved event, and they also buy an upsell, the upsell automatically goes into effect."
"I feel like it's about the fastest way to make money that I can personally do," Stewart said.
The Union-Bulletin also provides messaging about the upsell packages for the sales team to use in outreach to event organizers and advertisers. "But we get a pretty decent amount of our upsells just by the fact that people are submitting their calendar event and it says 'hey, do you want to promote this?' and they do," Stewart said.
"It's super easy from the customer's viewpoint, they just click the package they want and pay."
Featured sections and email newsletters
Upsold events are featured on the homepage and in special sections online. "Most people view calendar events from the featured events blocks on the website—not by going to the events calendar," Stewart said.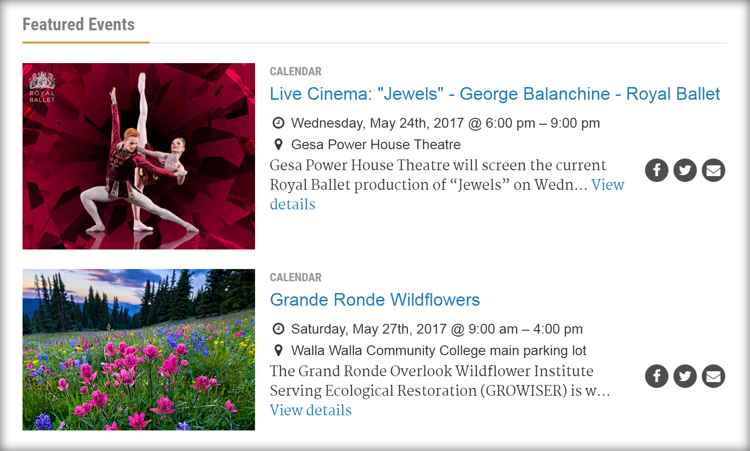 The Union-Bulletin also sends out a headlines newsletter for each of the six days they publish. Upsold event listings are featured in the email newsletter. "Unsurprisingly, this means upsold events tend to get much better traffic—hundreds of views in a month compared to regular listings," Stewart said.
Packages based on weekly increments
Advertisers—including a theater, winery and hospital—repeatedly use upsells as a key part of their outreach.
The Union-Bulletin initially offered weekly packages, but expanded their selection to meet advertiser demand. Packages are now offered in increments of one to four weeks. "Advertisers and organizers didn't want to have to keep coming back to rebuy. They just want it all upfront," Stewart noted.
Stewart uses the longer packages as a tool to help secure regular advertisers. "It's just another extra tidbit to lure people with," Stewart said.
One and two-week packages are just $25 per week. Three and four-week packages are offered at a discounted rate.
"A lot of these people do not have big marketing or advertising budgets. Many of them are nonprofits," said Stewart. "So being able to spend $25 and actually have people say they saw the event because of the upsell is a big hit."
The Union-Bulletin's calendar upsell packages have been so effective that one advertiser asked Stewart to turn off upsells early for several of their events. "Not because they didn't want to pay for it, but because they had already sold out!" Stewart said.
"I always find it baffling when people haven't implemented upsells," Stewart said. "It's such an easy, user-friendly hit with customers. It seems so intuitively obvious for me that it's a big win. Easy money is just waiting for you!"
What are you waiting for? Learn how to get started with upsells today.
Cherry Wolf (cwolf@townnews.com) is a marketing specialist at TownNews.