Whether you're covering a serious news event, creating fun lists or writing informative blog posts, our expanded presentation modes have you covered. With our newly expanded display options you can show off photos, videos and articles in interactive ways that are sure to draw in readers and keep them coming back.
"We've been listening to our customers around the country who have been asking for more ways to better tell their stories while increasing pageviews, engagement and revenue. We can't wait to see what everyone does with these great new tools," said Christine Masters, Director of Product Management at TownNews.com.
Article presentation modes
Now, you can swap among three article presentation modes with a simple click of a button. The popular long-form presentation puts the focus on the story, while the personality presentation puts the author front-and-center. Or you can stick with our standard presentation mode for stories that don't require special emphasis.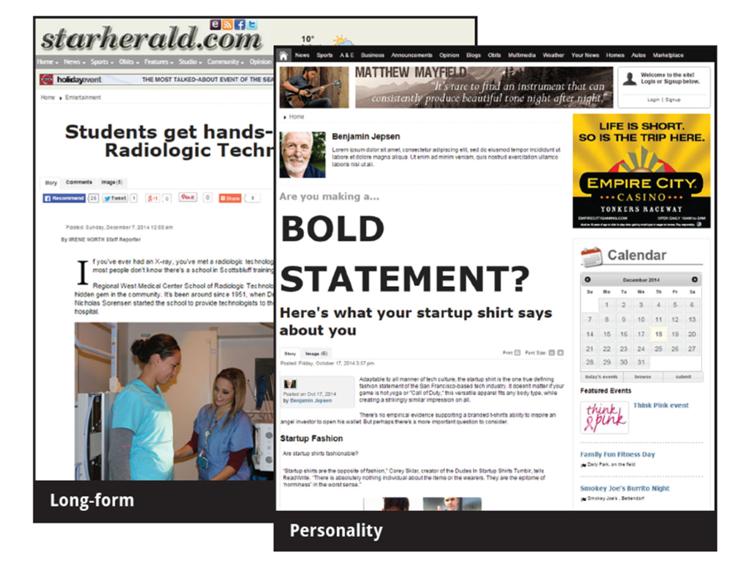 Perfect for lengthy articles and bold headlines, the long-form mode emphasizes editorial content by removing the right rail and adding padding to the sides. An in-story banner ad replaces right-rail ads which can run at a variety of sizes. Attract advertisers by selling the in-story long-form ad space as a sponsorship exclusive to specific articles.
The long-form mode also allows for expansive storytelling. In-line photo and video assets help your readers visualize the story. In-line assets are displayed at the width of the story, ensuring they grab your readers' attention while helping the story flow flawlessly. Have additional photos or videos you want to include? Photos and videos not used as in-line assets will appear in a mini right-rail along with related content and pull quotes.
The personality presentation mode highlights the author by placing their information — avatar, social media links and bio — in a box at the top of the article. This mode works great for opinion pieces, blog posts and other content where the author is a focal point.
Collection presentation modes
Make your collection assets interactive with our four new presentation modes. Choose from mapped, paging galleries, series and timeline presentations for articles, blog posts, lists, images and more.
Create an interactive plotted map with the mapped presentation mode. Assets containing geolocations will be pinned on the map, clicking the pin will open the asset in the current window. Incorporate the mapped presentation into list articles such as "top ten local restaurants" or "must-see tourist locations".
Paging galleries are another great way to showcase list articles. Paging galleries support image, video and article assets giving you even more freedom. Items within paging galleries are displayed on separate pages with controls for browsing between assets — similar to a slideshow. Each time a user flips between assets, Google Analytics counts a new pageview.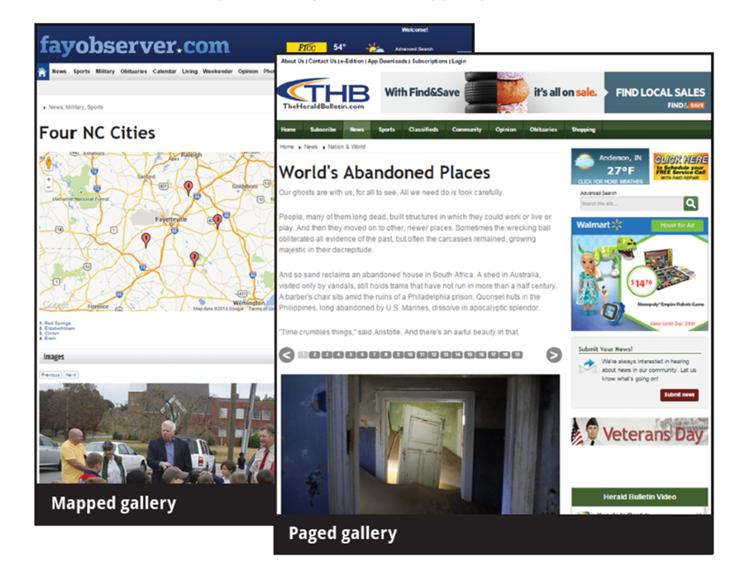 Have more than one article on a single subject or event? Our series presentation mode allows you to link related articles and display them in a particular order. Other assets within the series are listed on each page to promote related content and increase pageviews. Series are a great solution for stories that require ongoing coverage like elections or trials.
Some stories such as natural disasters take days, weeks or months to fully unfold. Readers can now follow the story in one easy location with the timeline presentation mode. In this mode, assets are displayed in a chronological timeline base on their start date. Users can drag the cursor back and forth along the timeline to preview stories. The preview of the selected article displays above the timeline. Users can also browse articles by using the arrows in the preview box. Once a title is clicked, the article will open in the current window.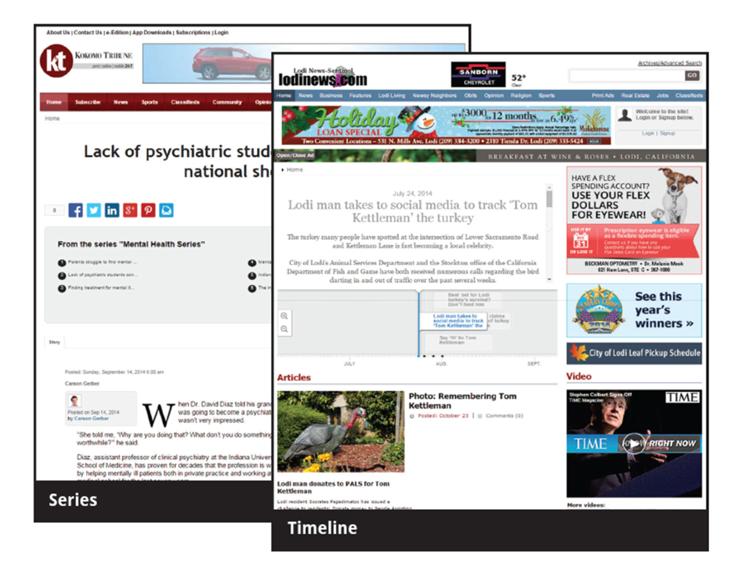 Our new presentation selections are designed to give you even more creativity when displaying your photos, videos and articles. The interactive presentations will engage readers while boosting pageviews and revenue. With these expanded options you're sure to find the presentation mode that fits your content best.
Paige Ruba (pruba@townnews.com) is a marketing specialist at TownNews.com.