"What better place to showcase your business than through the local news site?" asked Michelle Skadal, sales operations manager at Amplified, Lee Enterprises' digital agency. "When the weather changes or big news happens, people go to the local news website. By putting a business' information, branding and specials there, it places them in front of the largest local audience."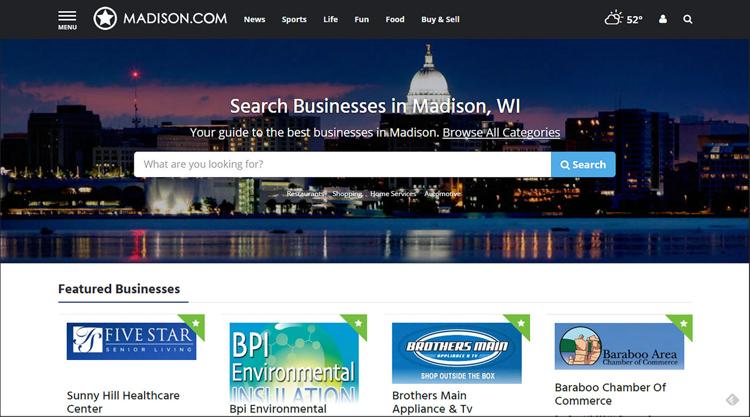 This line of thinking drives Skadal's strategy when pitching TownNews' BLOX Business Directory to business owners at Lee markets across the nation.
BLOX Business Directory is designed to offer local businesses a turnkey online presence while driving traffic and revenue for the host website. Under the Lee program, participating businesses receive a profile page in the site's directory that includes their company description, phone number, website links, location and much more.
"We use BLOX Business Directory as Amplified's core product to raise overall awareness of small businesses that may or may not have any existing online presence," she said.
Amplified (formerly LeeLocal), is a marketing and advertising agency within Lee Enterprises, the fourth largest newspaper group in the U.S. with 46 dailies in 22 states. Amplified calls into all of Lee's markets on behalf of the local newspaper, and offers business directory listings to the small business owners in the paper's footprint. LeeLocal launched in December 2009, and became Amplified in the fall of 2015.
Creating a successful directory is a tough task, but Amplified has had huge success in growing directories for Lee's newspaper properties.
"We have been able to secure businesses at every Lee paper, and we have had substantial revenue growth over prior year for the last three years—in 2013, we had a 42 percent increase over the previous year, 27 percent in 2014 and 17 percent increase in 2015," said Skadal. "Currently, we average approximately $150,000 each month from BLOX Business Directory."
Amplified currently offers three packages based on six- or twelve-month commitments that range from $200 to $600 per month. Amplified's base package includes a profile page, a YouTube video, five promotional offers—such as coupons or specials—and registration with Google and Bing. The next two levels add services like social media management, search engine marketing and reputation monitoring. Amplified also offers banner impression add-ons.
"Due to increased product bundling, our average sale has gone from $125 to over $225 per customer in the past three years," said Skadal.
Phil Pracht, BLOX Business Directory product manager at TownNews, sees attracting local businesses as a hurdle sites often face when launching a business directory.
"Many businesses are initially unclear on the benefits of joining a directory, and some news outlets struggle to convey the advantages," Pracht said.
To address this challenge, Skadal and her team have developed a comprehensive information and outreach program.
"Getting business owners interested in this product is truly about education," she said. "Our sales representatives often invite business owners to tour the news website, set expectations on the product's capabilities and discuss how long it takes to see real ROI (return on investment)."
Skadal emphasizes the importance of local news outlets' loyal audiences when reaching out to business owners.
"The number one reason to recommend the business directory to a business owner is the local audience—people who come to the news site are local consumers," Skadal said. "The business directory profile is an effective way to gain exposure and drive traffic."
Beyond raising awareness, both Skadal and Pracht agree that BLOX Business Directory's SEO enhancements, such as keywords, SEO-friendly URLs and social media links, are major selling points.  
"Businesses build authority with search engines by placing content and information on a credible site. This not only brings direct traffic (from the news site) to their website, but over time grows quality organic traffic from search engines," said Skadal. "But the fuel is in the coupons and other promotional offers. Having the ability to change them monthly helps to boost keywords, which can have a big impact on SEO."
"Updating promos frequently helps increase SEO by raising search engines' awareness of new and relevant content on the page," Pracht added.
After getting a business on board, the next step is keeping them. Amplified's retention strategy begins with "discovery appointments," where goals and expectations are established.
"Every business owner has a different vision of a successful marketing campaign. By doing a needs analysis early in the conversation we are able to tailor the program to that business," said Skadal.
The company also performs routine follow-ups with each business owner.
"After the sale, a business owner is given a dedicated account manager who calls them on a monthly basis. During this call, we review BLOX Business Directory's analytical reports, discuss updates and, more often than not, add additional products to their package," said Skadal.
Though some sites lack the personnel to offer the level of interaction that Amplified does, Pracht still sees plenty of easy perks and upsell opportunities built into BLOX Business Directory.
"We make packages customizable and provide upsell opportunities through add-ons like social media links, newsletter blasts, additional banner impressions and specialty Storefront profiles," Pracht said. "BLOX Business Directory even integrates with other BLOX CMS products so a business can link to a calendar event or add press releases to their profile for an additional fee."
Skadal added that BLOX Business Directory isn't just a great opportunity for publishers and advertisers. It also creates a better user experience.
"Being able to access a business' specials, social media, map to the location, phone number, website and more—all in one place—provides a one-stop shop for site visitors," said Skadal. "And that makes a healthy business directory a big win all the way around."
Paige Ruba (pruba@townnews.com) is a marketing specialist at TownNews.