TV has come a long way from rabbit ears and bulky sets tucked in the corner. Viewers now want to connect with their local stations—everywhere, all the time. And broadcasters are racing to find a flexible, easy-to-use technology solution to reach multi-screen consumers.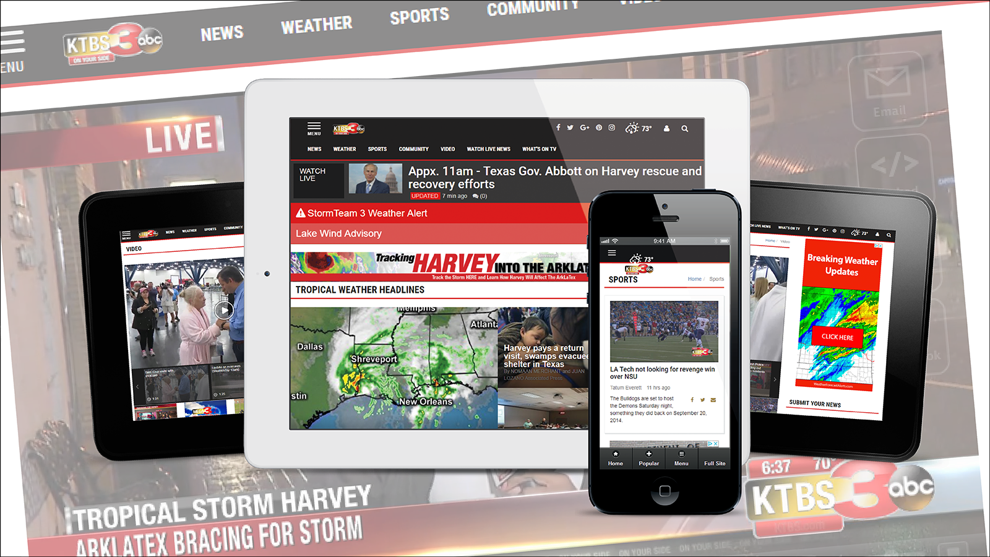 "More flexibility to reach the public with our web and mobile component is an important outreach element of our broadcast," said George Sirven, Station Manager for KTBS-TV. "We try to do a lot of different things, not only for news and weather, but for the community."
KTBS services the Shreveport, LA DMA—the second largest broadcast market in Louisiana—reaching the "ArkLaTex" area of Arkansas, Louisiana, Texas, and southeast Oklahoma. The station has been locally owned and operated by the Wray family since its sign-on in 1955, creating an independent spirit that extends all the way to the newsroom.

"When we produce a commercial, if we need to make a change, we make it internally. That's the same thing we want to be able to do with our content management system (CMS)," Sirven said. "If we create some type of content, site or page, we want to be able to change it internally—not wait on a third party to make that happen."
The ability to do things in-house became a key factor when KTBS began looking for a new CMS provider. From simple edits to layout changes, Sirven's team wanted to be able to take control. "Plain and simple, TownNews' BLOX CMS has given us flexibility," Sirven said.
KTBS spent time exploring the pros and cons of several CMS providers. "TownNews is a respectable company doing this for quite a while with newspapers and now coming into the broadcast side," Sirven said. "But more important than that, TownNews enables customers to literally have more flexibility and do more with the CMS."
"The digital platform has to be part of your entire station and every department, not just the newsroom. You have to make sure you've got a content management system that can handle multiple people, multiple changes, and gives you flexibility," Sirven said. "TownNews provides a strong, vibrant, flexible CMS that not only meets our needs today but we feel will meet our needs in the future as we continue to grow."
According to Sirven, the transition to the new system was painless.
"That's a great testament to not only the staff here at KTBS but also the staff at TownNews," Sirven said. "As you go through any major change, especially a CMS change, you expect a few bumps in the road. But it has been smooth sailing. From our viewers and our readers, we've not seen any disruption nor heard of any complaints in regards to the changeover."
The internet and mobile department at KTBS meets weekly to discuss issues and new ideas. Thanks to BLOX CMS, Sirven reports that those meetings are quick and easy. "We're actually brainstorming more than we are problem solving. And I think that speaks volumes for the TownNews product."
As KTBS continues to explore ways to maximize their partnership with TownNews, Sirven says he is very pleased with the switch. "Not only did we increase productivity and gain flexibility, but we were able to reduce costs. When you look at all of those elements, all the cards are in favor of TownNews."
Cherry Wolf (cwolf@townnews.com) is a marketing specialist at TownNews.
BLOX Content Management System gives news and media organizations more digital publishing tools to create content, attract users, and grow their bottom lines. Why settle for less?