At TownNews.com, we're on a mission to build revenue opportunities into our products and services wherever we can, be it introducing innovative new features within BLOX CMS, or partnering with external vendors.
We've teamed up with Outbrain to offer turnkey native ads from national brands, making it easier than ever to work lucrative programmatic native advertising into your mix.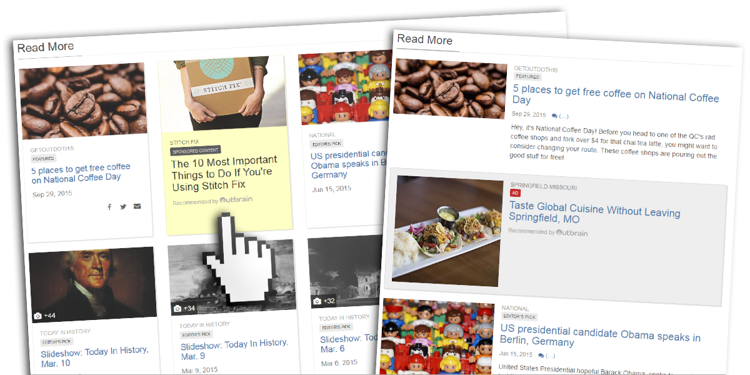 What is programmatic native advertising?
Native advertising is a form of paid advertising meant to blend in with your website almost seamlessly. Native ads conform to the design and structure of your site, making the ad experience more immersive and engaging for the reader. This integrated form of content advertising is also optimal for the mobile experience.
With the new BLOX CMS integrated programmatic native advertising, you can boost your RPMs (revenue per page per thousand) with almost no additional work on your part.
"Programmatic" means each ad unit uses behavioral and contextual data to ensure the most relevant ad is served for each reader, as determined by an algorithm which automates the buying and serving process with software.
Typically, Outbrain requires a minimum of one million monthly article page views per month, in addition to a quality review process. Because TownNews.com's network includes more than 1,700 sites, we are able to make Outbrain native ads accessible to all of our partners, large and small.
How do I set up native ads in BLOX CMS?
Native ads are easy to set up. Currently, four blocks support integrated programmatic native advertising:
On each of these blocks, there is a new block customization property group called "Native advertising." It has several options to control the display of the integrated native ad.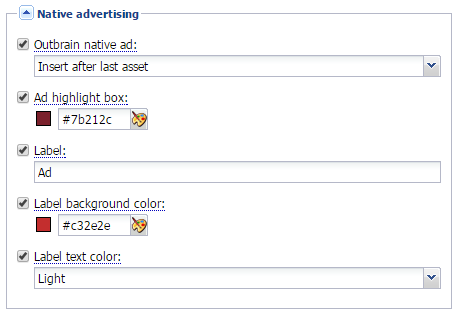 Using these options, you can turn on the integrated native ad spot, as well as control the look and feel. It is up to you to determine how the ad is displayed within your content.
By default, the integrated native ad will look exactly like your content. All native ads will automatically be tagged with these two requirements:
the "Sponsored by Outbrain" logo
the native ad publisher's name
Other than that, you decide! Ads can look entirely integrated, or you can choose an additional label or coloring to make it stand out.
Some media organizations may want the ad to look nearly identical to other content on the website, while others may feel some amount of differentiation will make it clear to readers that this is sponsored content rather than organic content.
Integrated programmatic native advertising gives you yet another quick and easy way to generate revenue from your BLOX CMS site. Add it to your site today!
Need a hand setting it up? Check out our docs, or contact our friendly customer support department. We're here to help!
Christine Masters is the director of product management at TownNews.com.