"TownNews allows us to focus on being a content and marketing company—not a technology company," said Jay Allred, Publisher of Richland Source. "It is a very strategic decision and that's what made the choice to partner with TownNews easy."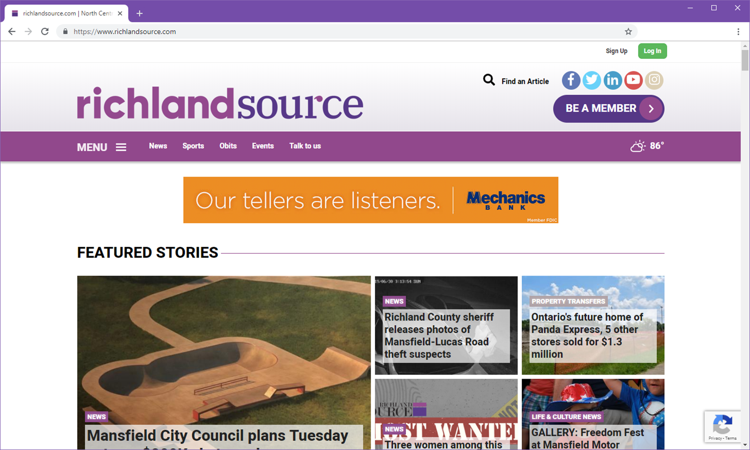 The nationally recognized, online-native news site takes pride in creating balanced, quality content that reflects the Mansfield, Ohio community. "Richland Source was founded on the principle of approaching how people consume content in the 21st century and giving up the legacy of traditional newspapers. We have a novel way of looking at how local news can be reported, both operationally and newsroom-wise," Allred said. "We're able to pay more attention to the content we are creating and serving for both the reader and the advertiser."
Because of their commitment to local news, Richland Source's audience has grown rapidly. Year over year, unique users are up 30 percent, pageviews are up 50 percent, and bounce rates are at an all-time low.
Allred targets two types of skillsets when evaluating potential employees: the ability to understand the needs of local businesses, and the ability to tell strong stories in a modern, fast-paced newsroom. IT experts are notably absent from the Richland Source staff.
"I did not want to hire and have a technologist on the payroll. I don't want a person who has to figure out how to make the website work," said Allred. "The partnership with TownNews has proven to be really valuable to us. We concentrate on our advertisers and our readers, TownNews takes care of the technology."
Allred also sees value in the breadth of solutions TownNews provides.
"We creatively use the TownNews tools at our disposal but we don't have to invent them. It is a one-call kind of a solution," Allred said. "TownNews makes it so we don't have to figure out, for example, what Javascript extension to install to make the calendar plugin run. The fact that I've gone four years without ever thinking about how to make the calendar work is significant."
For Jack Windsor, director of sales at Richland Source, partnering with TownNews has made business development and sales that much easier.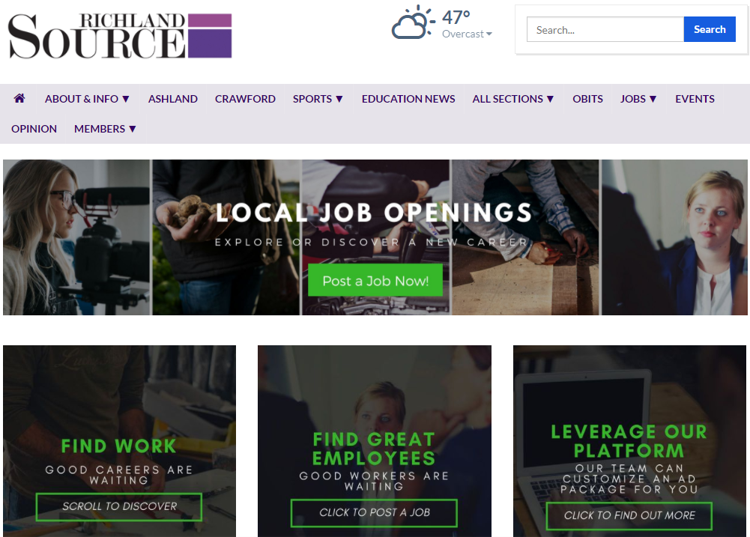 "It's exciting to know that we have resources available. When we meet with a business from our community, we just marry a client need with a resource. There's a good chance the technology is already there. And the quick turnaround is very attractive to our customers. Within a week or two, we have a creative solution available that nobody else in the marketplace here offers. That's a competitive advantage," Windsor said.
"When you are trying to grow a company, sometimes you do have to get way down in the weeds. To not have to figure every single thing out is important—TownNews' full solution lets us just flip switches," Allred said. "It has allowed us to create multiple revenue verticals for the site."
Recent revenue-building initiatives at Richland Source include a jobs vertical, membership program and programmatic advertising—all enabled by TownNews services and solutions. "This past year has been kind of a big deal for us. The TownNews team helped us put together a process using their subscription product for membership—which is now a revenue vertical for us," Allred said. "And we've launched a jobs board using BLOX Classifieds that is allowing us to generate income from a vertical we've never had income from before."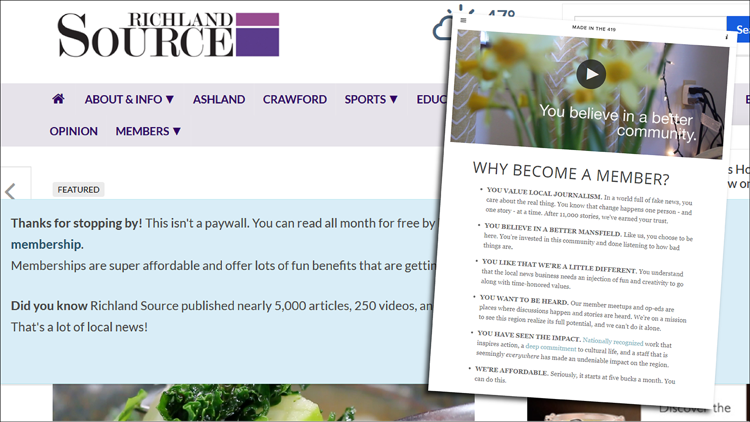 Six months ago, Richland Source joined the TownNews iQ program. "We are very pleased with the services from the TownNews iQ team," Allred said, "It was not a question for us of figuring out how to place programmatic ad positions on our site. It was a question of saying yes. We'll take in roughly $10,000 this year from iQ— additional revenue we didn't have this time last year."
At Allred's direction, Richland Source will continue to explore new ways to capitalize on their relationship with TownNews.
"We see that there's more opportunity. It's like eating an elephant—you do it one bite at a time," Allred said.
"I'm excited to see where we go and what that looks like even six months from now," Windsor added.
Cherry Wolf (cwolf@townnews.com) is a marketing specialist at TownNews.