With approximately 1.317 billion users on Facebook, it's clear that social media is here to stay. Growing your social network should be a key component of your marketing strategy, but it isn't easy. You need publishing tools that make it simpler to post, share and create a community.
Keep reading for valuable tips on energizing your site and social network with TownNews.com's BLOX CMS.
Post faster
Save time and effort with our social media broadcast tool* which enables you to post to Twitter and Facebook directly from BLOX CMS.
After creating a new article, go to the "Broadcast" panel (in the article asset's "Other" tab) and select the social media channel(s) you'd like to target. Each post is customizable, but by default includes your headline and a link to the article. When the story goes live, it will automatically publish to the channels you have chosen.
Socialize your content
Connect to your community by adding relevant tweets directly to your articles. First, go to Twitter and copy the chosen tweet's embed code. Next, go to your article, create an HTML asset and paste in the embed code. Finally, drag-and-drop the HTML asset anywhere in your story, ensuring it flows seamlessly.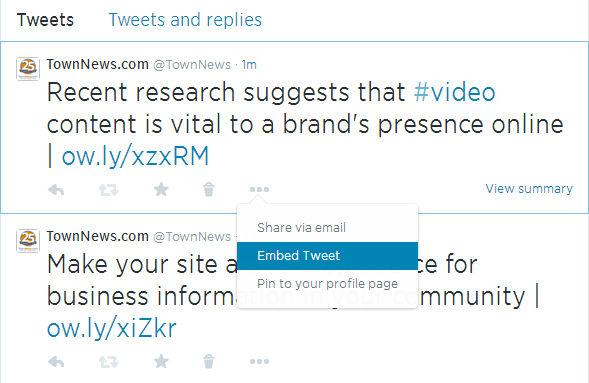 You can also add a Twitter feed widget to any page or article. First, go to the widget tab in your Twitter account settings to create a new widget. Then, copy and paste the embed code into a new HTML asset in BLOX CMS. The widget can consist of your publication's own tweets (this is great for a homepage) or a customized search feed related to a particular topic.
Our "Facebook official" block template pulls in several different Facebook elements. You have the option to showcase your recent activity, recommended articles and more. You can even customize how many items to include and in what order you want them to appear.  
Grow your audience
Add social share icons to your pages so readers can post your content with a quick mouse-click.
When a reader clicks the Twitter share icon, the related accounts feature displays a pop-up with recommended accounts to follow. Your publication's primary Twitter profile will be listed first while the secondary can be used to promote a niche account like sports or business news.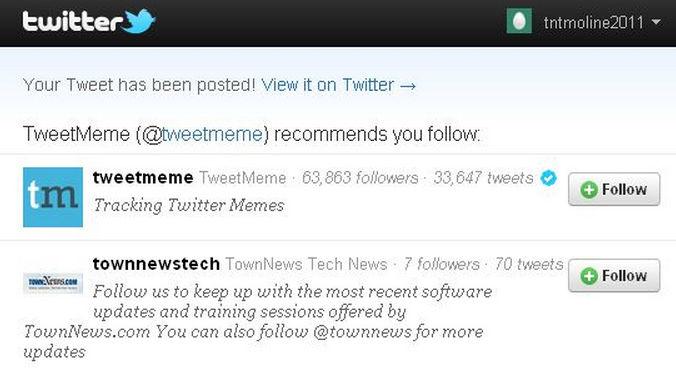 Use our "connect with us" block to further expand your social network. It features easy one-click icons that directly link to your accounts. You can pick which sites to include such as Facebook, Twitter, Google+, LinkedIn, Pinterest and more.
Generate eye-catching tweets
Subpar image formatting when tweeting a story can be frustrating. Luckily, Twitter Cards ensure spot-on photo presentations whether you have a single image or an array of photos. When you tweet an article with a photo gallery, a cool photo collage will automatically display.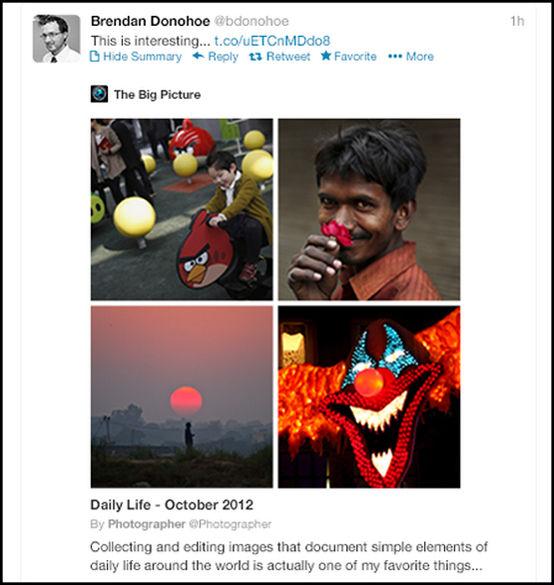 Social networking is a great way to stay in touch with your audience. Stand out in the crowd by creating inviting content and connecting it to your site with BLOX CMS.
Need help? Contact TownNews.com customer support.
* Additional setup may be required.