The state or county fair is a yearly platform to showcase the best of your community—and it's critical to your local economy. But as COVID-19 rages, fairs (along with most other large gatherings) are being canceled, rendering years of preparation by hundreds of participating kids, adults, organizers, and local businesses fruitless.
Don't let their hard work go to waste! Celebrate the finest in local agriculture, livestock, arts and crafts—while generating new advertising dollars—with a turnkey Virtual Fair.
Local news organizations have always played a huge role in county, state, and regional fairs, highlighting the accomplishments of the folks who labor year-round for their moment in the spotlight.
Our Virtual Fairs package comes with everything you need to host a high-traffic online festival for your community: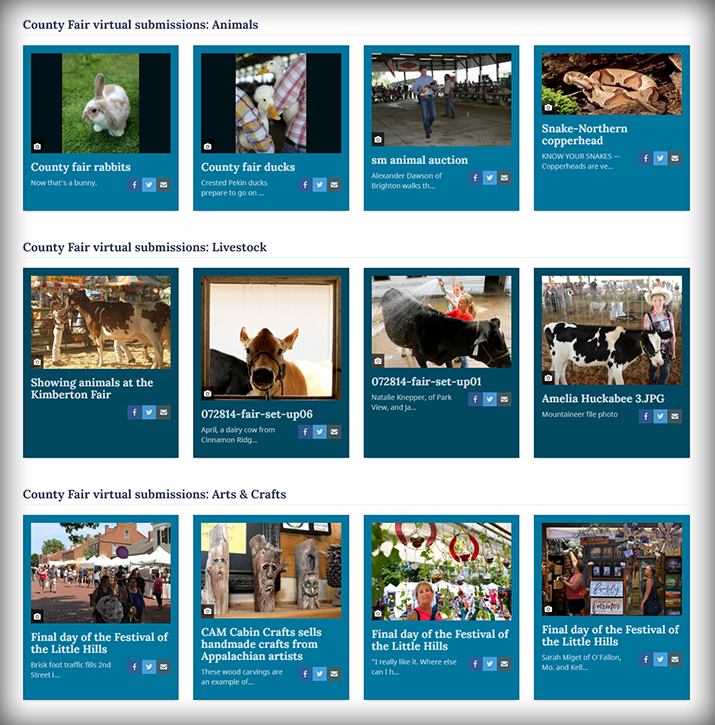 A fair-themed header presentation with sticky navigation, and a customizable hero image, links, and titles.
Integrated programmatic advertising and targeted sponsorships.
Dedicated sections highlighting a variety of fair competition and exhibition categories, including arts and crafts, animals, and livestock.
"Fair royalty" profile pages give your local kings and queens a place to shine.
Virtual Fair info boxes with schedules, cancellation information, etc.
Trending fair news updates and stories from your newsroom.
Specialized search results highlighting fair submissions—with targeted ads.
Multimedia user-submitted pages with photo galleries and social sharing options.
Sponsorship opportunities for each category of competition or exhibition.
Best of all, a Virtual Fair is inexpensive and easy to set up. Go with one combined setup for all fairs in your coverage area or a dedicated section for each fair, the choice is yours.
Get started
Ready launch a turnkey Virtual Fair that celebrates your community while delivering much-needed traffic and advertising income? Contact us today!