In these challenging times for local media, revenue diversification is key. You're doing everything you can to keep advertising revenue flowing (let us help!) and membership rolls growing. But what about folks who just want to support the cause of local journalism?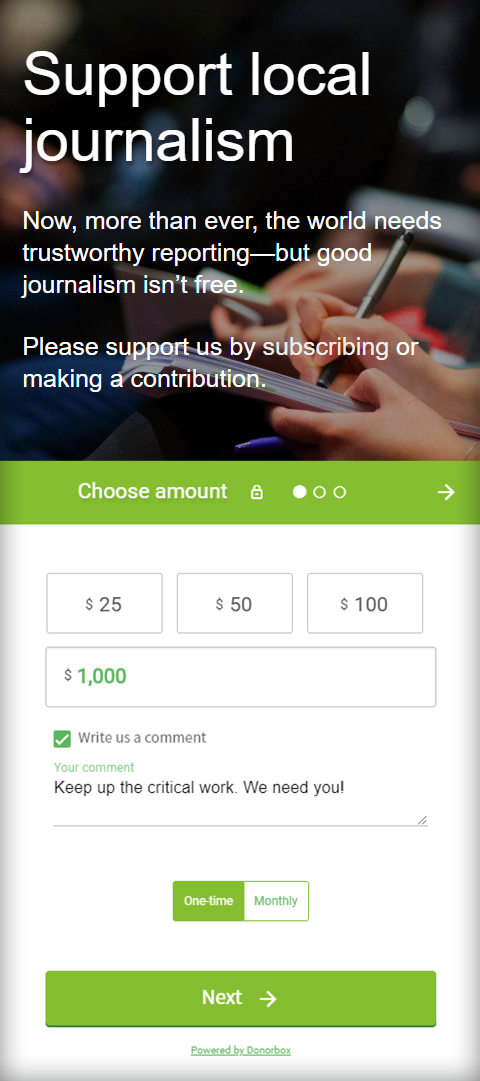 We've rolled out a new feature that makes it quick and easy for digital visitors to contribute directly to your organization. It comes with everything you need to solicit contributions:
Turnkey integration with Donorbox, a powerful service that is simple to set up and designed to attract more recurring contributions (account required, additional fees may apply).
A beautiful, professionally designed template that can be quickly added to your site and used as-is, or modified to meet your needs.
A robust contribution widget that allows visitors to choose from a selection of preset amounts (site configurable), or input their own amount.
The ability to solicit funds on either a one-time or a monthly recurring basis.
Messaging interspersed throughout your site promoting your initiative.
An email push to your existing newsletter subscribers inviting them to make a contribution (requires BLOX Email Reach).
More good news: Setup is FREE, and there are no additional usage fees from TownNews.*
Get started
Ready to diversify your revenue stream and enable your visitors to express their support for the critical role that local media plays in our society? Contact us today to get started!
* Usage and/or transaction fees from Donorbox and your chosen payment processing service may apply.