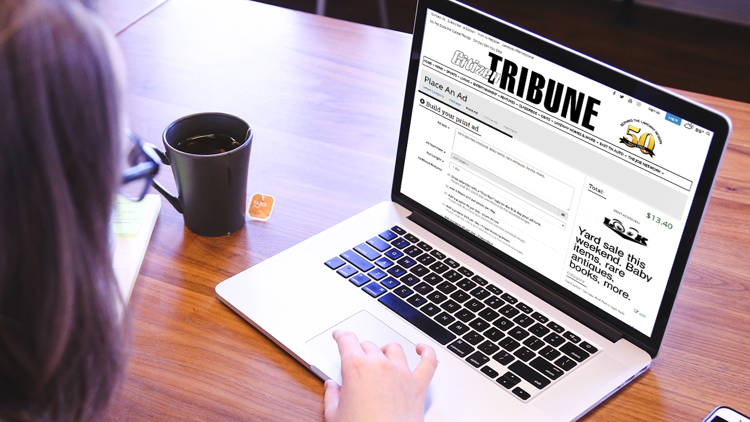 "Classified ads have always been a big part of our business," said Mike Fishman, publisher and editor of the Citizen Tribune. "It's been challenging for everyone in the industry, but classifieds continue to be a focus. The BLOX Ad-Owl order entry system was one of the things we thought would add value when we switched to BLOX CMS. And it has."
A family owned daily paper in Morristown, Tennessee, the Citizen Tribune has a print circulation around 21,000 daily (25,000 on Sundays). After partnering with TownNews last fall, the newspaper launched BLOX Ad-Owl. The online step-by-step order entry system lets advertisers and staff create, process and schedule classified ads around the clock.
Since adopting BLOX Ad-Owl, the Citizen Tribune has seen their classified revenue skyrocket. "This year, we were 175% higher in May and 185% higher in June than we were last year," said Emily Chapin, classified manager.
A better customer experience
Chapin attributes much of the increase to BLOX Ad-Owl. "A lot of that had to do with the functionality of BLOX Ad-Owl being very user-friendly," she said.
"The customer experience is far better," Fishman said. "That is where we're going. People are walking around with technology and they're more tech-savvy. It's got to be easy."  
"When we began looking at TownNews, I remember Mike saying check out the BLOX Ad-Owl system," said Chapin. "When I took a look at another site using BLOX Ad-Owl, I was hooked by the simple steps."
"The instructions are clear. There is no waiting for a pop-up or wondering what this box means. Everything is simple." Chapin said. "And one of the things I especially like about BLOX Ad-Owl is that when the order comes through, I get an instant email alert to login to look everything over and approve or deny the ad."
Simple packages and pricing
To make it even easier for its users, the Citizen Tribune offers only two packages: "Citizen Tribune" and "CT Life-TMC and Citizen Tribune." The intentionally simple strategy is easier for staff to set up and doesn't overwhelm customers.
"A lot of times, customers pop on the site to place a quick ad for their yard sale," Chapin said. "They don't want to look through 18 different options. Usually they go with the first package they see. We've always kept it simple. Coming from a user's standpoint, if I was at home placing an ad, this is easy!"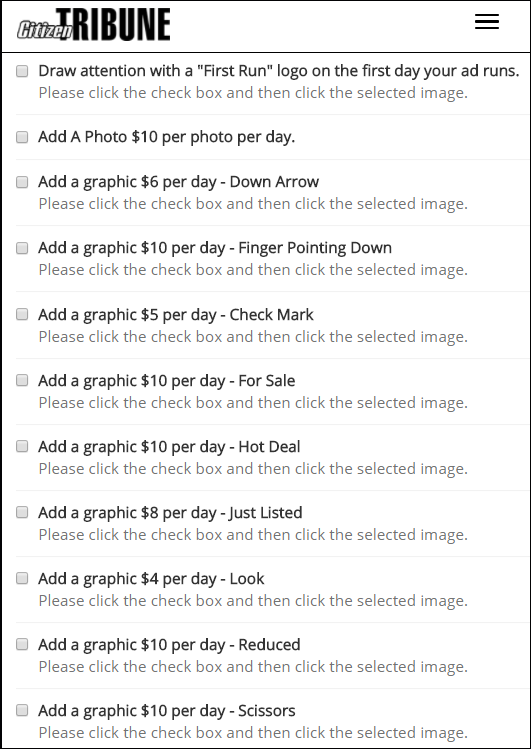 Pricing is based on standard rates of line ads and includes an online version of the print ad. "We decided, when we put this program into place, that we would have one rate and that one rate would include our online offerings." Fishman said.
To help ads stand out, the Citizen Tribune offers upsell options advertisers can purchase such as banners, attention getters, check marks and clipart. These are customizable by staff and can be changed as often as desired.
The Citizen Tribune's simple packages and pricing, combined with BLOX Ad-Owl's ease of use, have proven successful. "BLOX Ad-Owl has been a great product for us and we've seen the results of that in the revenue every month," Chapin said. "It's turned out to be fantastic!"
"We have a lot of growth potential from where we are right now." Fishman said. "We're just beginning with BLOX Ad-Owl. It was a huge bonus!"
Cherry Wolf (cwolf@townnews.com) is a marketing specialist at TownNews.