Write, format, copy, paste, edit, reformat, copy, paste . . . before implementing BLOX Total CMS, this was the day-to-day routine at the Columbia Daily Tribune. Regularly used print elements were recreated from scratch every day and articles had to be copied-and-pasted to the website—a tedious, error-prone process. Additionally, managing print and web pages with separate systems ate up time and decreased newsroom efficiency.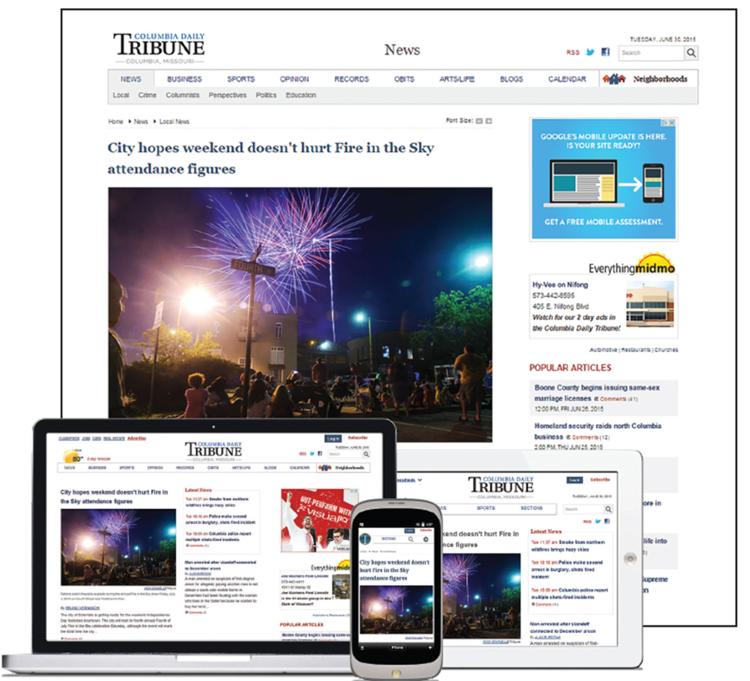 "Once I started using BLOX Total CMS I realized I had frustrations I didn't know I had (with our previous system)," said Naif Bartlett, systems and training editor at the Columbia Daily Tribune. "Our previous provider did not interface with our website and lacked the dual functionality BLOX Total CMS has to offer."
"BLOX Total CMS is a lot quicker and easier than any other system I have used," Bartlett said. "The process is seamless from print to online pages. I only have to edit a story once, no copying and pasting from one place to another."
BLOX Total CMS fully integrates with Adobe InDesign for print pagination and TownNews.com's BLOX CMS for web and mobile publishing. Editions optimized for web, print and mobile channels can be simultaneously built while the writeback feature allows edits made to the print edition to flow out to your web and mobile sites.
As systems and training editor, Bartlett works with BLOX Total CMS on a daily basis to create and design pages. He and his team of paginators produce 18-36 pages on weekdays/Saturday and 54 pages on Sunday. He designs approximately 15 pages per week on his own, along with several section covers. He attributes the speed of page production to the staff's use of the system's snippets feature.
"I no longer have to start from scratch," Bartlett said. "On a day-to-day basis, we are definitely less hurried designing news pages than we used to be. Design element snippets can save a solid several minutes per page, which makes a huge, huge difference when coming up on deadline."
Snippets come in handy at the Tribune since many pages use the same design elements on a daily basis. Prior to using BLOX Total CMS, the staff had to recreate frequently used layouts every day.
"There are section headers that are always the exact same and photos of columnists that appear on the same page every day—it is incredibly useful to have predesigned page snippets that already have all these elements," Bartlett said.
"Whenever we create a blank page, rather than drawing a bunch of different-colored boxes for the header and manually locating and placing columnists' photos—which we used to do every single day on the old system—we can simply click the snippets dropdown menu and choose the snippet we want. It saves a lot of time for designers."
While snippets can encompass an entire page layout, they can also speed up page design on a smaller scale with premade photo layouts, graphics and much more.
"We use design element snippets on every page we produce for things like pull quotes, blurbs, and even certain story formats that we'll consistently use," he said. "It saves time and saves us from losing consistency through any style errors."
The Columbia Daily Tribune also relies on TownNews.com's workflow, assignment and page tracker tools to keep their newsroom running smoothly.
"The assignments and workflows are immensely helpful in keeping both the daily stories and past stories organized," said Bartlett. "We never place a story onto a print page without first creating an assignment for it. It is far easier to make the edits on an assignment—it updates the assignment in both print and online."
The assignments and workflow tools keep the Tribune staff organized while also speeding up the proofing process.
"Not only does the page tracker tool help us save paper when proofing pages after they have been laid out, it also saves time—copy editors and section editors can access the proofs we've uploaded to the page tracker all at the same time," Bartlett said. "It is especially helpful when we are running up on deadline and need editors to call out our corrections rather than marking them down somewhere."
In addition to page design, Barlett manages all systems used at The Tribune and is responsible for training incoming newsroom employees on programs including BLOX Total CMS.
As part of a BLOX Total CMS package, TownNews.com sends a team to install the system and train the staff on the inner workings of BLOX Total CMS.
"The training was pretty easy for most of us at the Tribune. It took several weeks to get used to it—you can only learn so much sitting in a training room and seeing all of the features for the first time—but once we started turning pages, it was very easy."
The Tribune started using BLOX Total CMS in July 2014. The Columbia Daily Tribune is recognized as a leading medium-sized newspaper. The paper is a family-owned daily founded in 1901, as Columbia's first daily newspaper. The Tribune is still located in Columbia, Missouri and has a circulation of over 20,000.
The staff at the Tribune have become skilled BLOX Total CMS users in the year since launching the system. According to Bartlett, both new employees and employees who have been with the Tribune for over 40 years can learn the system quickly. While questions still arise from time to time, he says he can rely on the team at TownNews.com to walk him through any concerns he encounters.
"The folks at TownNews.com have been available pretty much any time we have needed help. Our experience thus far with the product and the company has been great," said Bartlett.
Paige Ruba (pruba@townnews.com) is a marketing specialist at TownNews.com.