For media outlets, election season brings buzzing newsrooms, restless reporters and increased website traffic. But for The Frederick News-Post, 2014's election season also brought a stark realization.
"It first struck me that our world had changed last fall during election season," said Geordie Wilson, Publisher of The Frederick News-Post. "All of our planning and thinking was for desktop—our focus and all of our up-to-date information was placed there."
"But 75 percent of our election night traffic came from smartphones, and we weren't prepared for it," he continued. "After that, I knew we had to embrace a mobile-first strategy."
Shortly after, in early 2015, the need for a strong mobile offering became increasingly critical. The News-Post had crossed the 50 percent threshold, with the majority of their traffic consistently coming from mobile.
"Mobile was, and still is, our fastest growing audience, so our primary goal was to improve the mobile user experience," Wilson said.
This led them to redesign their BLOX CMS site using TownNews' responsive Flex Templates. The Frederick News-Post—a daily newspaper in Frederick County, Maryland—partnered with TownNews in 2012 to launch a website powered by the company's content management system, BLOX CMS. Two years later, they unified their print and digital publishing with BLOX Total CMS. Their responsive site debuted in October of 2015.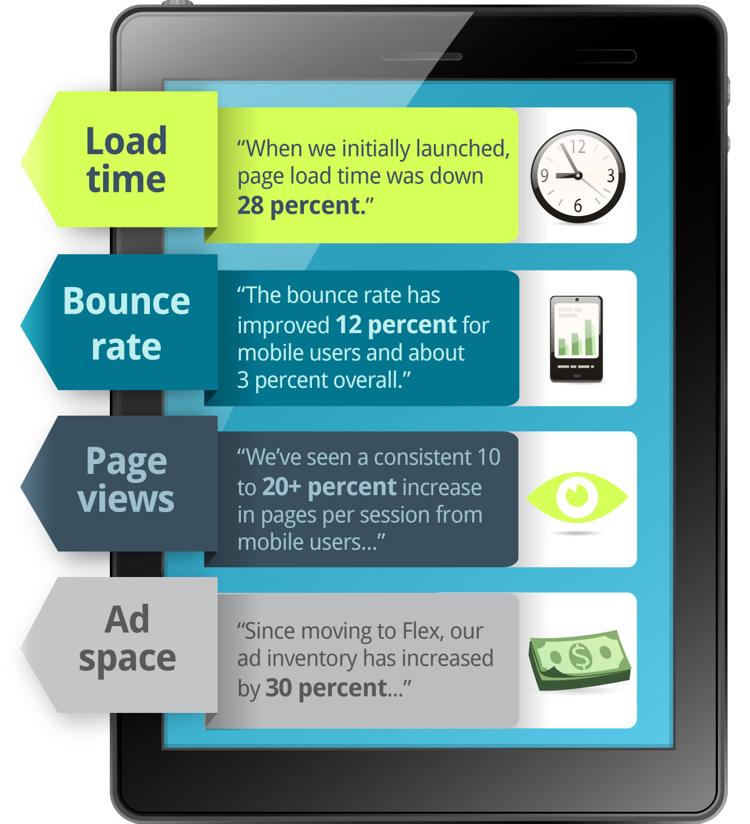 "Flex Templates meet the current needs of publishers. They are very modern and have streamlined our whole system," Wilson said.
The site previously relied on TownNews' adaptive design solution, Touch 5 Mobile. In adaptive design, optimized URLs are created for mobile and desktop viewers. Software detection directs end users to the proper location for their device.
Flex Templates, on the other hand, employ modern responsive design techniques to create a site that dynamically adjusts to fit the reader's device, be it a smartphone, tablet, laptop or desktop. Responsive design offers simplified management, a more polished user experience and enhanced SEO.
"Flex Templates give us more control and options. The development of pages is greatly simplified—we can now preview and create pages for mobile and desktop in one place," Wilson said.
This unified experience gave The News-Post the chance to not only revitalize their mobile offering, but their desktop site as well.
"Flex greatly improved the user experience, even in desktop," Wilson said. "With Flex, you aren't held to artificial screen sizes, so there is more real estate on the screen and the presentation looks better across devices."
The News-Post's readers have noticed the improved design, too.
"The comments that we have gotten from our readers have been overwhelmingly positive. Many have noted that our site is cleaner and easier to use," said Wilson.
In addition to the ease of use and modern design, the site also loads faster.
"When we initially launched, page load time was down 28 percent," stated Wilson.
The improved site performance and cleaner design have resulted in substantial gains in mobile engagement metrics.
"We've seen a consistent 10 to 20+ percent increase in pages per session from mobile users while for tablet users it has gone up an average of just under 7 percent," said Wilson. "The bounce rate has improved 12 percent for mobile users and about 3 percent overall."
The redesigned site has been a hit with readers, but Wilson also acknowledges the new advertising opportunities as a huge plus for the publication.
"Since moving to Flex, our ad inventory has increased by 30 percent," he said. "Before Flex, mobile ad spots were sold separately. We had only a couple of positions, and we had a very low sell rate. With Flex, we have built-in universal ad positions, meaning we build several versions of every ad, and we deliver the ad to whatever device pulls it."
For The News-Post, TownNews' content management system and responsive templates have been a good fit and major contributor to their mobile-first environment.
"TownNews and the new templates have helped us achieve our goal of improving the mobile user experience," said Wilson.
"They have been a great partner and have been very supportive with our initial rollout, our BLOX Total CMS launch and with our Flex redesign."
Paige Ruba (pruba@townnews.com) is a marketing specialist at TownNews.