Smartphones, tablets and laptops reign supreme on college campuses, and The University of Kansas is no exception. In 2013, with students increasingly turning to The University Daily Kansan (the University of Kansas' student newspaper) website for the latest campus news, the paper reduced print circulation to two days a week and shifted focus to its web and mobile presence.
But the website was hard to manage and didn't display well on smaller screens, hindering their digital focus. So the paper decided to make a big change, and the following school year The Kansan debuted a brand new website powered by BLOX CMS.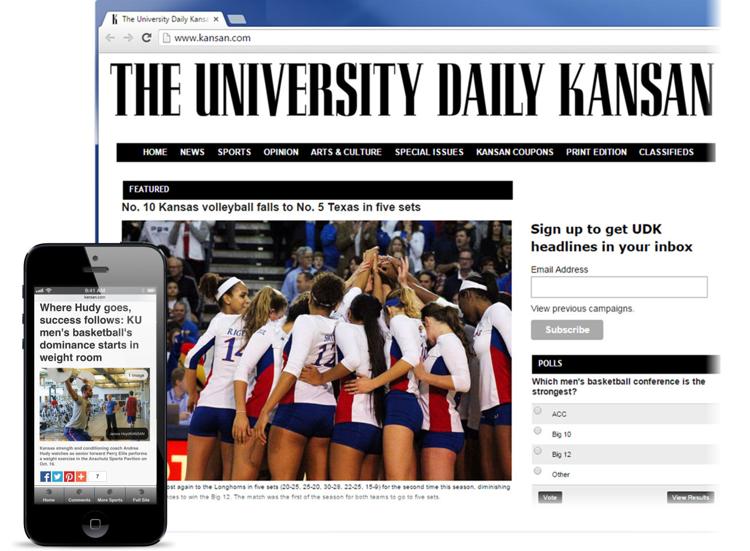 "In the media, especially student media, you need to be where your audience is—and that's mobile. With BLOX CMS, our site adjusts to fit any screen, making it an extremely valuable tool in helping us be digital-first," said Jon Schlitt, chief financial officer and sales and marketing adviser of The University Daily Kansan. 
The University of Kansas, located in Lawrence, Kansas, has approximately 28,000 students. At The Kansan, student staffers have the final say in content and design, but Schlitt oversees the finances of the paper and helps the advertising and news staff with decisions when needed.  
Before switching to BLOX CMS, The Kansan relied on a hard-coded site that was created by a student staffer. 
"The hard-coded site worked for a while, but after the creator left, it was difficult to maintain and make changes. It felt like we were flying blind for a while there—it was clear we needed to make a move," said Schlitt. 
Schlitt had heard about BLOX CMS at tradeshows and conventions, so when it was time to take the plunge into digital-first, TownNews was the first place he called. 
"The customer service and relationship TownNews offers is great, I knew I'd be in good hands when we chose BLOX CMS," he said.  
Moving to a mobile-friendly site was key for The Kansan's digital transformation. Since moving to BLOX CMS, the site's mobile traffic has exploded. 
"We have seen over a 50 percent increase in mobile pageviews when comparing the beginning of last school year to now (October 2015)," stated Schlitt. 
After the switch, the staff adjusted to the new system quickly. As new students join the staff, Schlitt has yet to see any training problems. 
"Overall, I have a much happier news staff since switching to TownNews," he said. "BLOX CMS has a fairly easy interface—the students catch on pretty quickly, and they don't need to be computer-science majors to understand the system."
With BLOX CMS, the staff can create and organize editorial content—no coding required. To place special emphasis on important stories and images, The Kansan utilizes a variety of the system's presentation modes. Updating the site's layout is also simplified with BLOX CMS' drag-and-drop design interface.
"One of my favorite things about BLOX CMS is the overall flexibility of the system. We can make a story as big as it needs to be on the front page," said Schlitt. 
According to Schlitt, BLOX CMS offers more than an easy, flexible content management system. He also applauds TownNews' customer support. 
"It's great having someone we can contact either through our sales rep or the ticket system. And we can expect an answer fairly quickly," he said. 
For Schlitt and his student staff at The Kansan, BLOX CMS has been a great fit. 
"My experience with TownNews and BLOX CMS has been extremely positive," said Schlitt. "The system is simple enough to train new student staffers every semester while being advanced enough to meet our needs."
Paige Ruba (pruba@townnews.com) is a marketing specialist at TownNews.