An events calendar is a necessity for sites producing local news today. As the preferred source of trusted news, your readers look to you for what's going on in and around your area. Be sure your calendar is the go-to site for event participants and advertisers.
Here are four quick ways to promote events:
1) Calendar upsells
Dedicating resources to promoting an events calendar can be challenging. This is why we created the upsell manager and calendar upsells! The easiest and most proven way to help local businesses promote events, calendar upsells also help you earn additional revenue.
Users submitting an event are given an option to "feature" their event and display listings in specific areas on your site. Regular users will often take you up on this promotional offer right away.
Read more about how the Walla Walla Union-Bulletin is making easy money with calendar upsells.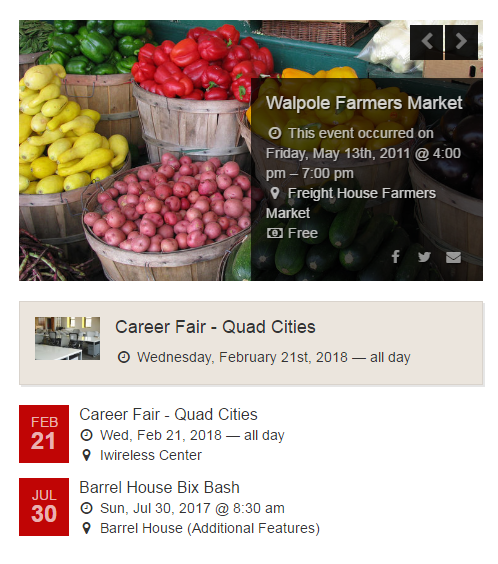 2) Calendar widgets
Did you know most blocks in BLOX CMS include a widget mode (requires FLEX Templates)? With widgets, an embeddable block can quickly be copied and pasted onto permitting third-party sites.
Calendar widgets work particularly well with other locally run sites not already promoting events. Coordinate with these partners to display events hosted on your site and see the benefits:
More promotion for your local venues.
Less calendar maintenance for other sites.
More pageviews for you!
TIP: Consider offering the opportunity to display on third-party sites as a premium upsell option for your end users. For example: "Choosing this upsell will guarantee your event is displayed on our news site, the board of tourism site and chamber of commerce site."
 3) Events newsletters
A strong email list is still an essential promotional tool for businesses. However, most folks suffer from inboxes that are already overstuffed with promotions.
Events newsletters, on the other hand, typically have high open rates. Take advantage of that and stick out among other emails by creating a headline that's clear and to the point. For example, send a weekly events newsletter every Thursday afternoon highlighting the top ten upcoming events. Include links to "See More" or "Submit An Event."

TIP: This, too, can be used as an upsell opportunity. For example: "Choosing this upsell will guarantee your event is displayed on both our website and in our weekly 'Get Out. Do This!' newsletter."
4) Sponsored events
Help turn a basic event into sponsored content! Here are some ideas to get started:
Showcase events by venue on your site. Then, share that sponsored block widget with the venue for display on their site or social media.
Sell premium advertising positions to annual events and festivals in your area. Take advantage of your overlapping audience!
Announce music by local bands or musicians. Premiere a song from their new record by combining audio file types with articles.
Coordinate with entertainment staff to offer a premium upsell opportunity for sponsored articles that feature interviews, photography and native advertising placement.
Ready to give one or more of these tips a try? There's not much to it. Want to share an idea that is working for you? Email me or join the conversation at our community page.
Phil Pracht is the BLOX Business Directory and BLOX Classifieds product manager at TownNews.