Discounts have always been powerful tools to help incentivize purchases. If users don't take advantage of that discount soon they'll be missing out on savings. And who doesn't want to save money?
With BLOX Ad-Owl's discount feature, you can now offer discounts to visitors looking to place an ad on your site. Whether it be a percent off or a strict dollar amount, allowing users to take advantage of possible savings can help increase awareness and revenue for your classifieds section.
Get creative
Offer discounts during popular sales months and holidays, but remember to pay attention to your site's unique trends. Identify which months your classifieds regularly receive a lot of orders and place discounts on relevant categories.
Here are a two simple examples of BLOX Ad-Owl discounts you could offer:
1) Spring Cleaning: Spring is a time of growth and renewal . . . it's also a time to get rid of stuff! Help sellers clear the decks with discounted springtime classifieds.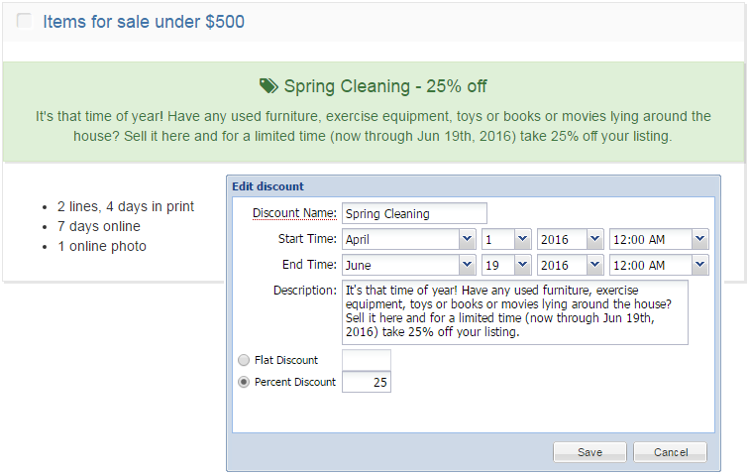 2) National Garage Sale Day: Garage sales continue to be a successful category for classifieds. Use discounts to highlight this trend and attract new orders. In this example, we tie our discount to National Garage Sale Day (recognized on the second Saturday in August in the U.S.). Since this is a yearly event, you can easily offer this discount annually to help build a loyal user base.
Site promotion
BLOX Ad-Owl's discount feature can set your classifieds apart from the competition, but don't forget to announce the discounts to your users.
Promote your discounts on social media and via banner ads on your site. But beware, offering discounts can be a slippery slope! Using them too often risks diluting the perceived value of your inventory, and may negatively impact revenue. Space your discounts out to preserve a sense of urgency and ensure your classifieds' value doesn't diminish over time.
These discounts not only incentivize users to purchase classified ads, but also spread awareness of your classifieds and encourage new users to consider your site when buying and selling.
Need help? For more information on creating discounts for your site click here or contact TownNews support today!
For more information about BLOX Ad-Owl contact your TownNews sales representative.
Phil Pracht is the BLOX Business Directory product manager at TownNews.