Imagine there's a new mom-and-pop coffee shop opening up in your area. They're nervous about how their new business will perform—and they should be. They're risking a great deal to create something they feel personally passionate about. Or maybe the shop has been around for a while but they are struggling to compete with the bigger, flashier place down the street, the one with the bigger marketing budget.
Now, apply that scenario to every locally run SMB (small-medium size business) in your area and so what? What can you do to help them?
As a Product Manager for TownNews, a technology company with more than 1,700 media partners nationwide, part of my job is to provide our clients with the necessary tools and solutions to help SMBs accomplish their revenue goals. One solution we have found is as simple as coupons.
The shifting landscape
Classifieds aren't what they used to be. According to the Newspaper Association of America (as reported by the Pew Research center in 2015), print ad revenue has fallen from $44 billion in 2006 to just $16 billion in 2014. In that time, digital ad revenue increased but experienced a plateau at around $3.5 billion over the last 4 years.  Preliminary reports for 2015 and 2016 suggest another decrease. However, digital is now making up a quarter of total ad revenue.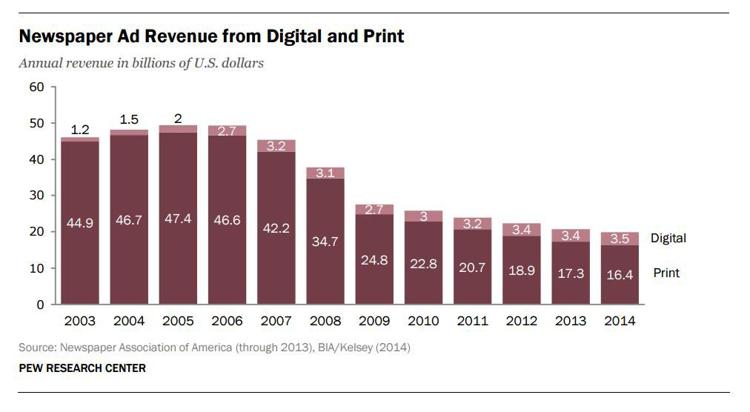 That should come as no surprise to many of you. We can all agree that it's been difficult to find footing in this changing landscape. Every other week we hear about another classifieds product that claims to be the "Craigslist killer." Easier, faster, fewer strings, free—how do you compete with that?
Perhaps it's time to consider a different approach.
Rather than devoting your time and energy trying to "take back" the market, think about it from a different point of view. Why spend that time trying to compete with these 800-pound gorillas when there are other untapped channels out there?
Creating a destination
Reposition your product and provide something the major competitors aren't—coupons for local businesses. These are time-based offers that encourage consumer purchases and foot traffic into a physical location.
For an excellent example of a coupon section look no further than the 2016 NNA first place winner for Best Classifieds Section, Brentwood Press. They've placed a link on their main navigation and populated their Coupons section with image-centric ads which have been proven to increase clickthru rates. They've also associated each and every coupon with the related business. As a result, visitors quickly know what is being offered and where it can be redeemed.

Getting started
When onboarding a new advertiser, collect six to twelve coupons and spread them throughout the year. Before you know it, you'll have gathered enough unique offers to create a compelling vertical; a destination for folks in your community to visit before they go shopping. SMBs (small-medium size businesses) that provide you with their deals would see first-hand their ROI each time someone personally hands them a coupon from your site.
Coupons are also great newsletter fodder. Let your visitors sign up to receive these deals monthly—or even weekly—depending on the volume of coupons you're receiving from advertisers.
With BLOX CMS, it's easy to analyze the number of pageviews, impressions and lead generation-based calls to action each coupon receives. You'll be able to help your advertisers make educated decisions about their current and future campaigns.
How these coupons appear on your site is really up to you but I'd recommend front-page accessibility and a section dedicated to "Local deals & offers" where users can find and take advantage of these coupons.
State of the Coupon Industry
Koupon Media—a digital coupon delivery platform for major marketers—recently released their 2016 State of the Mobile Coupon Industry, which goes into great detail about the 2015-2016 trends they saw.
"Consumers are using their smartphones more while they're shopping, and mobile coupon usage is growing as a result,"  said Bill Ogle, CEO of Koupon Media. Further, their study reports that "the number of consumers in the US who used a mobile coupon in 2015 grew 18% to 92.6 million."
Some of the strongest performing categories include Coffee, Food, Candy and Snacks. The offer types that work best with consumers are FREE services and BOGO offers.
Final thoughts
By targeting those SMBs in your area and presenting offer types that are proven to engage consumers, you can generate coupons that your community will grow to depend on. The mom-and-pop coffee shop advertising with you will quickly see a return on their investments, and you'll have created a lasting partnership that might not have been there before.
Remember, you've still got the one thing that these other places don't: a dedicated audience who want to know what's happening around them from a source that's truly local. You know your area better than any of these larger machines out there. Leverage these advantages to give your community something that delivers real value—to both your advertisers and your readers.
Phil Pracht is the BLOX Business Directory and BLOX Classifieds product manager at TownNews.