A standard component of BLOX Total CMS and BLOX CMS assets is Flags. Flags are metadata that can control the appearance of an asset online and in print. For example, the Breaking flag typically triggers a ticker on the homepage. Flags not only influence where your content will display, but can also help save time and boost efficiency.
In BLOX Total CMS, there are three highly important flags: the AP, Breaking and Web only flags.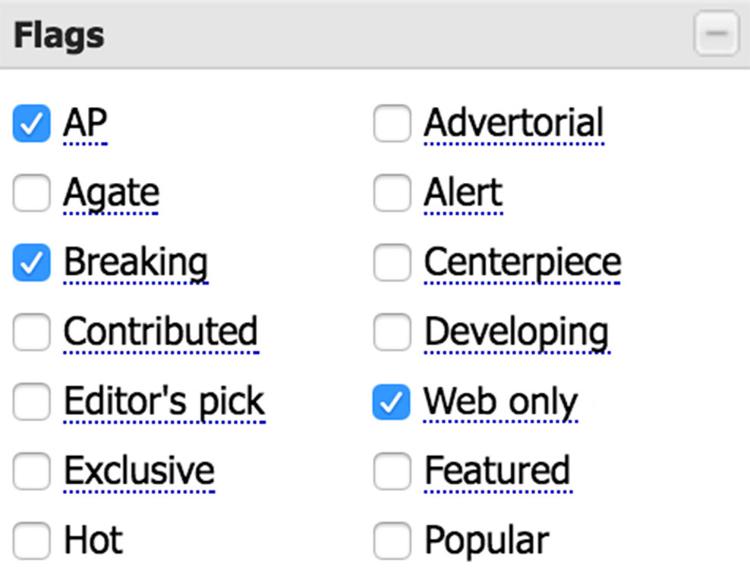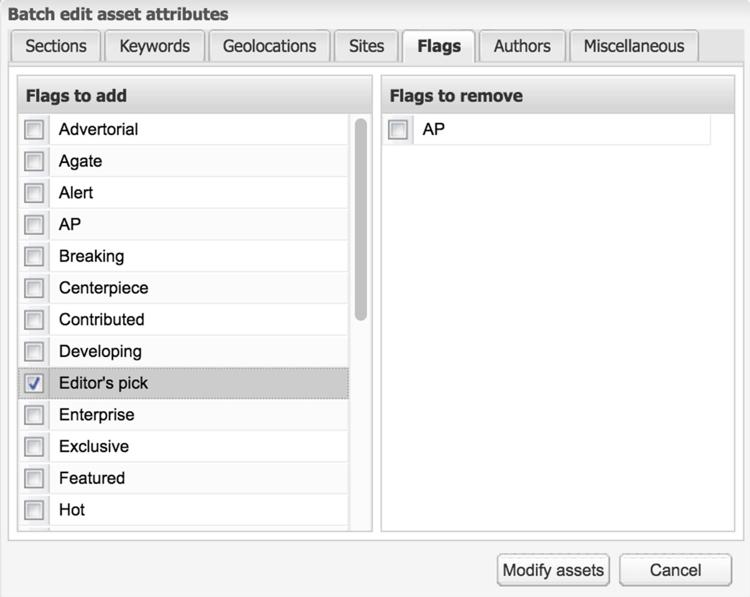 The AP flag
When an asset originates from the Associated Press (AP), both the Syndication tool and the legacy AP Webfeeds Agent automatically apply the AP flag. The AP flag is often used to trigger translation rulesets in BLOX Total CMS that keep AP bylines consistent, change the time zone for sports agate and much more.
The AP flag is also key in the export of NITF XML from BLOX Total CMS. This export aids in the sending of content to archive systems and external websites. The core method for exporting NITF XML from BLOX Total CMS has three properties that are required in order to export an asset:
Asset must be placed in a properly named Adobe InDesign document.

The publication date of that document must be today or in the future.

The asset must be set to "Print ready" unless the asset has the AP flag.
The Breaking flag
The Breaking flag in BLOX Total CMS causes an asset to get syndicated from BLOX Total CMS to hosted BLOX CMS quicker than normal syndication. It prompts the job that delivers assets to hosted BLOX CMS to publish the asset almost immediately.
The Web only flag
While the Web only flag doesn't affect translation, NITF XML export, or speed of syndication, it can help page designers reduce errors. The Web only flag is most commonly used to prevent child assets from being placed onto the Adobe InDesign page.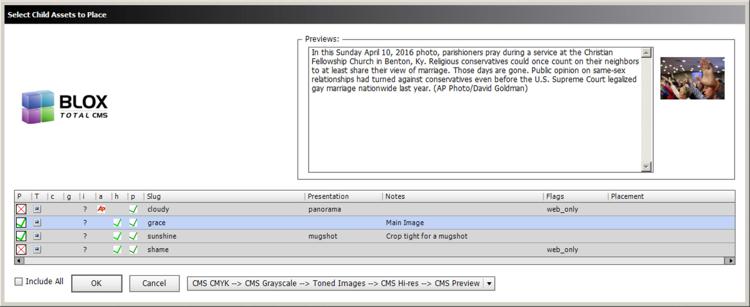 In the "Select Child Assets To Place" dialog box, assets with the Web only flag are automatically unchecked, meaning that an Adobe InDesign user will only place the assets intended for print.  
These three flags have the power to help your staff keep content organized and cut down on errors—saving precious time so your team can meet deadlines and get important news out fast.
Need help? Contact TownNews' Customer Support today!     
Jon Winters is the product architect for BLOX Total CMS.