Super Bowl LII is almost here! Get your site game day ready with these ideas from our playbook.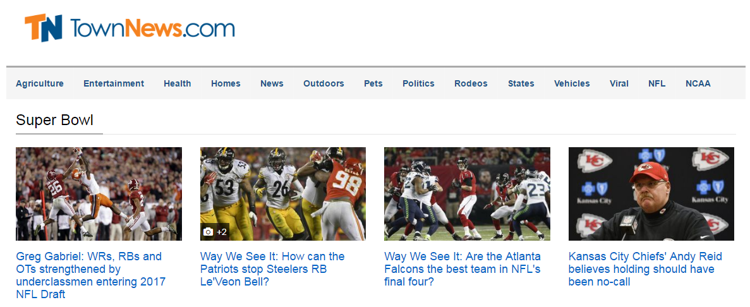 I. Add the NFL channel
We've partnered with Pro Football Weekly to provide highlights, commentary and play-by-play action. Add the NFL Content Exchange channel to your site to find even more great pro football coverage (click here for step-by-step instructions).
Not part of the Content Exchange program, yet? Contact us at ContentExchange@TownNews.com to get started.
II. Create a Super Bowl schedule
Schedules are a great way create custom presentations for single events without interfering with your existing layout. You may want to create two schedules for the Super Bowl—one schedule to use during the week, and one to use on game day.
Tip: The BLOX CMS scheduling system makes it easy to schedule a dedicated front page. Learn how here.
III. Tie your coverage together with a header
Draw attention to featured content by placing a graphical header on your site. A Super Bowl header image makes it easy for your reader to find the news they want. Upload your specialty image using the Utility: Image file block in Flex Templates. We've even created a Super Bowl header free for you to use. But of course, you can also create your own!
Tip: The image will scale down in mobile view, so make sure your image is easily readable on a small screen.

IV. Create blocks to display Super Bowl content
One versatile block that is great for featuring content in Flex is the "Card: Grid" block. It can be placed almost anywhere on your page. For Super Bowl coverage, place the block in the index-full position at the top of the page. This will put the content front and center when new users visit your site. Download the block:
Tip: To feature the Super Bowl content, add the following block query rule: Keyword tags > with keyword > #profootballweekly.com.
With these great plays, you'll be ready to go all the way on game day. Are you planning to do something unique for Super Bowl LII? Email ContentExchange@TownNews.com a screenshot of your site, and it may be featured in a future blog post!
Tim Turner is the Content Exchange program manager at TownNews.