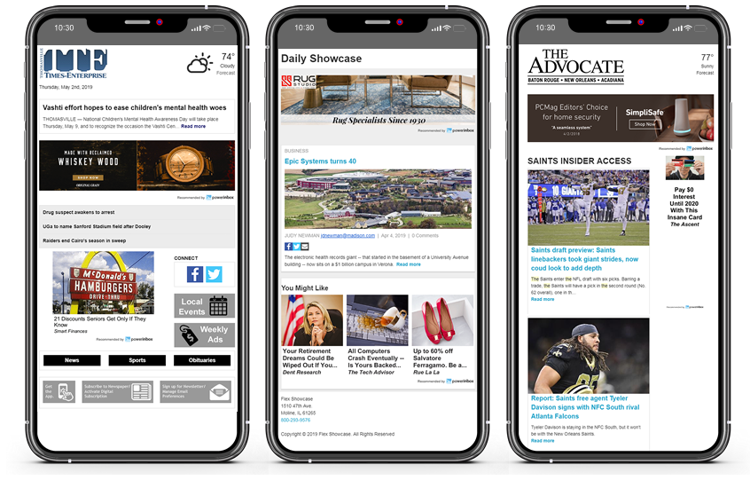 Email newsletters are still one of the most important tools in your marketing toolbox. They are an efficient way to re-purpose content from your site, and engage your subscribers directly where their attention is focused.
Since subscribers have opted in, they're more receptive to your messages, and more likely to click-through on ads. You also won't be dependent on social media's ever-changing algorithms to get in front of your audience.
Maximize your results
Watch your open rates
Many web-based email clients, including Gmail and Outlook, use the aggregate open rates of a given message across their network to help differentiate between desirable emails and spam. Here are a few tips to keep your open rates up:
Create compelling subject lines: Learn how to automatically create custom email subjects for your newsletters.
Use high quality lists: Email addresses gathered from unrelated actions such as contests and purchased lists may not have the same interest in your newsletters. These users often flag the emails as spam and can negatively impact your deliverability rates. To keep your spam reports low, and avoid running afoul of anti-spam laws, stick with opt-in lists.
Meet users' expectations: Provide descriptions in the sign-up block for your newsletters. Include how often, what time of day the newsletter is sent, and screenshots or links showing what it looks like. This way users know what to expect and will be less likely to filter out your emails or mark them as spam.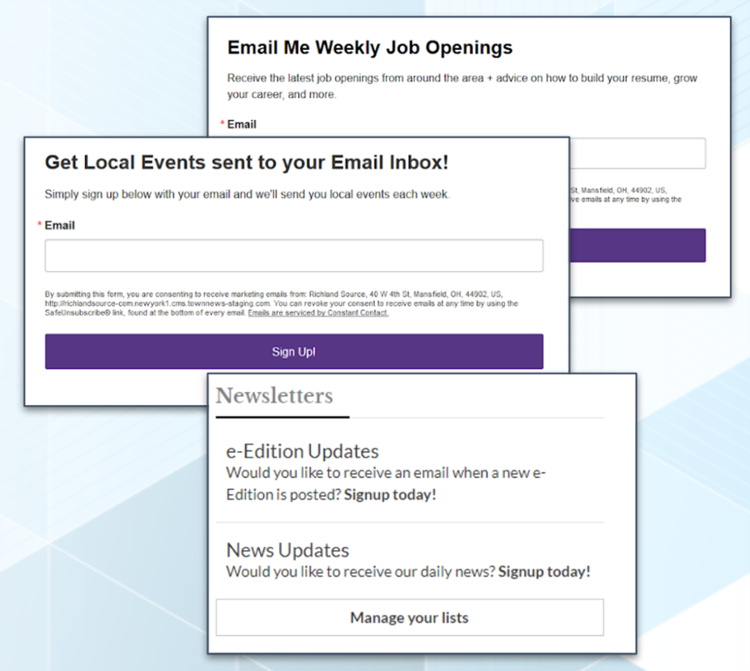 Create new and unique lists
Don't be afraid to expand on the types of email newsletters you offer. Design specialized newsletters centered around the most popular content on your site.
Promote the newsletter to interested people by highlighting a sign-up block on the same section of your site. One great example of this is creating a jobs alert email for your employment or jobs classified section.
Offer a variety of email alerts
Generate automatic emails for a myriad of topics—breaking news, weather alerts, traffic, and more—using BLOX Notifier. Include a leaderboard ad position as part of the email, to ensure that every alert is monetized.
Easy programmatic ads for email newsletters
The turnkey way to add targeted banners, native ads, and paid recommendations to your email newsletters and automated alerts.
With Programmatic Ads for BLOX Email Reach, you can engage your subscribers with a wide variety of banner ads, native ads, and paid recommendations, and start earning new advertising income via our generous revenue share program in as little as a few days.
We've partnered with PowerInbox to bring you this new revenue program specifically created to work within BLOX Email Reach. This new block allows you to create ad units of various sizes—leaderboards, medium rectangles, and skyscrapers—which can be placed anywhere within your email newsletters and alerts.
Ready to generate more revenue from your email newsletters and automated email notifications? Contact us today to get started with Programmatic Ads for BLOX Email Reach.
Doug Green is a product manager at TownNews.
* BLOX Email Reach is required, additional fees may apply. BLOX Notifier is also required for customers wishing to deploy programmatic advertising in automated email notifications.