How can a hyper-local, online-only news source build an audience in today's fragmented media landscape? That's the challenge staffers at the Richland Source faced after launching their new BLOX CMS-based website in the summer of 2013. They needed to establish a loyal following—and fast.
"Fewer and fewer people are using homepages to come to a site. Lots of people are using Facebook as a proxy for the internet—it's their starting point, where they find news, etc.—so we turned to Facebook to promote ourselves," said David Yoder, platform and technology manager at Richland Source.
While this strategy successfully attracted followers and drove traffic, it wasn't establishing a loyal, returning audience.
"A big frustration was having to get into people's newsfeeds in order to get them to return to our site," said Yoder.
As part of their growth strategy, the Richland Source's staff looked to email newsletters to help build a better relationship with readers.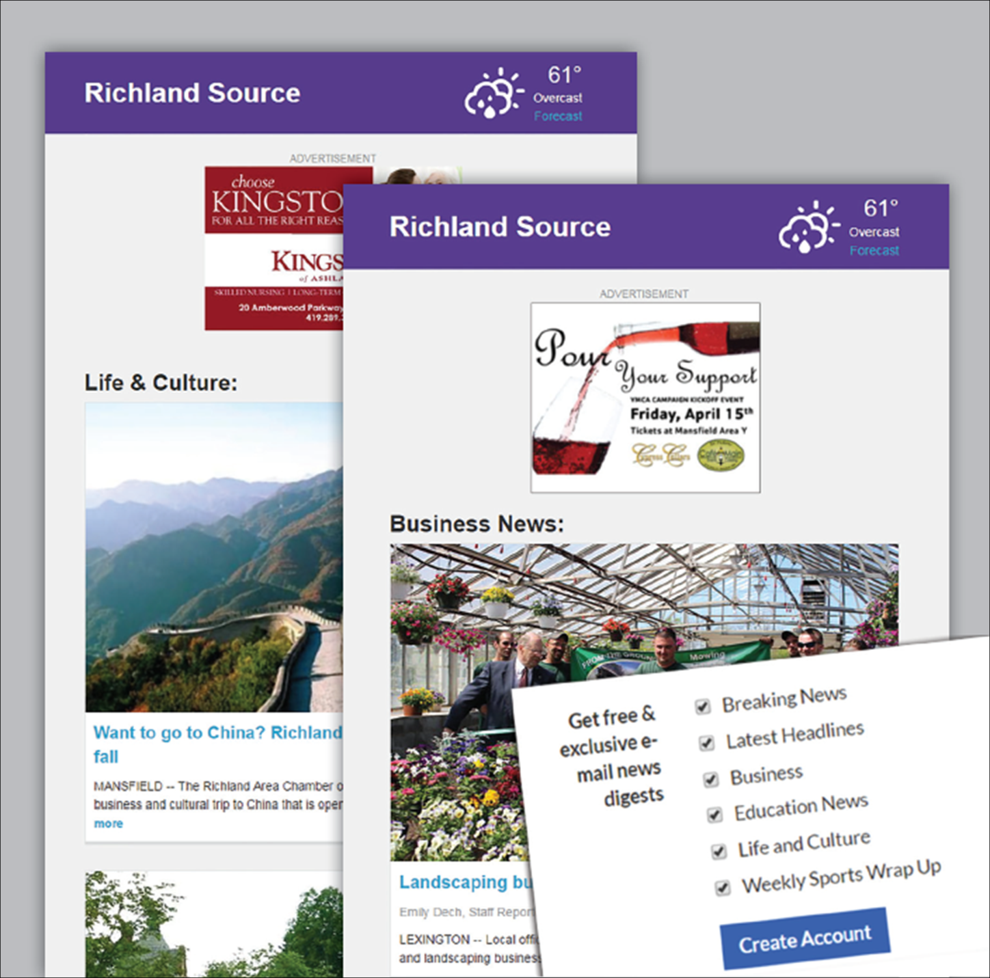 "Many readers rely on social media algorithms to serve them the most relevant news, but that doesn't always work," explained Yoder. "Email newsletters offer a more direct way for us to engage with our audience and notify them of new content."
Yoder and his staff use BLOX Email Reach to craft their email newsletters.
"BLOX Email Reach gets our news in front of the readers and reminds them that we exist," he said. "And it is extremely easy to set up the newsletters—it's so low maintenance, especially once you set up a schedule."
Richland Source offers a variety of newsletters to meet the needs of their user base, including Breaking News, Latest Headlines, Business, Education News, Life & Culture and Weekly Sports Wrap Up. The Latest Headlines newsletter is their most popular offering.
"Latest Headlines receives a lot of hits, probably because it aligns best with what we do, which is deliver local news," said Yoder. "Weekly Sports Wrap Up is popular, but seasonal, and Breaking News also sees a lot of signups."
They send most newsletters on a weekly basis, with the exception of the daily Latest Headlines newsletter, and the Breaking News newsletter, which goes out whenever applicable.
"The key is to not fatigue a reader—there's a fine line between fatigue and delivering enough news," explained Yoder. "We use time-stamps to filter what stories will be included and set a limit of 20 stories. Since we only cover local news, we rarely reach that limit."
To encourage readers to open newsletters, Yoder avoids generic subject lines.
"We tailor subject lines, especially for our breaking news newsletter. We often use headlines from the stories within the newsletter," he said. "Headlines are make or break—we think about keywords and names, and we write them in a way to catch readers' attentions—so naturally we use those same headlines in our email subject line."
In addition to promoting news stories, Richland Source is laying the groundwork to expand its newsletter coverage into other content offerings, such as local events.  
"Our readers like to know about events, but may not always check the calendar until it's too late," explained Yoder. "We once relied on Facebook to promote a Holocaust speaker in the area, but for some of our followers, the story didn't appear in their Newsfeeds until after the event took place."
Yoder believes creating an events newsletter will help the site combat issues with Facebook's algorithm and further increase reader satisfaction.
"There are so many things competing for a reader's attention so we try to seek out problems, such as unknown events, and work out a solution to solve them. Right now, that solution is an events newsletter," he  said.
Richland Source heavily promotes its newsletters throughout the site by displaying the newsletter options on the right rail of the homepage as well as other popular sections. The site also runs house ads and uses registration prompts. 
"The primary way we push our newsletters is through our site registration process. We've added a checkbox that displays our newsletter offerings and allows users to select which ones they would like to receive," said Yoder. "More often than not, users select them all."
While Richland Source does not have a paywall, users must subscribe in order to gain access to some features. Since the site's content is free, Richland Source has to look for other ways to generate revenue. With BLOX Email Reach, Richland Source is able to monetize their newsletters with banner ads.
So far, Yoder sees the site's newsletter strategy as an unqualified success.
"We've found people really like the newsletters. They've been an incredibly consistent way to get traffic to our site," he said. "Readers can rely on these newsletters to deliver them the news, while being able to read them when it is convenient for them."
While generating revenue, boosting traffic and reader satisfaction are high on the list of things he enjoys about BLOX Email Reach, Yoder also praises the simplicity of the product.
"With BLOX Email Reach, we haven't had to put in a lot of man hours—we're talking to thousands of people per week through the product, but we are putting in little effort, which allows us to focus our efforts on providing a great local news product."
Paige Ruba (pruba@townnews.com) is a marketing specialist at TownNews.