Once thought to be a novelty, 24/7 delivery of local news video to OTT (over-the-top) devices like Roku, Apple TV, and Amazon Fire TV, has become the big focus—and driver of revenue—for ABC-affiliate, WWSB (mysuncoast.com) in Sarasota, FL.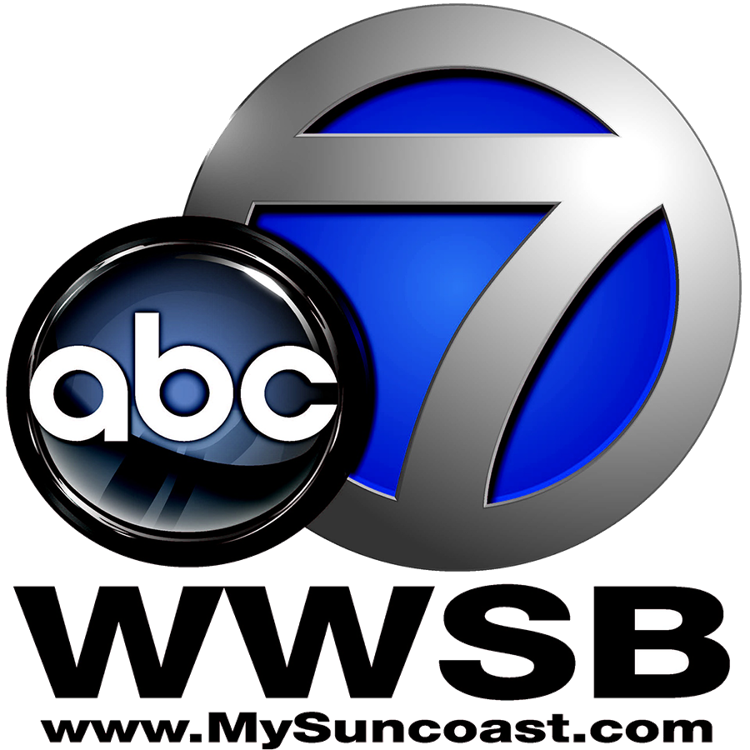 "Our mission is to provide news information, entertainment, and services to enable our communities to prosper. Our goal has always been to be where the audience is. Whether that's traditional broadcast, website, mobile devices, OTT platforms, or any other multichannel video program distributor (MVPD), we want to be where our viewers are best served," said Jeff Benninghoff, vice president and general manager for WWSB ABC7.
WWSB, a part of Raycom Media's broadcast group, and has been on TownNews' content management system, BLOX CMS, for the last 6 years. In 2015, WWSB began using the Field59 video product, now a service of TownNews. The desire to serve their audiences on all platforms is what led Mr. Benninghoff to come up with a plan.
"We're a heavy destination for tourism, and we have a lot of what we call 'snowbirds,' or folks that live here only part of the year. Part of the strategy of the channel is to give our viewers the ability to watch from anywhere around the globe. So if they're in Europe they can watch us in Europe, if they're in Canada, they can watch us in Canada, and continue to know what's going on in town."
WWSB's multi-platform delivery strategy has yielded impressive growth. Susan Hardin, director of digital at WWSB, reports 40,000 video plays every week.
24/7 Linear streaming as a second revenue driver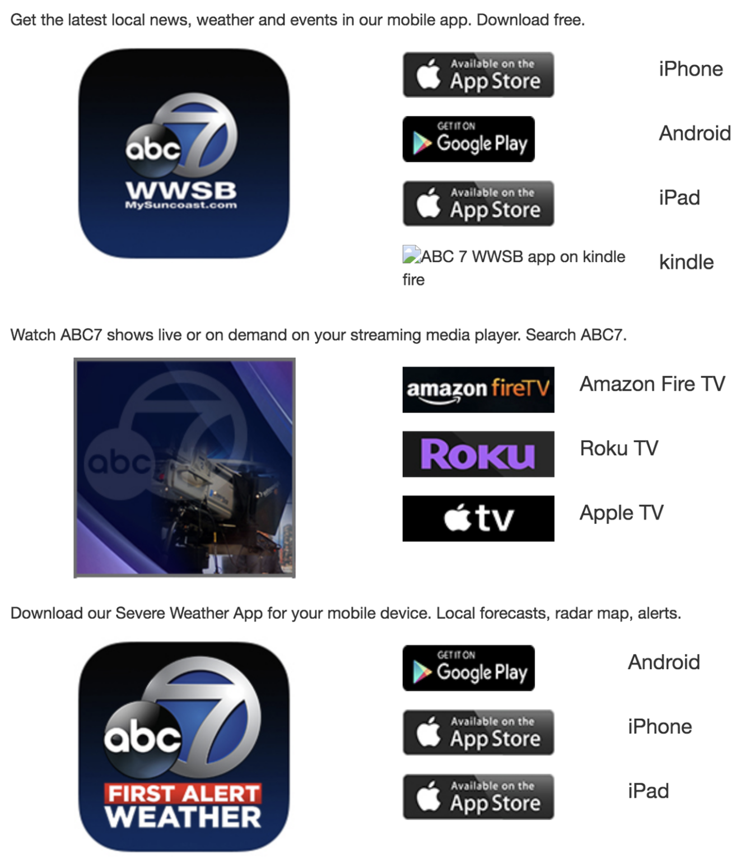 Developing a 24/7 linear streaming channel for OTT was years in the making, according to Benninghoff. "We wanted to be as flexible for our audience as possible. Four years ago, we launched our OTT platform. Since then, our video content has evolved from snackable bites—a few minutes of video—to a 24/7 linear stream to provide a laid-back viewing experience. The theory was that people want this experience now. They're not necessarily watching 'appointment TV.' So we programmed a 24/7 linear channel with full-length shows."
In order to generate revenue with their OTT channel, WWSB provides sponsorships throughout the platform, and sells advertising as individual ad spots separate from their on-air advertising. Ads for the 24/7 linear stream are sold just like spots on-air.
Hardin notes that most on-air and internet commercial advertising do not have the same rights, so selling advertising separately for both on-air and OTT channels generates a new line of revenue for video content that didn't exist previously.
Fast and easy video workflow, one manager for all destinations
According to Hardin, WWSB benefits from the platform's streamlined digital video workflows. "The Field59 VMS has the easiest and the fastest editing interface I have used. The learning curve is minimal."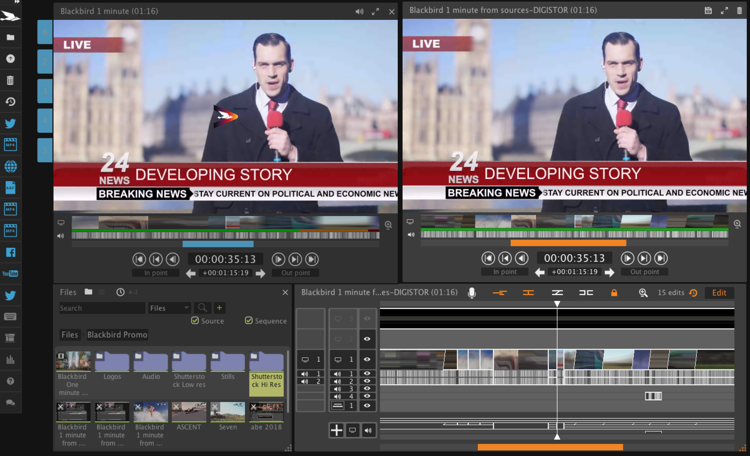 The system's intuitive interface enables all of WWSB's reporters, editors, and producers to clip video. "We have a list of keywords that the chief editor and I circulate around the newsroom, so everyone can tag their videos according to where they want them to go."
Automation plays a key role in streamlining WWSB's workflow. "We automate everything for full-length shows. Hour-long newscasts are automatically 'clipped' by setting the start and end times for recording in Field59. The keywords determine the destination; it's either delivered to the OTT channel and its subchannels, section players on the website, or directly into our news app. One place for all distribution."
OTT-only video content
Due to the success of their original OTT channel, WWSB will be creating unique OTT-only channels in the near future. The new channels will highlight items of local interest, like beach living, sunrises and sunsets, and sea life. Hardin appreciates how quick and easy it will be to launch the channels.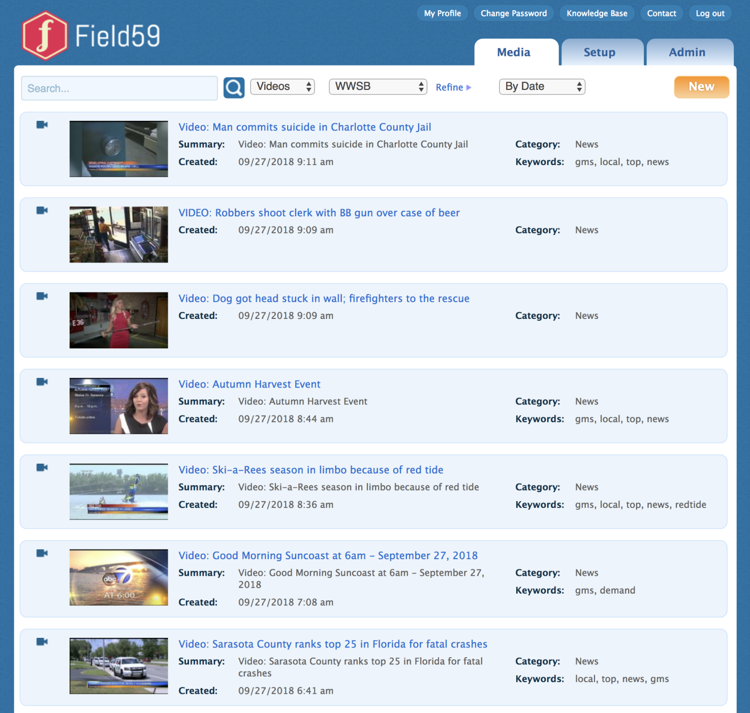 "One of the things that's great about using the Field59 VMS—that I've never been able to do in another video system— is the ability to go into the manager, set up a player, and with two clicks, create an MRSS feed for our OTT and mobile app products. It's so easy—the fact that it's just clicks away—that's really unique. So generating the feeds we need for our platforms is a piece of cake."
Hardin also reflected on TownNews' decision to acquire Field59 after a long term partnership. "The combination of BLOX CMS and the Field59 video manager make TownNews much more attractive to broadcasters."
She also noted being pleased with the support TownNews offers. "They always assist us quickly. From live streaming 24/7 to automating the clipping of shows, they've gone above and beyond to do things we've asked."
Catherine Garcia is senior marketing specialist at TownNews.