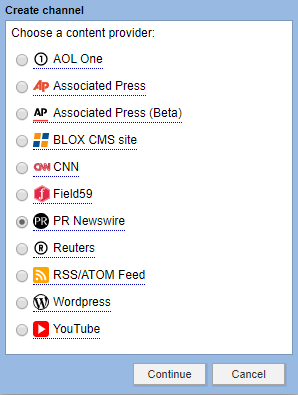 PR Newswire, a press release distribution platform, is available this week as a new source of content available for import. 
If you are a TownNews Content Exchange program manager, PR Newswire content will soon be available in the Content Exchange, and it is preferred that you access PR Newswire content through the Content Exchange. (This method avoids any potential issues with PR Newswire's 5,000 calls per day rate limit per API key.)
For users who are not part of the TownNews Content Exchange but still wish to add PR Newswire as an available channel, perform the following steps:
Submit a support ticket to TownNews indicating interest in adding PR Newswire. TownNews will make an introduction to PR Newswire, who will assist in helping you obtain an API key, which is available via this page: http://api.prnewswire.com/user/jsp/register.jsp (but you need to have an established PR Newswire contact to complete the form).
Once you have obtained your API key from PR Newswire, in BLOX, go to Editorial > Syndication. Under New, choose PR Newswire from the available options
Give the channel a name, and add the API key. Save the channel.
Once your PR Newswire channel is active, you can work with content like with other Syndication channels, including creating automatic importers based off of specific searches. The available search options on PR Newswire are:
Date range
Subject
Industry
Language
Geography