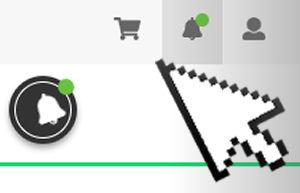 Often, a web push notification will go out while a user is viewing your site. When this happens, an in-browser notice will pop up in the corner of the browser page showing the message, and then fade away after a few seconds. The message is then stored for the user in the notifications side-panel, available when you click on the bell icon and then click on "notifications." Users will now be alerted to stored messages by a circular badge on top of the bell icon. In addition, the bell will "ring" with a silent animation every few seconds to draw attention to the notifications.
Once the user clicks on the bell icon and reveals the side panel, the ringing animation will cease and the circular badge will go away.
The notifications will not be counted if the user is not on the website during the time the notification goes out.
Note: the shopping cart icon badge for BLOX Photo Sales has also been changed from a number to a circular badge so that both icons match.