In this major BLOX Core software release, we are adding some new features to help improve the efficiency of our partners, and making building pages and integrating with third-party services easier.
NEW FEATURES
In this release TownNews.com is introducing a new block type in the Block Editor called "HTML." The standard block type, called a "Content block," will still exist and will be available for use when there is a desire for a block that pulls in assets or uses a block template.
However, the HTML block will now allow TownNews.com partners to easily create blocks which contain only HTML, for adding widgets, snippets of JavaScript, or embedded code from third-party vendors.
Previously, some site administrators would add HTML to the page by creating an HTML asset in the Editorial application, and then assigning it to be shown via an HTML block template. With this new HTML block, site administrators should no longer be creating HTML assets unless they are content types (such as a video from Vimeo, a Twitter or Facebook widget, etc.) which are appropriate to be found by end-users in the site search. Other page elements which are NOT appropriate to site search should be created with new HTML blocks.
The new HTML block type is specifically-built for this activity in mind, and will actually help "tidy" up, or normalize, the HTML code by attempting to close un-blocked HTML elements, and by removing <html> and <body> tags.
Each HTML block will have a configuration tab which contains the name of the block, description, tags, etc. like any other block in the Block Editor.

---
The standard BLOX editorial video asset editor now has a rich text editor for its Description field. This will help sites who want to create a more robust description, with multiple paragraphs, links and so on.
---
When content creators upload an FLV video, BLOX CMS will now convert that video file to an HTML5-ready MP4 file type.
---
In order to help site administrators permanently remove content more quickly, TownNews.com has added a new button called "Purge" in the "Deleted Assets" view. This new action will permanently delete an asset that's already in the "trash" by deleting its files from disk and sending a request to the servers to remove its publicly accessible resources (such as images) from the CDN cache.

---
TownNews.com has now added the ability to see all sites in the "change active site" list, regardless of data center. This will be very useful for TownNews.com partners who have access to sites on more than one data center.
---
Added tagline and related content to NITF export.
SYNDICATION MANAGER FEATURES
The Syndication application now has the ability to include custom properties from the origin asset on the channel creation panel. In some special situations, some content may need these custom properties to display or behave appropriately.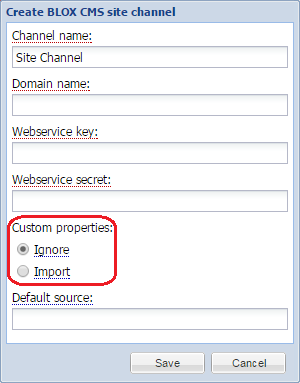 ---
These asset types are now supported in the Syndication tool and will be brought over if they are included as children on a syndicated asset:
CHANGES
Block instances tags may contain non-alphanumeric characters.
Duplicating a URL map now also duplicates the navigation regions.
New Design/Blocks Search Filters:

Filter block instances by the template library.

library:site
library:flex
library:zen

Filter block instances by placement.

Force enable XSS protection filters in supporting browsers.
Added MIME sniffing protection.
Removed VMIX and OpenCalais v1.  OpenCalais v2 is still available.
BUG FIXES
URL map import no longer breaks on invalid parent IDs.
Geocoding result is not accepted when confidence level is limited to "country."
Retrieving template updates from a site without templates no longer throws an error.
Reopening a text-based template file opens the in the same tab now.
Manually exported and imported block instances will preserve values for Title link URL, Open in new window, and Links.
TEMPLATE DEVELOPERS
In the template editor, resource subdirectories now appear in a new site's default global skin.

/includes
/resources/images
/resources/flash
/resources/scripts
/resources/styles
/templates

New Folder is no longer available via right-click on the /macros directory of an editable component.