We are adding a huge new feature to our Collections asset: Dynamic Collections. This new collection gives you the ability to populate a collection based on search rules rather than manual selection. There are also several new presentation modes which will provide additional content display options. 
Introducing Dynamic Collections
Because Dynamic Collections are search-based, they have no limit to the number of assets that can be included. The collections will keep loading more assets as items meet that search criteria. This new Dynamic Collection can be used in place of a Curated Collection which is manually populated.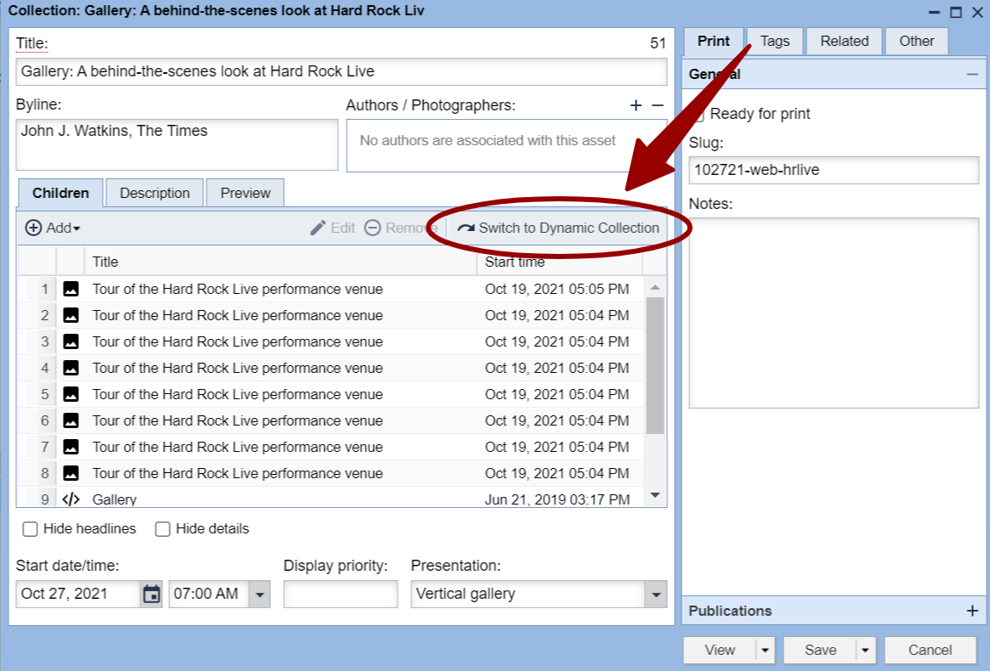 Why are dynamic collections helpful?
Unlimited number of assets can qualify for one asset.
The collection updates dynamically over time, so more content can be added and it will notify users.
Mobile-friendly interface means that pageviews will improve on collection content.
New presentation modes
All current presentation modes will work with both Curated and Dynamic Collections. We are adding two new presentation modes: special report and search grid.
"Special report" is similar to a topic page which shows asset summary cards with "load more" at the bottom.
"Search grid" is a Pinterest-like grid of images or other content.
Collection presentation modes:
Mapped
Paging
Series
Timeline
Vertical gallery
New: Special report
New: Search grid
"Follow this!" on Dynamic Collections
Dynamic Collections also feature a prominent link which reads "Follow this!" at the top of the collection to encourage customers to sign up for email notifications on that topic. This will help get users to sign up for an account, and will keep them coming back to read new content.
Read the full documentation on Dynamic Collections.