A new feature released this week allows sites to set the behavior of ads on Accelerated Mobile Pages (AMP) separately from normal web pages.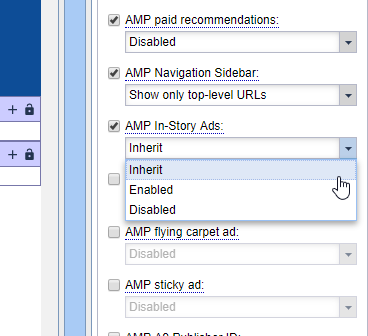 A few months ago we debuted Advanced Automatic Ads (AAA): automatically placed ads throughout your articles using the Best Practices for ad placement. Later we rolled this feature out for AMP as well, helping to maximize revenue opportunities there. This feature has been widely implemented and now sites can better control which pages use this feature.
By default, AMP pages will inherit the In-Story settings. Now under AMP settings in Page Customizations, choose between "Inherit", "Enabled" and "Disabled". So if you would prefer to use Fixed Ads or Utility regions on web pages, and AAA for AMP pages, you can do that by setting your In-Story to "Fixed Ads" and the AMP In-Story Ads to "Enabled". This setting also controls the Flying Carpet ad position.
We recommend using Advanced Automatic Ads on all your pages to maximize your revenue.