AP has announced that interactive maps and graphics related to the coronavirus are available to any AP member, regardless of subscription level, at no additional charge. These also include two Spanish-language graphics. These graphics may provide additional, helpful content for your site.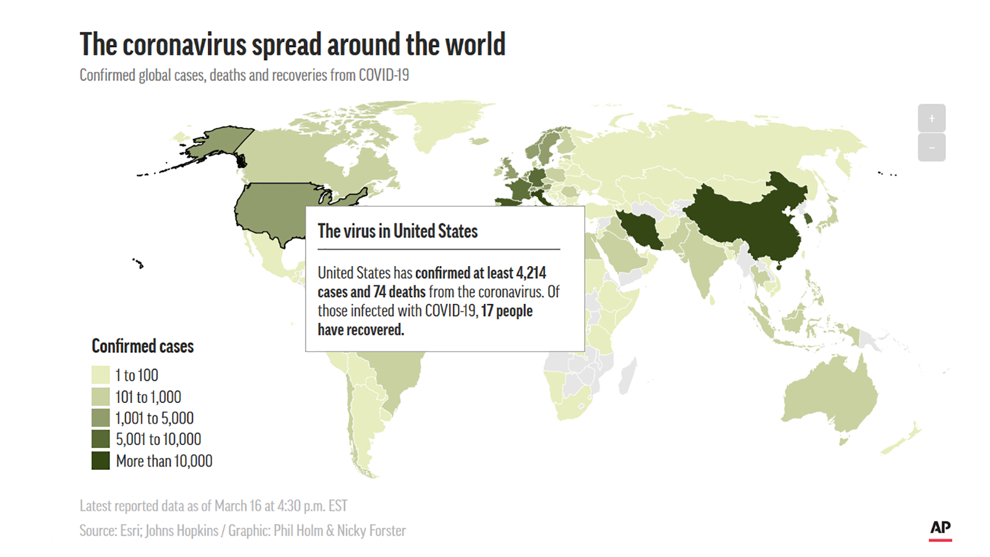 Each of these maps/graphics update at least daily. Johns Hopkins is being used as the source of the data, which does not reflect breaking news as new cases are reported. The snapshots are taken at the end of each day. Data might be out of sync with breaking news as Johns Hopkins verifies the cases.
Login to your AP Newsroom account to access maps, graphics and stories.
The AP is also providing coronavirus coverage updates by email Monday through Friday:
Coronavirus briefing – Delivered to inboxes by 10:30 a.m. ET Monday through Friday, a preview of the AP's coverage plans for the day.
Coronavirus in depth – Delivered to inboxes by 6:00 p.m. ET Monday through Friday, a preview of deeper stories from around the globe that the AP plans to move in the next 24 hours.
Sign-up for the AP newsletters: Member editors/producers/reporters/etc. can opt in to the newsletters by clicking here: Coronavirus Advisories Sign-up.
Find the latest stories: Additionally, AP members can find the latest stories, photos and videos in AP Newsroom at https://newsroom.ap.org/page/Coronavirus.