In this week's release of Flex Templates, we are introducing a new block called "Utility: Web notification promo" which can be used to promote web notifications to your end users.
What are web notifications?
Web notifications are a great way to let end users know about new content and breaking news on your site as soon as it is available. These little popup alerts are sent from BLOX Notifier to a user's desktop screen any time the user has their browser open—regardless of whether or not the user is currently on your website.
The user can then click on the notification, and they will be brought directly to the article page.
Web notifications are currently supported on most desktop browsers as well as some mobile browsers (but not iOS).
How do I set up web notifications with BLOX Notifier?
You can set up BLOX Notifier and web notifications using Firebase by following the information on our help site. This is a free service that is part of our BLOX CMS system.
What kinds of promotions can the new block create?
The new web notification promo block supports three types of user interfaces:
1. Overlay
To create a web notification promo that shows as an overlay, simply set up the "user interaction" to be required, and then add some overlay action such as "toaster from top."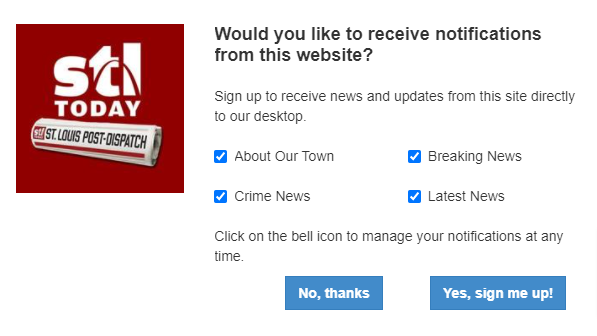 2. In-page promo
With no "overlay action" defined, you can create a great in-page promo which can be added to story pages or section fronts.
3. Browser permission popup
If you set the "user interaction" to be not required, then all other options are ignored and you will create an automatic request for the user to receive notifications for this site.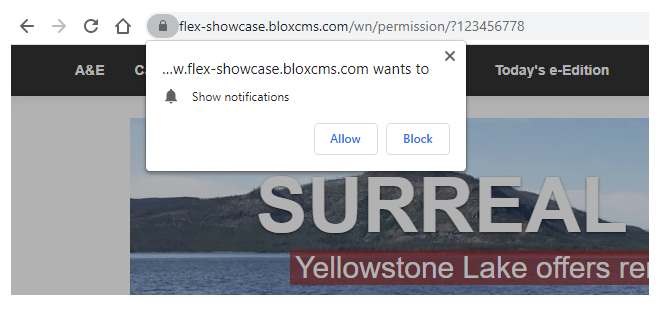 What is the difference between a promo with "require user interaction" and without?
When the block is set up with "require user interaction" as disabled,  it means that as soon as the user arrives on the page, the browser will request permission to send notifications. 
The wording and appearance of this popup permission panel is governed by the browser itself. Note that if the user clicks on "block" at this point, their browser will permanently block all notifications from the entire domain.
If the user changes their mind and wants to receive notifications at a later time, they must go into their browser settings and change their permission. Here is how to do it on Chrome.
In general it is advisable to make sure that "require user interaction" is enabled so that the user can choose what they want. Chrome and other browsers may block notification permission requests if they are considered to be abusive.
Read the detailed release notes here.