We're very excited to introduce new restaurant fielded data for BLOX Business Directory!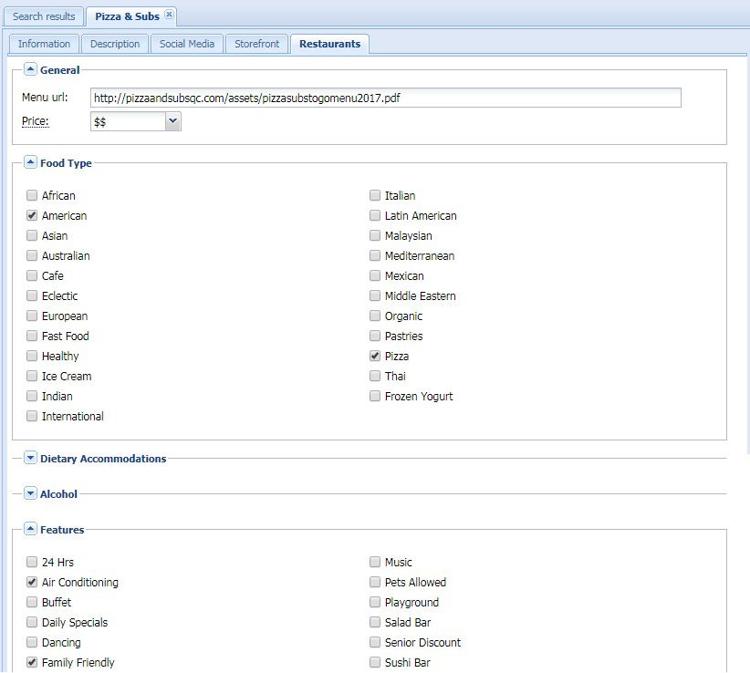 New and existing businesses that are assigned to a restaurant or food-related category will dynamically display a new "Restaurants" tab containing various data points, including: 
Menu link
Price range ($, $$, $$$, $$$$)
Food type (American, Thai, pizza, Italian, etc.)
Features (daily specials, game room, Wi-Fi, etc.)
Dietary accommodations (vegetarian, vegan, gluten-fee, etc.)
Reservation info
Services (ATM, delivery, online ordering, catering, etc.)
Kitchen hours
Happy hours
Parking info (bike parking, valet, street parking, etc.)
If a menu link is applied to a business, it's shown to visitors as a new "Menu" button beneath website and phone number.  A menu link is also included in block and search results for that specific business. 

If a price range is applied, this information is displayed under the "More About" section. The "Other Information" section will now display all of the other restaurant information applied to the business. 
At this time, access to enter this information is exclusively available in the BLOX Business Directory admin, but we plan to also allow business owners access in their user-dashboard in the future.  
Combined with our new faceted search capabilities, launching a feature-packed dining guide for your area is easier than ever!