Self-serve, 24/7 classified ad order entry
BLOX Ad-Owl streamlines the creation, processing and scheduling of web, print and mobile classified ads for both your advertisers and your staff.
Convenient, safe ad order entry
BLOX Ad-Owl lets your advertisers purchase classified ads day and night, without talking to a customer service rep. PayPal's Payflow Pro* and SSL encryption make credit card transactions seamless and secure. And BLOX Ad-Owl is cloud-based, so no hardware or software is required.
User-friendly for buyers and staff
Customers build ads using an easy step-by-step wizard. BLOX Ad-Owl replicates your print styles, allowing buyers to see what their ad will look like in print before purchasing. It's easy on your staff, too. Managing submitted classified ads is a snap in our web-based admin.
Lucrative, compelling upsells
Buyers can be prompted to enhance their ads with upsells like special borders, photos, bold text, and other attention getters. Customers can also purchase higher search placement and spotlighting of their classified ads in featured widgets throughout your site.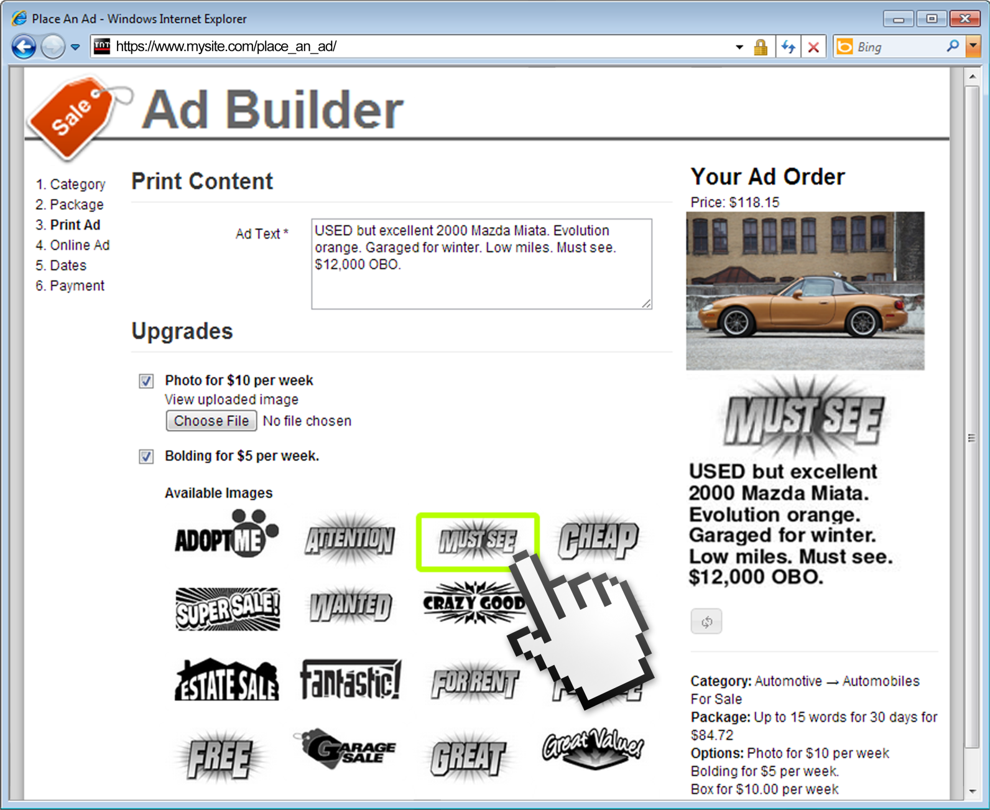 Multi-channel classifieds
BLOX Ad-Owl lets your advertisers manage their print, web and mobile classified ads from a single intuitive online dashboard. Approved ads can flow directly into BLOX Classifieds* for display on your site. And with our responsive Flex Templates, your to ensure that ads look great on tablets and smartphones.
Flexible rates and packages
BLOX Ad-Owl can be configured to meet your unique business needs. Create packages for print, web or a combination of both. Rates are fully customizable. You can also set up a variety of different publications, each with its own packages, run date rules, categories and rates.
Easy ad syndication
If you have several BLOX CMS sites (as many of our customers do), it's a cinch to syndicate classified ads to all of your sibling publications. This allows you to charge a premium for ads that display across your network of sites without additional pressure on your staff.
Powerful BLOX CMS integration
BLOX Ad-Owl is an add-on for BLOX CMS, one of the most robust digital publishing platforms out there. It's easy to show customer classified ads alongside other relevant coupons, calendar events, articles and more, maximizing ROI and keeping advertisers coming back.
---
BLOX Ad-Owl: Features
| Feature | Benefit |
| --- | --- |
| Web, print & mobile ads | BLOX Ad-Owl gives your advertisers and staff a single convenient interface for processing classified ads destined for display online, on mobile devices like smartphones and tablets, and in print. |
| Transaction processing | When paired with Paypal's Payflow Pro,* credit cards can be processed in real time. Online ads can be configured to display immediately, while print ads are queued for review by your staff. |
| Ad builder wizard | BLOX Ad-Owl makes it easy for advertisers to create ads with an intuitive step-by-step ad building tool. |
| Print preview | Buyers see an accurate preview of print ads as they're being built. |
| User dashboard | Users manage their ads using an easy web-based control panel. |
| Ad syndication | If you have multiple BLOX CMS sites, classifieds can be syndicated to your sibling publications. |
| Lots of upsells | Help your advertisers' ads stand out with upgrades like top search result placement, fancy borders, bold text and more. |
| Rates & packages | BLOX Ad-Owl rates and packages are customizable, so they can be defined to help you meet your business goals. Packages can be created for display in print, on the web, or both |
| Multiple publications | You can have many publications, each with its own unique run dates, packages, rates, categories, etc. |
| Photos | Attaching a photo (another upsell!) to a purchased classified ad is as simple as click and select. |
| Encryption | All transactions are protected by strong, industry-standard SSL encryption. |
* Optional add-on.