Think Craigslist is the final word in online classifieds? Think again.
Everything you need to make money from online classified advertising and coupons.
Draw attention & get found
Craigslist is the Big Box store of online classifieds. The merchandising is stark and finding what you're after is like being lost in a parking lot. With BLOX Classifieds, sellers can make their ads stand out with nifty flags and other upsells, and our powerful faceted search engine makes finding goods and services easy.
Focus on business, not software
Managing BLOX Classifieds is easy. You can input, edit and preview ads using our intuitive built-in editor, or pull in feeds from your print classifieds system. You can even bulk import feeds from third-parties like auto dealers and real estate brokers. Combine with BLOX Ad-Owl* to let sellers simultaneously place print and online ads.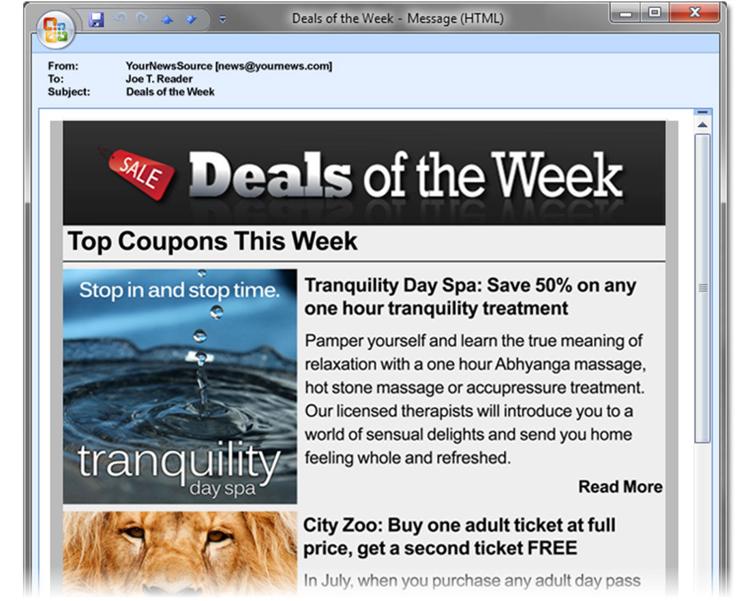 Promote your sellers
Use built-in widgets like "Top Ads" and "Deal of the Day" to drive traffic to your sellers' ads. You can drag-and-drop them onto your homepage (or almost anywhere else on your site) using our intuitive layout editor. Spur even more business for your power sellers with classified newsletters* and full business directory* listings.
Leverage your audience
You provide local information that sites like Craigslist can't match, and you have the loyal audience to prove it. BLOX Classifieds is integrated with your BLOX CMS site, so it's easy to surface classified ads alongside related calendar events, articles and business directory listings, delivering advertisers coveted local traffic that sticks, clicks and spends.
Go beyond the generic
Many online classified ads are stuck in the past. They're lifeless and don't offer the interactive capabilities today's buyers expect. With BLOX Classifieds, sellers can easily enrich their ads with videos, photo galleries, maps and more. And unlike print ads, there's no length limit, so ads can include all of the critical keywords needed to help buyers find them.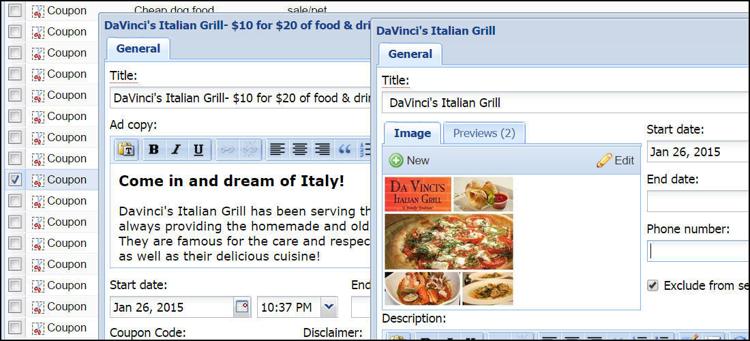 The ads sellers want
BLOX Classifieds supports liner ads, PDF display ads, image ads, coupons and more. All ads are searchable and can be augmented with text, photos and video. And our included coupon asset simplifies the process of creating coupons, so even your non-technical staff can handle it.
---
BLOX Classifieds: Features
| Feature | Benefit |
| --- | --- |
| Rich media | Sellers can enhance their ads with videos, photo galleries, images, YouTube content, and more. |
| Save-to-Favorites | Shoppers can create their own "favorites" lists (upcoming garage sales, puppies to adopt, pickup trucks, etc.), so they don't forget about items they'd like to follow up on. Lists are tied to user accounts, and are accessible on smartphones, desktops and tablets. |
| Ad types | Coupons, liner ads, image ads and PDF display ads are all supported. |
| BLOX Business Directory* integration | Classified ads can be tied to BLOX Business Directory listings, helping to promote your sellers and their offerings throughout your site. |
| BLOX Ad-Owl* integration | BLOX Ad-Owl lets sellers place print and online classified orders directly on your site, 24/7. Approved ads can flow directly into BLOX Classifieds* for display on your site. |
| Unlimited length | Unlike a print classified, BLOX Classified ads can be as long as is necessary to make the sale. |
| Customizable categories | BLOX Classifieds comes pre-populated with nearly every imaginable category. But, if we've missed one, you can easily add it to the taxonomy. |
| Keywords | You can add keywords to any ad type to improve search engine optimization (SEO). |
| Flags | When creating an ad, you can select from a variety of "flags," such as "Popular," "Featured," and "Spotlight." Flagged ads may have a graphical ribbon applied in search results, helping them stand out from competitors' ads. (This makes flags a terrific upsell opportunity!) |
| Markets | You can create separate markets to cover specific categories and collections of ads. For example, you might create markets devoted to employment, health and wellness, pets, etc. |
| Fields | For some categories of goods and services, fielded data can be used to further target classified ads. For example, the "Dogs for Sale" category allows the seller to list the age, breed, size and vaccination status of the animal. |
| BLOX Email Reach* integration | Users can sign up to receive classified ads or coupons via email, strengthening your relationship with them even when they aren't visiting your site. |
| Maps | If location data is provided, a map will display on the ad's details page. |
| Feeds | Need to create a large volume of classified ads simultaneously? Don't waste time building each one by hand. You can create a CSV feed file and bulk import all of them at once. |
* Optional add-on.