A cutting-edge print replica for the digital generation
Deliver a mobile-friendly multimedia e-Edition that will keep your readers coming back for more.
Always up-to-date
In the print-only world, if the big game goes past deadline, your readers don't get the score. With BLOX Live e-Editions, your replica edition doesn't have to be stale. Your e-Edition is fully-integrated with your site, so updates you make to the web versions of your stories can be mirrored to your e-Edition, keeping your readers informed.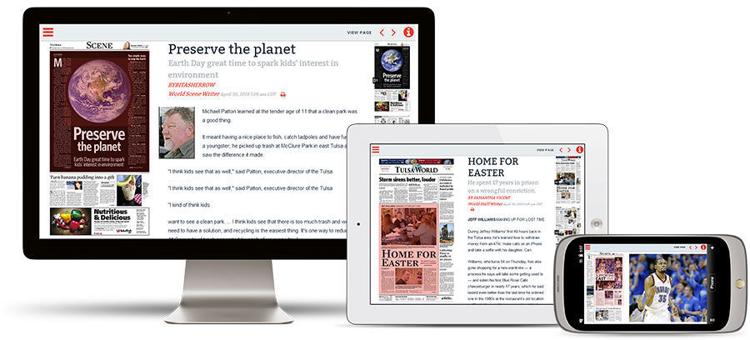 Access anywhere
BLOX Live e-Editions' sleek, modern interface automatically adjusts to display beautifully on tablets, smartphones, mobile devices and desktops. Subscribers can even download a complete PDF of your e-Edition for offline browsing.
Auto-magic processing
We can handle the dirty work of converting your PDF files and linking articles and images to their online counterparts.* And if you paginate with BLOX Total CMS,** your print, mobile, web and replica editions can all be built seamlessly and simultaneously. (At greatly reduced processing fees!)
Grow subscription revenue
BLOX Live e-Editions is fully integrated with BLOX CMS, so it's a cinch to provide single sign-on "All Access" packages to paying subscribers. And BLOX Live e-Editions helps build your subscriber base by delivering exceptional features and content that your users won't find anywhere else.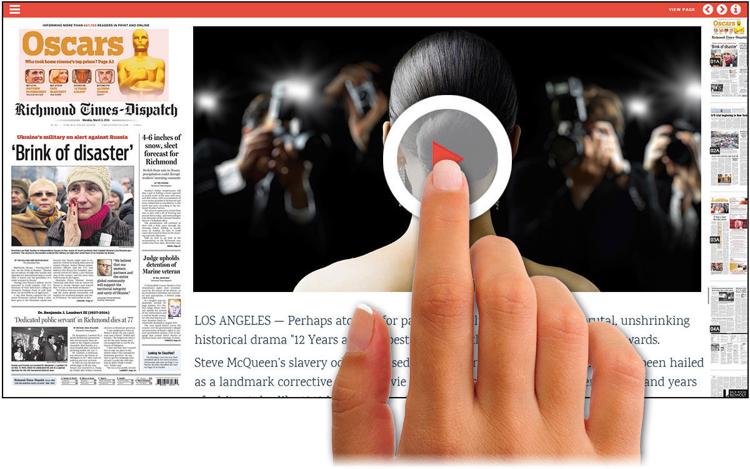 Beyond replica
Paper is wonderful, but space is tight and video and other multimedia is impossible. With BLOX Live e-Editions, you can add photo galleries, videos and more. Because it's integrated with BLOX CMS, you simply attach the extras to the web version of your article and they'll appear in your Live e-Edition.
Faster, cheaper delivery
Tired of high postage and slow delivery to your out-of-town subscribers? With BLOX Live e-Editions, your readers get an enhanced digital replica of your print edition the day it hits the stands, not a week later. You'll save money and deliver better, faster service.
Economical archiving
At TownNews, we're driving down storage costs, making it simple and affordable to build permanent, searchable online content archives.
Features: BLOX Live e-Editions
Feature
Benefit
Mobile-ready
Your BLOX Live e-Edition will work like a dream on tablets, smartphones, desktops and other mobile devices.
Live update
Changes that you make to your online edition can be reflected in your BLOX Live e-Edition. With BLOX Total CMS,** you can seamlessly push changes to web, print, mobile and your Live e-Edition. It's like magic.
Processing options

There are three ways to process your BLOX Live e-Edition (additional fees may apply):

Self Service: Create and link the segments yourself using our built-in visual segmenting tool.
Full Service: Let us handle the processing for you. Upload your PDF files and we'll send you an email when your e-Edition is ready to go.
Fully Automated: With BLOX Total CMS, your Live e-Edition can be seamlessly created as you build your print edition.

User-selectable views
Readers can toggle between "Page View" mode, which displays the unenhanced print replica, and "Text View" mode, which displays the full BLOX Live e-Edition. When possible, the interface will default to text view, but if the edition has not been processed, the interface will automatically fall back to page view.
Unlimited article length
Articles in your BLOX Live e-Edition can be augmented with content that goes far beyond the constraints of print. You can add updates, corrections and additional photos to your Live e-Edition while keeping the downloadable PDF an exact replica of your print product.
Offline viewing
Readers can download single pages and/or the entire edition as a PDF for offline viewing.
Video
Add value and boost your e-Edition's stickiness with compelling video content. You can even add videos inline within your stories using our easy drag-and-drop story editor.
Photo galleries
Online, you don't have any space restrictions! Photo galleries are a great way to take your e-Edition beyond what's possible in print.
Search
Your e-Edition pages will appear alongside all of your other content in your global site search. This helps promote your e-Edition and your subscription services.
Email notifications
Connect your e-Edition to a BLOX Email Reach** mailing list and send automated daily notifications to your readers that the latest edition is ready.
Segmenting tool
Process your Live e-Edition yourself using our built-in visual segmenting tool.
Integrated tutorial
First-time visitors to your BLOX Live e-Edition are treated to a brief tutorial that explains how to navigate the e-Edition. They can access the tutorial again at any time by clicking the information icon.
* Processing charges apply. BLOX Total CMS required for fully-automatic conversion.
** Optional add-on product.