FREE content, crafted by professionals
Grow your audience, expand your coverage and boost revenue with top-quality multimedia content from the TownNews Content Exchange.
Choose from a wide variety of content channels, including: News, Entertainment, Lifestyles, NFL, College Football, Outdoors, Health, Politics, Agriculture, Viral and more.
You decide what you use—pick individual items or entire categories of content—helping you cover topics that would otherwise be too resource-intensive to tackle alone (click here for our current channel lineup).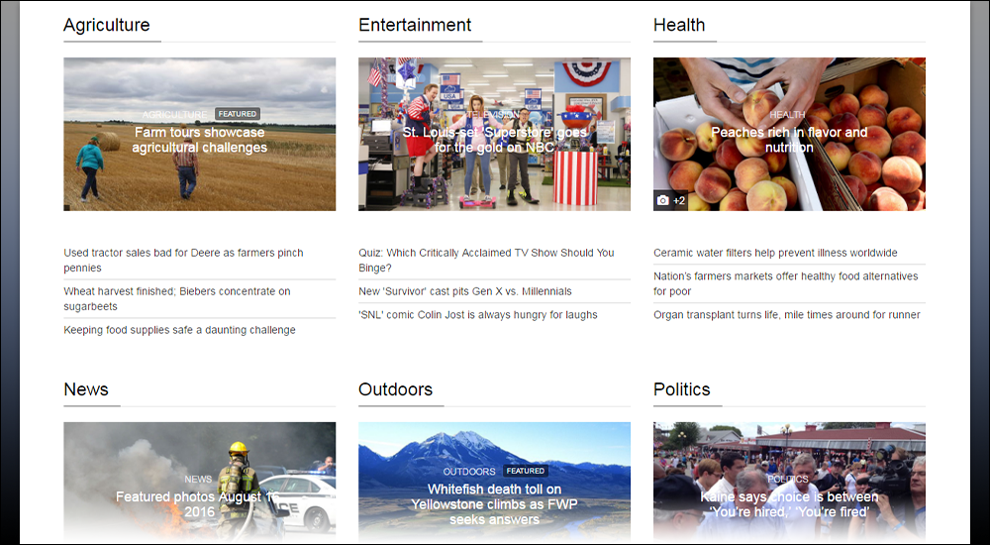 Hundreds of trusted sources
Our dedicated editorial team combs through content contributed by hundreds of TownNews partners to select the cream of the crop, so you know your coverage will be first-rate. Specialty coverage from outlets like Newsy, Pro Football Weekly and Bang Showbiz will help make your site stickier than ever. We're always adding new partnerships to bring you more free, quality content.

Captivating multimedia
TownNews Content Exchange channels overflow with professionally created images, videos and articles that you can use to fill out your coverage.**
Grow your target audience
The Content Exchange is about more than free content. It's also about building audience and revenue by distributing what you're already creating to a wider audience. When you contribute, you're exposing your content to new users across TownNews's vast network of news and media partners.
When you share your articles, images and videos on the Content Exchange, you're in charge of how your content is distributed. We've included a powerful set of digital rights management tools that lets you decide how, when and where your intellectual property can be used by other exchange participants.
Give your SEO a leg up
When your content is used on a Content Exchange partner site, you get the search engine credit. That's because we use canonical tags to make sure that Google and others recognize your site as the original producer.
The same is true when you use content from the exchange—the originating site gets credit. But, users viewing third-party content on your site are likely to spend more time with you, and come back to you when they're looking for more. It's a true win-win.
Best of all, the TownNews Content Exchange is completely FREE and turnkey for BLOX CMS customers.
* The TownNews Content Exchange is exclusively available to users of BLOX CMS and BLOX Total CMS.
** Subject to provider-imposed Digital Rights Management (DRM) restrictions