Supercharge your audience funnel for maximum revenue
iQ Audience+ gives you powerful new tools to lift your membership rolls and preserve advertising revenue, while boosting audience engagement.

Digital leaders at media organizations worldwide are asking the same question: How do we convert casual website and app visitors into highly engaged—preferably paying—members, and keep them engaged after they've joined?
The answer: iQ Audience+ by TownNews.
iQ Audience+ is an innovative audience acquisition and retention platform that enables publishers, broadcasters, and digital-native media organizations to precisely tailor their conversion funnels using machine learning and proven industry best practices.
A smarter, more dynamic meter
Traditional paywalls and meters are blunt instruments that treat all visitors the same way.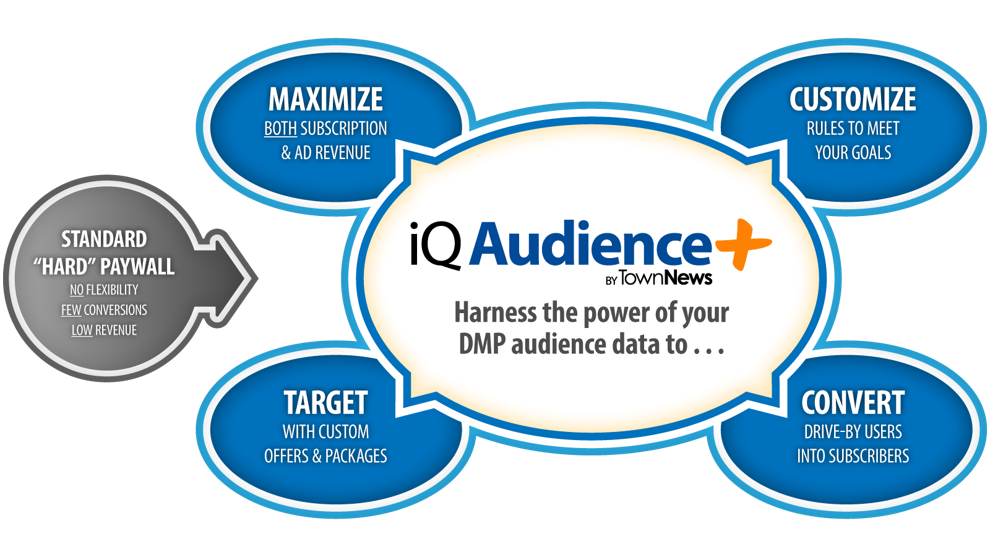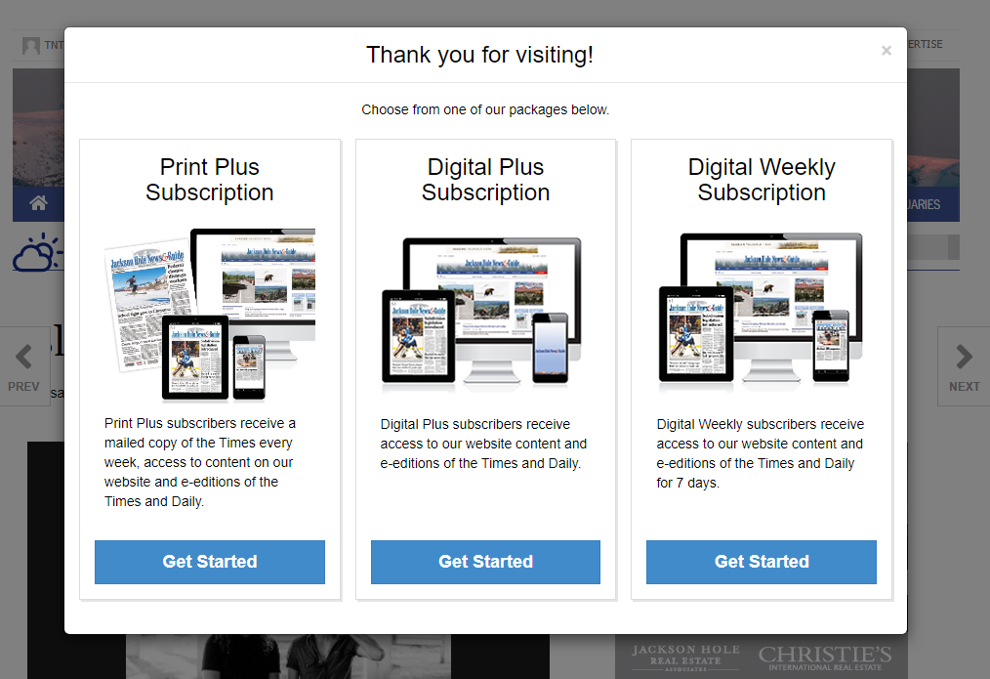 With iQ Audience+ you can tune your meter or paywall so that it grows your subscriber base without dramatically impacting ad inventory. Harness the power of audience and behavioral data to deliver the right offer at the right time:
Present a membership discount to visitors who are in a "high propensity to subscribe" audience.
Encourage loyal—but unsubscribed—visitors to sign up for your daily email newsletter. This boosts engagement, increasing the likelihood of a future paid subscription.
Present drive-by users with more programmatic ads while returning visitors receive an enticing digital membership offer.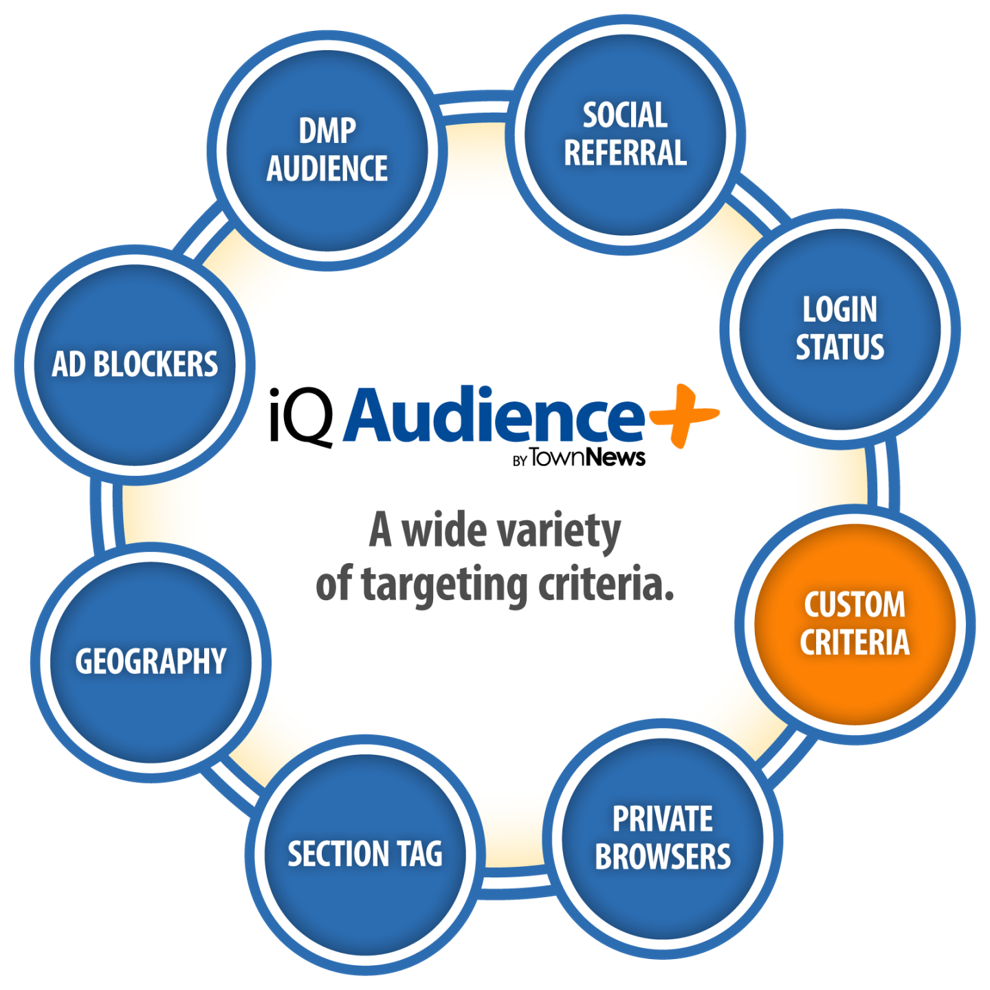 Those are just a few examples. We'll work with you to configure your paywall/meter so that it drives subscribers . . . and doesn't drive them away. 
Your goals, your rules
Every organization has different goals, and those goals are ever-changing.
To help you exceed your unique goals, iQ Audience+ features flexible rulesets that allow you to target visitor or content segments with distinct registration/subscription packages, notifications, offers, newsletters, and more.
iQ Audience+ access control options and sample use cases
| Access criteria | Description | Sample use case |
| --- | --- | --- |
| DMP audience | Target visitors based on audience and behavioral data. | Present "sports lovers" with an offer to sign up for your "High School Sports Insider" email newsletter. |
| Private browsing | Identify users who are browsing in "incognito" mode. | Force visitors using Incognito Mode (Chrome), Private Browsing (Firefox), or other paywall-bypassing technologies, to register and login in order to view content. |
| Ad blocking | Detect if a visitor has an ad blocker enabled. | If a visitor's browser is blocking ads, require them to login to access your site's content. |
| GDPR | Identify traffic originating from the EU. | Present special messaging to traffic originating from GDPR countries. |
| URL or section tag | Allow or restrict access based on the location of the page on your website. | Allow unrestricted access to obituaries while requiring membership for access to exclusive local news. |
| IP address | Target users from single IPs or ranges of IP addresses. | Provide free access to visitors accessing from a local school district's network but require all others to register. |
| User login | Target site visitors by login status. | Encourage frequent anonymous visitors to create an account and login in order to view content. |
| Asset type | Control access based on the type of content (article, video, e-Edition, etc.) the visitor is attempting to access. | Require the purchase of a subscription/membership in order to view premium audio and video content. |
| Time | Restrict or allow access based on the publication date/time of the content. | Require a membership/subscription to view new content while providing free access to content from your archives. |
| Referrer | Target users based on the last web address they visited prior to clicking through to your site. | Monetize Facebook and other drive-by social media traffic with more programmatic ad spots while enticing "direct," returning visitors with subscription offers. |
| User agent | Target visitors by browser and operating system. | Reduce the number of free (metered) articles that mobile users can view before requiring a paid membership. This helps offset lost revenue from reduced mobile ad inventory. |
| Custom Javascript | Empower your in-house development team to add new access criteria using custom Javascript. | Provide custom integration with your internal systems or a third-party vendor that iQ Audience+ does not natively support. |
Frictionless memberships and subscriptions
With the rise of consumer privacy laws like the GDPR and CCPA, it's critical that it be easy for visitors to sign up on your site or app.
In this E&P Reports webinar (sponsored by TownNews), Mike Blinder, Publisher of Editor & Publisher magazine, explores how the Telegrap…
iQ Audience+ lowers membership barriers with a simplified registration/subscription workflow that allows visitors to join without filling out several screens of forms upfront.
Let users to gain access by providing minimal personal information and add supplemental registration details at a later time, so you can continue building relationships and generating revenue with targeted programmatic advertising.
Get started with iQ Audience+ by TownNews
Ready to supercharge your audience revenue, grow engagement, and bolster your advertising income? Contact us today to learn more about iQ Audience+ by TownNews!