Boost engagement with behavioral targeting
Increase time on site, pageviews and ad revenue while slashing bounce rates.
Engagement is the lifeblood of your site. If you can't entice users to stick around and consume more content, you're leaving money on the table. Every visitor—and click—counts.
iQ Engage harnesses the power of audience browsing data to present users with content that meets their specific interests—helping web publishers increase engagement from both drive-by and returning visitors.
Understand your users
How a user interacts with your website tells you a lot about what content they find compelling. For example, if a user frequently clicks on tech-related articles, it's an indication that they might respond well to technology business news and tech product reviews.
iQ Engage converts these "signals" from users—answering a poll question, clicking a keyword, saving an article, browsing a specific section, etc.—into actionable audience segments.
Behavioral content recommendations
iQ Engage enables sites that use BLOX CMS (the news industry's leading content management platform) to serve up content recommendations that are customized to each user based on their individual behavior profile, so they'll browse deeper and see more of your content—and ad impressions.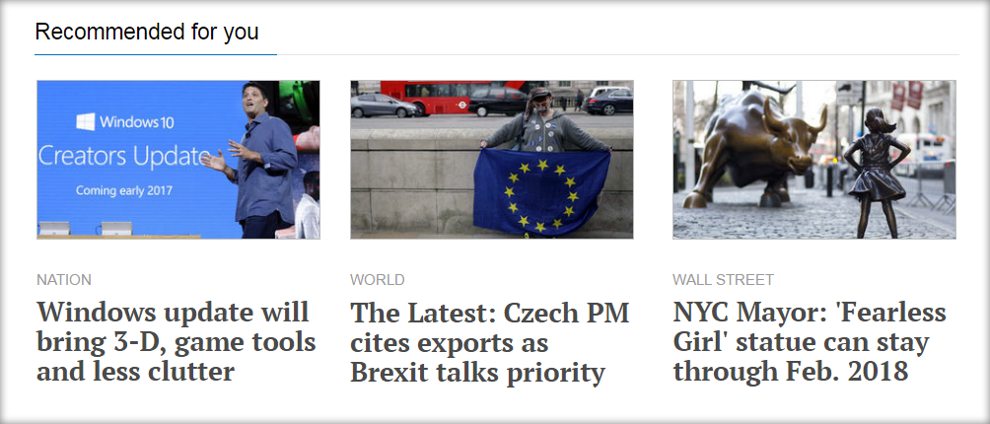 The "Recommended for you" feature marshals user browsing data and machine learning to find content that will be of interest to each individual user. It then displays a selection of targeted content in a block that can be placed almost anywhere on your site: at the end of each article, on the home page, or the front page of each section.
A sophisticated predictive algorithm factors in signal strength (some user behaviors are more predictive than others), content popularity, recency, and context to present a selection of articles that will be engaging to each individual user.
Powerful results
In customer beta testing, visitors for whom behavioral data has been collected—and who are presented with these behavioral content recommendations—view nearly four more pages and spend eight more minutes on-site in a given browsing session.
TownNews clients using iQ Engage are also seeing a massive drop in bounce rate (the number of visits in which a person leaves a website after viewing only one page)—seven percent with recommendations vs. 70 percent without.
Dynamic user experiences
iQ Engage can use behavioral signals to create dynamic experiences for different audiences. Examples include:
Repeat visitors can be presented with fewer ads, while drive-by traffic from Facebook and Twitter is served a larger number of programmatic advertisements. This gives loyal readers a faster, more streamlined experience, and improves monetization from social media referrals.

House ads promoting "All-Access" subscriptions to your print edition and website can be shown only to users who aren't already subscribed, saving valuable page real estate for other ads or alternate content.

A "Subscribe to our newsletter" widget can be displayed when a user isn't already a subscriber, but hidden otherwise.
Full integration with BLOX CMS allows iQ Engage to take advantage of the user interactions that happen on a your website in a way that can't be achieved with a third-party behavioral content Javascript widget.
Cutting-edge content analysis
iQ Engage uses advanced machine learning and artificial intelligence—we call it SmartTagging—to add structured semantic data to your articles, making it easier to match users with content that interests them. This semantic data supplements the keywords added by your staff, saving your newsroom time and improving the accuracy of your content tags.
Cross-device user profiles
A unique profile is created for each visitor, and users can be tracked across multiple devices, including desktops, tablets and phones. Profiles can be created and updated for both anonymous and logged-in users.
Ready to boost time on site, pageviews and ad revenue while slashing bounce rates? Contact us today!