Score big with turnkey pick'em contests for pro, college, and high school sports
Kick off your own sports challenges—complete with scores, news, user-managed leagues, and expert picks
Create contests for every professional, college, and high school team with a fanbase in your community. For easy management, most college and pro scores are kept up-to-date automatically.
Leagues of their own
Users can create their own pick'em leagues and invite their friends, family, and coworkers—helping you reach critical mass, and making your site a slam-dunk for advertisers.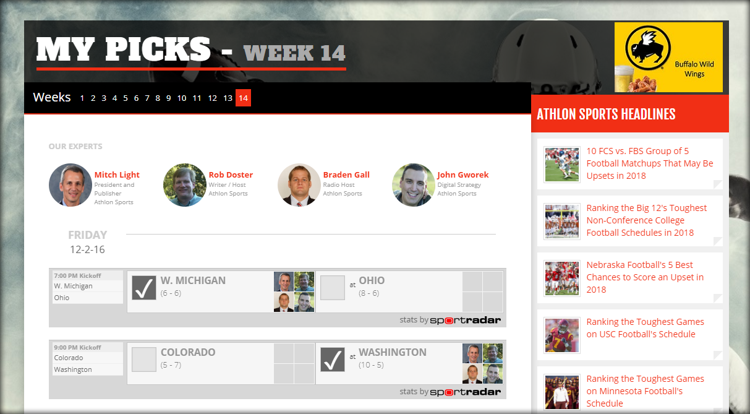 Contests that pay
Offer local advertisers high-powered banners and contest sponsorships. GamesPerform also works with Google DFP, so you can incorporate programmatic advertising and squeeze big value from every impression.
Picks from the experts
Let players test their sports knowledge against up to four designated experts—sponsors, staffers, local celebrities, etc.—from your area. Detailed full-season and historical stats let users follow their progress versus each other and the experts.
Sports news coverage
Surround contests with the latest sports news from our national content partner, Athlon Sports, and expert commentary from your local news site, making your pick'em a destination for local sports fanatics—even those who aren't participants.
Easy roll out
Once your pick'em site is launched, adding new contests, creating leagues, and keeping your site up-to-date is a breeze. And we offer a variety of widgets that make it easy to integrate GamesPerform with your existing sites, propelling traffic and keeping players engaged.
What are you waiting for? Get started with GamesPerform today!